Beautiful, Bright DIY Desi Wedding held at Hotel Bristol, Gurgaon
Lots of colour, lots of love and a quirky bride who is sure to steal your heart! Varun and Vasundra's wedding held at Hotel Bristol, Gurgaon is just what we needed to see on this mid-monsoon-dull-rainy day! Focusing all their energy into making their wedding one-of-a-kind special without the pomp, extravagance and OTT elements that come with extra expenditure, this duo had a wedding on their mind which was comprised of close friends and family, with the perfect amounts of love and laughter – and that's exactly they got! All of their pre-wedding functions were held at Hotel Bristol, Gurgaon which was the same location as the wedding itself (a great way to do it if you wanna stay away from the extra messiness of logistics and planning!) Hotel Bristol, Gurgaon was transformed into a beautiful wedding venue with the help of local decorators and Vasundra herself! With lots of Pinterest research, personal touches and one too many cups of coffee, this bride whipped up her wedding décor that left us spellbound! Now, isn't that what weddings are all about. Personalization is key, like we always say and this bride did it just right!
Art Capture Productions shot their colour-filled wedding in all its prettiness
"Varun and I knew 'of' each other through very close common friends but never really got to know each other as we were always in different cities. When two of our close friends were about to get married to each other, Varun and I met at their pre-wedding bash and that's where the fireworks happened – it was an instant connection! A few months into knowing each other, we knew this is something we both wanted for a lifetime and there's been no looking back ever since."  – Vasundhra
The Mehndi Ceremony
The dancing, the warm hugs and the marigold flower-shower: this was one mehndi ceremony we would love to be at! Vasundra looked stunning in a turquoise sharara paired with a pink choli and a beautifully scalloped orange dupatta. This mehndi outfit proved to be a perfect pick for her outdoor mehndi ceremony filled with loads of colour. What we especially adore about Vasundra's outdoor mehndi ceremony was how DIY-easy her décor was! The pinwheel photo booth backdrop as well as the triangular flags – so beautifully ideated and executed too.
Engagement Ceremony
Vasundra and Varun were now ready for round two at their Indian wedding celebration – that's right, the engagement ceremony! – held at Hotel Bristol, Gurgaon, they combined their sangeet and engagement ceremony for one night full of dancing, love and happiness. Vasundra wore an aqua blue lehenga with a pastel pink dupatta styled with diamond earrings and necklace while Varun's sherwani played a perfect contrast in a hue of navy blue.
The Wedding
This off-beat bride picked pink. A shade of pink that was an ideal choice for her swagger-self! All gota work pink lehenga-choli paired with a contrasting teal net dupatta from Asiana Couture, Delhi, was a smart outfit choice for their evening wedding at Hotel Bristol, Gurgaon. Varun's entry on a bike instead of a ghodi, the kaleere dangling bridal chaddar and those secret looks this couple stole of each other – everything about this wedding was picture perfect!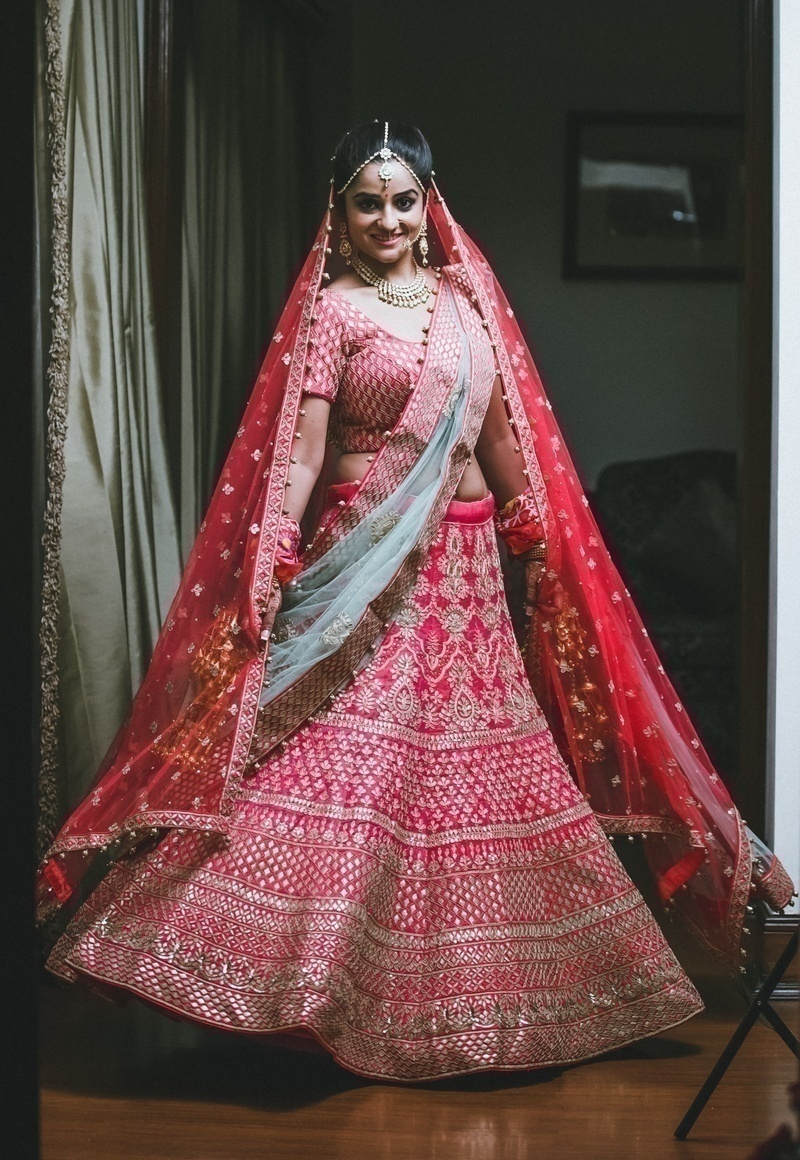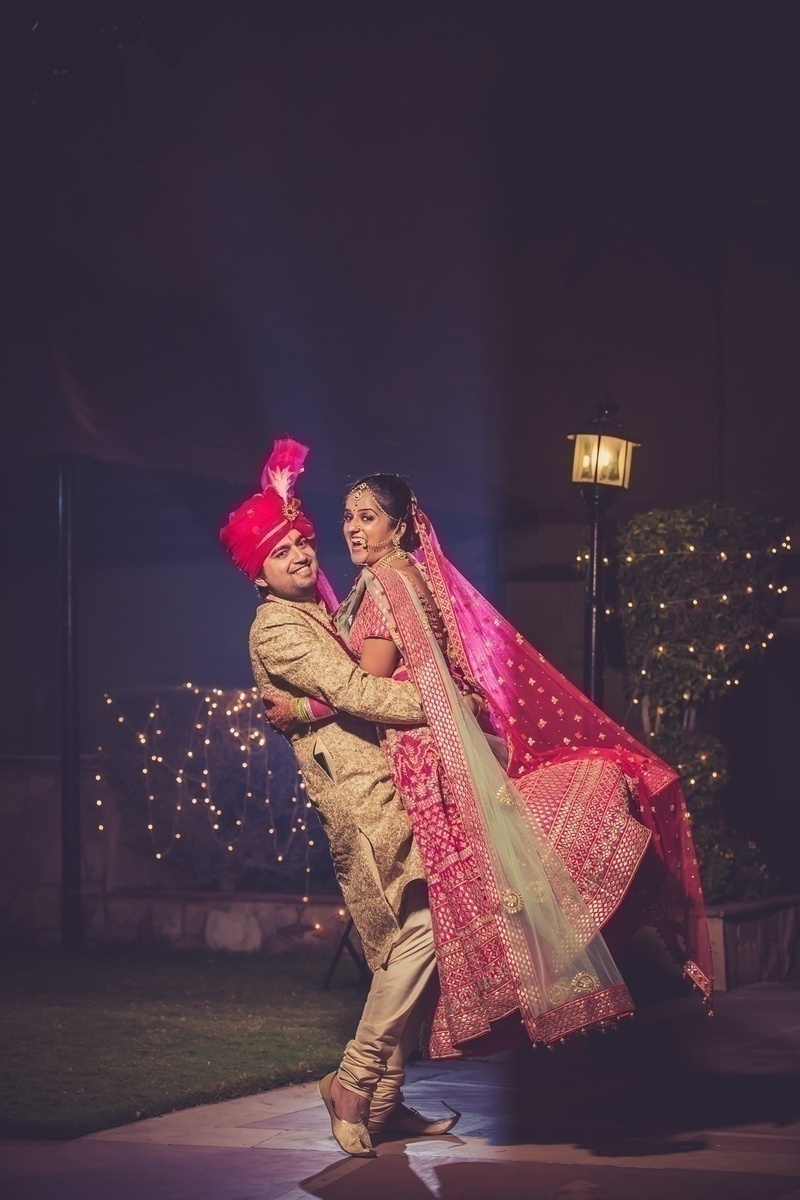 "We really put our efforts into finding the right photographer who would understand us and capture our special moments to cherish for a lifetime. After searching high and low, we came across Art Capture Production. Abhinav is a great wedding photographer and we became friends even before he came down to capture our wedding. He completely understood what we wanted and we didn't have to bother about what or how he was capturing. The pictures have come out just as we thought and we couldn't be happier!!! "