Beauty Secrets Every Bride Should Know
Who doesn't want to look like the most gorgeous version of themselves on their wedding day? Of course, you do! But amidst all the chaos and preparations, most of the brides end up going to the parlour just a few days before the wedding. You might be having your own beauty regime that includes cleaning, toning, moisturising and scrubbing, but it takes a little more because you are the bride and have to look spotless on your big day. Yeah, we know your salon seems to be the only option to get the flawless bridal glow when you are busy, but you should try these DIY beauty tips to pamper yourself a bit!
Stay Hydrated 
We've been hearing this all the time, haven't we? So, why not take it seriously? Include a lot of fluids in your diet, especially water as it will cleanse the system and impart a glow on your skin.
Fruits & Veggies
Include plenty of fruits and vegetables in your diet. They are high in fibre and minerals, making you healthy and also improving the texture of the skin.
Moisturiser & Sunscreen
So, keeping in mind your skin type, use a moisturiser for your skin daily. You can also opt for a good body lotion that will keep your skin from drying out, making it smooth and soft. Use a sunscreen or sunblock before stepping out in the sun! It is a must- don't skip it. Check out a few sunscreens at Amazon
Facial Masks Right from Your Kitchen
Raw Milk for Glowing, Moisturised Skin
Milk does wonders to all skin types. So, go and get a small cup of raw milk from your fridge and apply it with cotton all over your face and neck. Milk, when used on face, cleanses, brightens and deep moisturises your skin. Do this every day for six months before your wedding day.
Besan; the Holy Grail for Clear Complexion
Best to remove tan, pimples, dark spots; it reduces oiliness and gives instant fairness. Mix besan with yoghurt and turmeric for a clearer complexion. Apply this pack on your face and neck for 20 minutes and wash off with warm water. For best results, use it twice a week.
Papaya with Fuller's Earth for Radiant Skin
To get plump and radiant skin, apply the paste of papaya mixed with fuller's earth. Apply the pack on your face and neck, keep it for 15 minutes and wash off with warm water and pat dry. Start using it two months prior to your wedding day and see the magic it does to your face!
Hair Care Tips
Hair Oil
Oiling your hair is a must. So, when your wedding date is decided, start with a hair care regime for smooth and lustrous hair. The best oils for healthy hair are olive, almond, coconut and castor. You can either use any of these oils individually or mix it up and heat for a minute, store in a glass bottle and use it twice a week for extra nourishment.
Hair Spa
Apart from using hair oil, you also need extra care and nourishment for your locks which can be maintained through a rejuvenating hair spa. Some of the best hair spa brands available in India are LÖreal, Schwarzkopf and Matrix. You can choose the one that will suit your hair type and apply it as per the directions for best results. Applying or going for a hair spa once a month works very well.
Hair Mask
Homemade hair masks are great for your hair as they do not contain chemicals and repair your hair, making it healthy and full of life. For restoring your hair's health, take an avocado and mix it with egg yolk. Apply this mask on your hair from roots to tips. Keep it for 30 min and wash with lukewarm water. Also, you could opt for some of the best hair masks available in the market.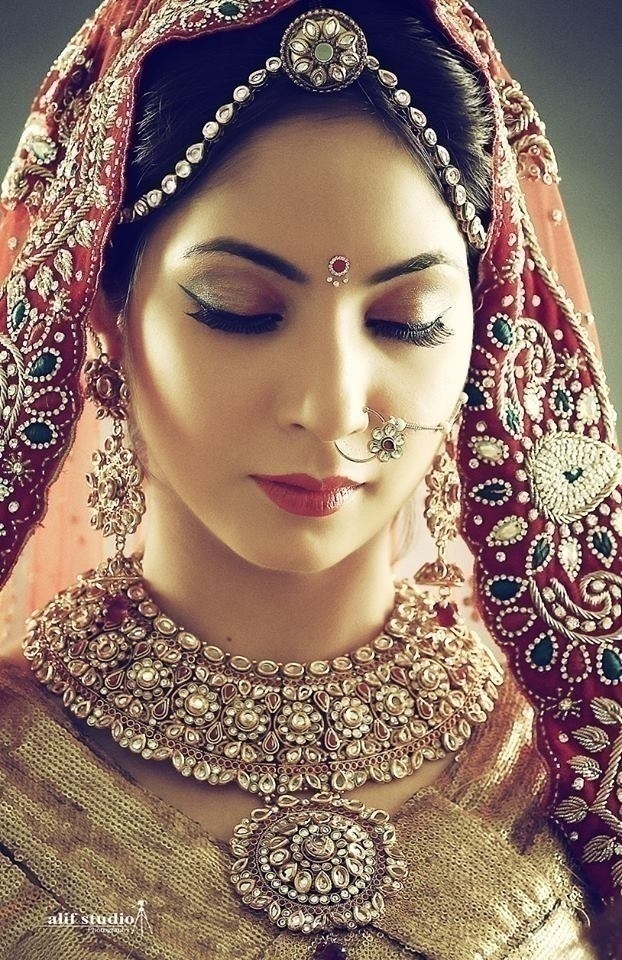 Photo By: Alif Studio
So, brides-to-be what are you waiting for? Go and try these tips to look your best on your wedding day. Also, make sure that you start following a beauty regime and get enough sleep to avoid puffiness under the eyes and dark circles.
Let us know if you found this post helpful by writing to us at content@weddingz.in