Best Blouse Neck Designs and Patterns for 2018 Indian Wedding
Ethnicity never goes out of fashion, and if you think wearing sarees were any less trendy, think again! Get inspired by these out-of-the-box blouse designs and flaunt the most unconventional style. Don't limit yourself with the common designs that your tailor has showed to you, instead stand out in the crowd with these ultimate blouse designs!
I know exactly know what you feel like.. it's very difficult to keep in mind the design that your friend's girlfriend wore when she made heads turn and this can stress you out totally! I know you wish you had a camera to quickly capture her back..I mean blouse design of her back. Worry no more as what you are going to see will definitely make you feel like the luckiest girl alive.
Tailor visits are stressful but not when you have the picture of you dream blouse in your hands. We have done the research for you and all you need to do is just get the right fabric and you are ready to rock!
This blouse pattern with minimal design and elegant tassels is an all time favorite and can be sported at most of the occasions. It need not be a wedding, you can also use this blouse back design for your regular kitty parties!
If you want to go high on tassels, this blouse pattern will surely be a worthy pick. This subtle design with multiple tassles complement the intricate work of sequins!
When you love tassles and just one is not enough, go for this new blouse design. Two simple beaded strings above and the heavier one at the bottom fixed with beautiful embellishment, this will surely do the job of a body jewelery as well.
Flaunt your beautful back with this saree blouse design with embroidery and mirror embellishments! You can also opt for a full sleeves design to add even more detailing to the pattern!
Go desi! This blouse back neck design makes you look very ethnic while still maintains the fashion edge. For the modern brides of today, this pick will surely make heads turn when you walk down the aisle..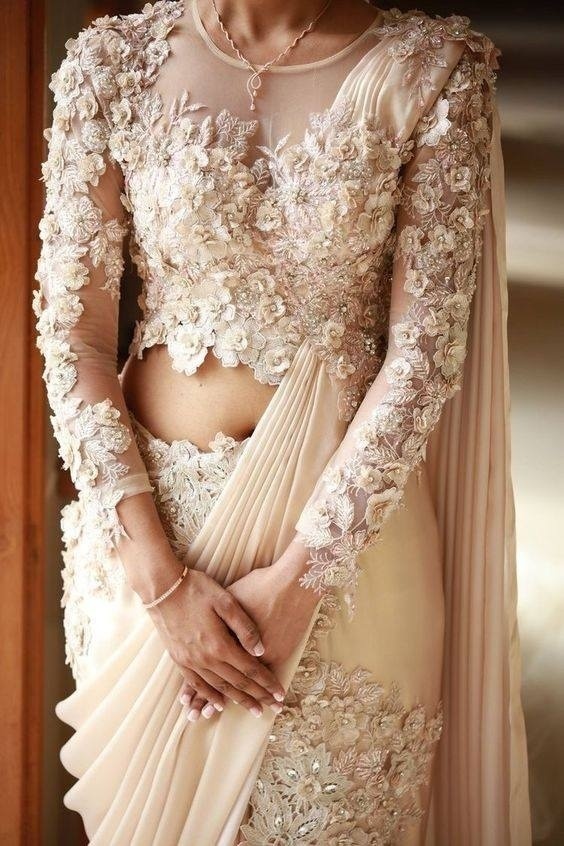 The Lacy Affair: There's no missing this evergreen designs in elegant lace. Available in different patterns, prints, colors and textures, lace blouse designs are our personal favorite for every occasion.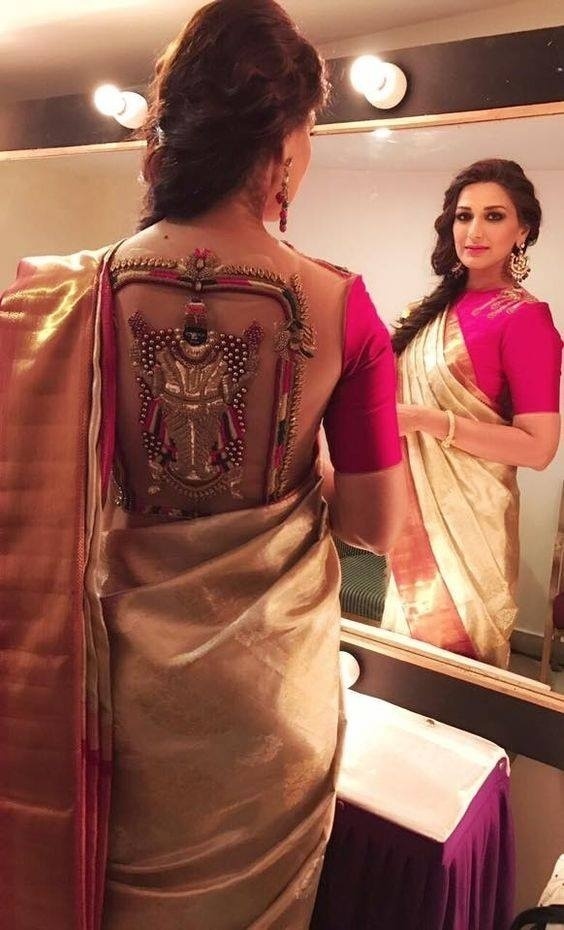 Self pattern sarees in silk have a charm of its own, and this quirky blouse pattern adds to its uniqueness.
These off-shoulder blouse patterns are for the bold ones who have gone that extra mile on their crash diets to achieve the oh-so-hot body!
A simple yet trendy, this blouse back neck design will instantly make your attire score high among the crowd. You can team this style with a plain self colored saree or you can play with prints, either ways, the blouse itself will level up the style statement.
Ornament or a blouse? Leave the crowd astounded with this latest blouse design that will surely make everyone go gaga over your back! Giving major marriage goals to the brides-to-be, this bridal blouse design 2018 will add to the oomph factor!
I bet these are the best wedding blouse design 2018, you've got to check out these styles and flaunt those curves.
Blouse Neck Designs |Latest Blouse Designs