10 Wedding Lehenga Shops in Dadar which every Mumbai bride must check out!
Nothing is more daunting than finding the perfect outfit for your wedding day. I, for one, know what a huge task it is to go to hundreds of lehenga shops and designers to find something that you like and is in your budget too. To make your search a tad bit easier, I have compiled a list of bridal lehenga shops in Dadar, where you can find just the lehenga of your dreams.
1. Bharatkshetra
The mecca of wedding shopping in Dadar, Bharatkshetra has been in the Hindamata area for over two decades. It has a wide range of bridal lehengas in different styles, sizes and colours that you can have a look at. Their lehengas start from Rs. 10,000 leaving you completely spoilt for choice!
Address: 115, Mitha Chambers, Dada Saheb Phalke Marg, Dadar East
Shop Timings: Tuesday-Sunday 10 a.m. to 8.30 p.m.
2. Suvidha Fashion
Image Source: Suvidha
Bang opposite the railway station, Suvidha has been a go-to shopping destination for bridal lehengas in Dadar. You can find amazing lehenga designs here that will match your style and budget too. Their price range for bridal lehenga begins Rs. 12,000 onwards.
Address: Vasant Niwas Building, 1-9 Ranade Road Opp. Dadar Station
Shop Timings: Monday-Sunday 10 a.m. to 8.30 p.m.
3. Dadar Emporium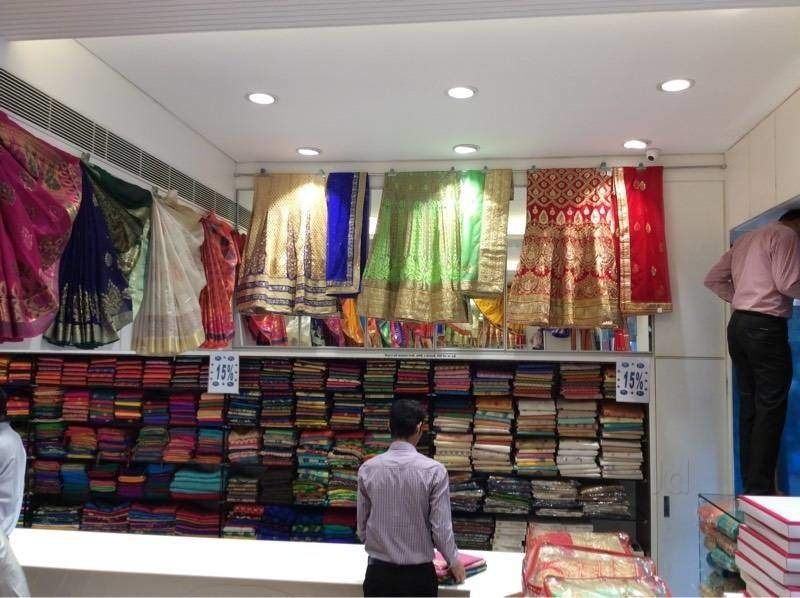 Image Source: Justdial
Another addition in the Hindamata area, Dadar Emporium is a non-frill shop that has bridal lehengas, which you can check out if you are on a budget but still want to wear the best on your wedding day.
Address: Laxmi Bhavan, Shp No. 385, N. C. Kelkar Road, Dadar West, Dadar
Shop Timings: Tuesday-Sunday 10 a.m. to 8.30 p.m.
4. Roop Sangam

Image Source: Roop Sangam
One of the oldest and most popular lehenga showroom in Dadar, Roop Sangam is your one-stop shop for everything bridal. Apart from designer bridal lehengas, they also house some beautiful saree designs that you can buy for your other wedding functions. Bridal lehengas at Roop Sangam start Rs. 19,000.
Address: 385, N. C. Kelkar Road, Dadar West
Shop Timings: Tuesday-Sunday 10 a.m. to 9 p.m
5. Paaneri
Image Source: Paaneri
Paaneri is a name synonymous with stylish bridal and ethnic wear since a long time. Here, you will find the most trendy lehenga designs that are suitable for all you wedding occasions including mehendi and sangeet. What's more? They start at a pocket-friendly price of Rs. 6500. You can also check out their collection of lehenga with price here.
Address: Shop no: 372, NC Kelkar Road, Dadar West, Mumbai, Maharashtra 400028
Shop Timings: Monday-Sunday 9 a.m. to 9 p.m.
6. Pramanik
If you are looking for a designer bridal lehenga, you need to stop here here. Pramanik in Dadar has the most amazing bridal lehenga designs that you can don on your wedding day. The beautiful styles, great quality and competitive pricing of their lehengas makes them one of the most sought-after bridal lehenga shops in Dadar area.
Address: Palai Plaza, Swami Gyan Jivandas Marg, Lokmanya Tilak Colony, Dadar
Shop timing: Tuesday-Sunday 10 a.m. to 8.45 p.m
7. Fashion Queen
Image Source: Fashion Queen
If you love modern lehenga designs and would love to dress up for your wedding in something that is contemporary, then Fashion Queen is just the right place for you. This lehenga shop in dadar is even a wholesaler, which means that you get cheap lehengas without compromising on the quality or the style.
Address: 27/28, Jai Gopal Industrial Estate, Bhavani Shankar Cross Road, Dadar West
Timing: Monday-Saturday 9 a.m. to 8.30 p.m.
8. Aara Clothing
Image Source: Aara Clothing
If simplicity is your personal style, then believe me, you will absolutely love the elegant lehenga designs at Aara Clothing. This bridal lehenga showroom in Dadar is known for its modern and elegant style, which a lot of brides have started preferring on their wedding day.
Address: Shop No 3, 4 & 5 Akanksha Building, Opposite Plaza Cinema, N. C. Kelkar Road, Dadar West
Shop Timings: Tuesday-Sunday 10 a.m. to 9.30 p.m
So, which lehenga shops in Dadar are you planning to check out for your bridal shopping in Mumbai?