Best Wedding Reception Halls in Patna You Will Absolutely Fall in Love With
So, you have planned out a grand marriage ceremony, and you are all set to go, but, then suddenly you get stressed out thinking that what about the reception party? We generally put in all our planning and preparations in creating the memorable wedding day but we keep the reception party planning nuances to the last minute and that's what stresses us out when we end up compromising for the quintessential wedding elements. Why not we book a venue beforehand to avoid the last-minute rush? We have shortlisted a few of the best wedding reception halls in Patna for you to help you out crafting the best reception. Browse through the venues and choose your favorite ones to host a lavish celebration. 
If you wish to host a classy reception with only your close group of guests then we have a beautiful banquet hall in Patna, Red Carpet Banquet. Being one of the top wedding halls in Patna, this venue offers bespoke services to cater to your wedding needs. They have hospitable staff anticipating your requirements and making your wedding day grand and impressive. Red Carpet Banquet has an inviting ambiance welcoming you to host your reception, your wedding ceremony and all your wedding-related festivities here. Explore more banquet halls in Anandpuri, Patna if this is your preferred location. 
Key Features:
Serves vegetarian and non-vegetarian delights
In-house decor and catering team
Allows overnight events here
Red Carpet Banquet, Anandpuri, Patna
Address: 5th & 6th Floor, Orchid Mall, Boring Road, Opposite A N College, Anandpuri, Patna, Bihar 800001
Landmark: Anugrah Narayan College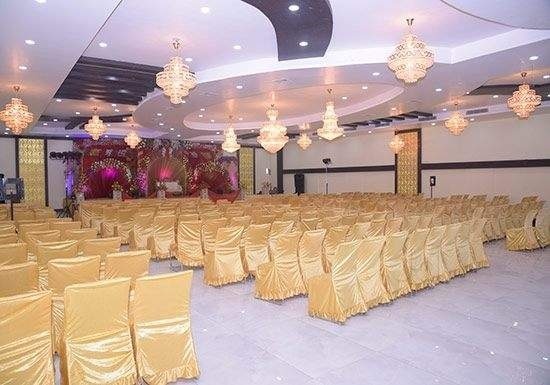 If you are looking for a full-service resort in Patna for celebrating your reception, then you might like the next venue on our list, Manya Resort. Offering reliable and efficient event managers for assisting you to host any sort of event you wish to celebrate.  They ensure to provide you a unique wedding experience by rendering the best in industry services. This venue is considered to be one of the best wedding venues in Patna that offers you the best in-house decor team to deck up space with dazzling wedding decor, to make your wedding look flawlessly gorgeous.
Key Features:
Ideal for small to medium-scale gatherings
Customization of wedding decor permissible
Has ample parking area at the venue
Manya Resort, Danapur, Patna
Address: Manglam Enclave Bailey Road Near SBI, Saguna More, Patna, Bihar 800003
Landmark: Bimal Hospital
The Panache is one of the most beautiful halls in Patna for hosting grand events. This luxury wedding hotel in Patna is huddled right in the heart of this city and offers a spectacular view from the hotel. The banquet is so ravishing that you might need minimal to no decor but the wedding decor team makes your wedding look insanely gorgeous. They render state-of-the-art facilities to fulfill your wedding fantasies making it come to reality. They offer multiple wedding halls with varying occupancy to fit your needs and give you the privilege of choosing the perfect event space.
Key Features:
Well-appointed rooms for a lodging facility
Serves multi-cuisine delicacies
Easily commutable venue
The Panache, Anandpuri, Patna
Address: The Panache, West of Ram Gulam Chowk, South Gandhi Maidan, Raja Ji Salai, Dujra Diara, Patna, Bihar 800001
Landmark: Gandhi Maidan Park
Hotel Gargee Grand is one of the best hotels in Patna for marriages which redefines luxury and makes your wedding day opulent. This venue offers 5-star amenities and services at par with excellence. It owns multiple banquet halls with tastefully designed interiors. This venue has a pleasant and warm ambiance that makes this place a perfect setting for your reception. They also have a live DJ and a dance floor to spice up the reception and take it a notch higher. 
Key Features:
Located at close proximity with the airport and railway station
Multiple spaces for different events
Ideal for medium-sized gatherings
Hotel Gargee Grand, Anandpuri, Patna
Address: Gandhi Maidan Road, 825, Exhibition Road, Patna, Bihar 800001
Landmark: Near Gandhi Maidan
Jharoka Banquets offer halls ideal for small-sized gatherings with a lively ambiance. So, if you are looking for a venue for a small guest list then don't miss this wedding banquet in Patna for your sophisticated yet lavish reception party. They ensure that your ceremony is one of the grandest and unforgettable milestones in your life so that you cherish it forever. They serve mouthwatering multi-cuisine delights to pamper your tastebuds. They offer an array of impeccable services and a gracious staff that leaves no stone unturned for making your reception a grand success. 
Key Features:
Luxurious hospitality and graceful services
Provides expert wedding organizers
Food and decor by the venue
Jharokha Banquet And Conference Hall, Kankarbagh, Patna
Address: Jharokha Banquet and Conference Hall, New Jaganpura, Khemnichak, Patna, Bihar 800027
Landmark: Ford Hospital
We hope you liked our list of the best wedding reception halls in Patna and you found a perfect venue for your reception. If you are still dicey with your decision then you can explore through more reception halls in Patna.