These Creative Black and White Pre-Wedding Shots Are What Every Romantic Couple Needs!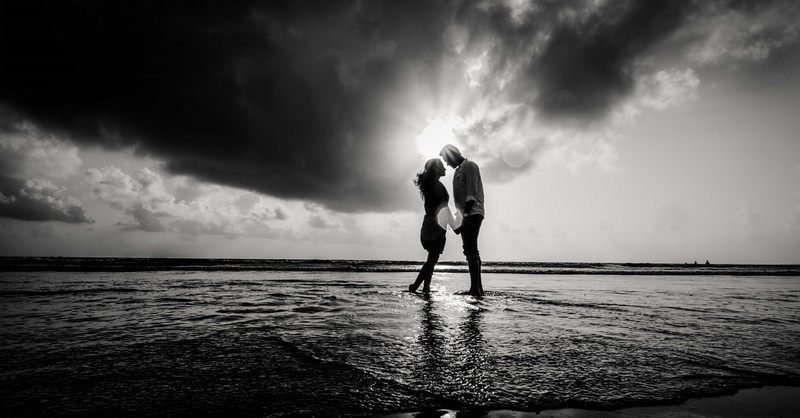 A pre-wedding shoot is what every soon-to-married couple gets nowadays. While people usually go around thinking of the perfect theme, perfect clothes and locations. The team at Weddingrams photography focused on something seemingly simple – black and white pictures. But the result was certainly way beyond simple. Each image had a mood to it – emotion seeping through each frame in varying notes! While pictures in colour are stunning themselves, there's something special about black-and-white shots and you can't deny it!
Here are 3 featured pre-wedding shoots, all shot at different locations but having one thing in common – they're all bnw! Check out these creative and romantic black and white pre-wedding shoots that captured so much more than just a good frame.
Goa
Jaisalmer
Not black and white, but we do like these shots that are a part of this Jaisalmer pre-wedding shoot: 
Mumbai
Weddingrams, led by Divyam Ramji Mehrotra, is an ensemble of highly spirited and talented visual storytellers, dedicated to carefully curating your most precious memories. From having covered weddings in the mystical palace city of Udaipur, the colorful landscape of Jaipur, the unfazed wilderness of Jim Corbett to the jazzy beach sides of Bangkok, they have mastered the genre of destination wedding photography over the past decade. They re-invented the way weddings had been covered traditionally, and take great pride in that. It was at a time when brides and grooms realized that there is always more to weddings than what meets the eye.
At Weddingrams, the team has not only photographed couples against spectacular backdrops of Ladakh, Srinagar, Thailand etc. but have also been extremely successful in capturing endearing moments and sparkling chemistry between the couples, even in the most modest of spaces.