30 Blouse pattern ideas to pin to your bridal board immediately!
If you are looking for the perfect blouse pattern to pair with your saree or lehenga then you have dropped by just at the right place. To show you some wedding trends of 2018, I have clubbed a list of 30 blouse pattern images that you can save and share with your girl gang for this wedding season.
What's more? I have included everything from designer blouse patterns to latest saree blouse patterns, which you can scroll through for major #WeddingWearInspiration!
1. Clamshell illusion blouse pattern with oversized bell sleeves
Image Source: Makeovers by Sukanya
If you are looking for designer blouse patterns to go with your lehenga, then this clamshell illusion blouse with oversized bell sleeves is just the right pick for you.
2. Sweetheart neck grey shimmer blouse pattern
Image Source: Makeovers by Sukanya
This glamorous blouse neck pattern with shimmer embellishment on a sheer fabric is just the kind of jhatak blouse you need for a cocktail party or reception.
3. Collared blouse pattern with multi-layer golden border
Image Source: Makeovers by Sukanya
If you want to try out a fun and vibrant blouse pattern for your pre-wedding functions, then this gorgeous collared blouse with multi-layer golden border is something you can definitely give a shot.
Tip: Pair this with a floral printed lehenga for your mehndi ceremony for a bright and peppy look!
4. Latest blouse pattern in peplum style by couture designer Jayanti Reddy
Image Source: Jayanti Reddy
Peplum style blouse patterns are the latest addition to the wedding wear ensemble of brides and bridesmaids alike. Don't you love this pearl grey blouse by Jayanti Reddy that has delicate silver embroidery?
5. Silver embellished blouse neck pattern with a sweetheart neckline and feather details
Image Source: Tanvvi Aanchal Makeovers
Bling it like you mean it with this heaven-of-a-gorgeous blouse pattern that has lots of shimmery embellishment and feather sleeves for a modern touch!
6. Off-shoulder blouse pattern with ruffled net hem
Image Source: V-Cut Blouse
Off-shoulder blouse patterns are just the right mix of chic and sexy! Get yourself a beautiful off-shoulder number like this with ruffled net hem to add a feminine touch to the outfit.
7. Latest blouse pattern with flowy bell sleeves and tassels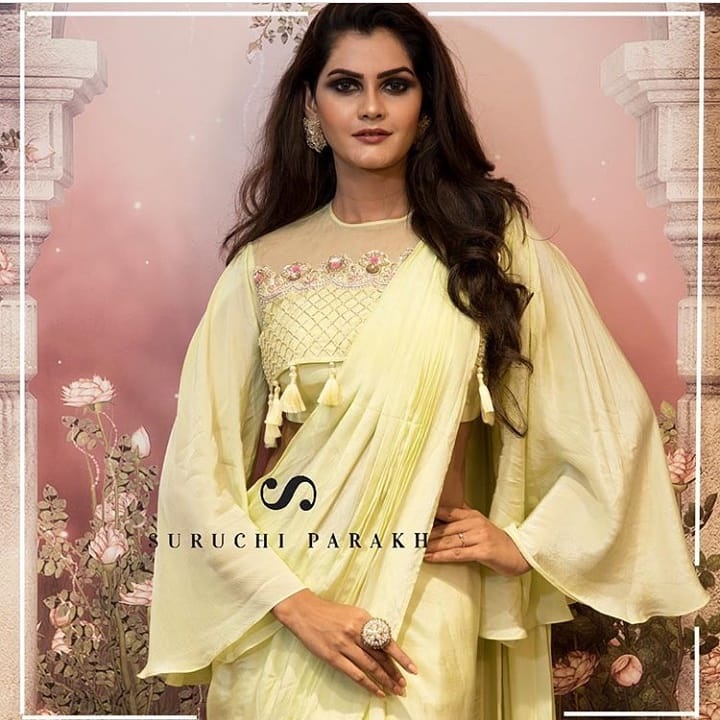 Image Source: Suruchi Parakh
Do you love bell sleeves as much as I do? Well, saree blouse pattern like these with tassel front and flowy bell sleeves are perfect to be worn with a simple cotton or organza saree!
8. Sleeveless floral printed blouse pattern with a jewel collar
Talk about jewelled-blouses making a chic statement! This blouse pattern with fine floral print and an attached jewelled collar is nothing less of a beauty when paired with a beautiful lehenga or dhoti pant!
9. Simple blouse pattern with half bell sleeves
Image Source: Pashudh
This simple boat neck blouse pattern with contrasting half bell sleeves is a graceful option to wear with anything from silk to net sarees at your bestie's or relative's pre-wedding events.  
10. Sheer blouse with lace embroidery and tassel sleeves
Sheer blouses are dominating the wedding scene like nothing else. This sheer blouse pattern with lace embroidery and tassel sleeves is a fine example of why this trend doesn't seem to be dying down anytime soon!  
11. Do the 'shimmy shimmy' with this glittery blouse
Image Source: Tanvvi Aanchal Makeovers
This latest blouse pattern with shimmery sequin tassels will make sure that you have beautiful 'shimmey shimmey' boomerangs for your mehndi ceremony!
12. One-sided fan sleeves blouse
Image Source: Tanvvi Aanchal Makeovers
If you want to add a hint of drama to your wedding blouse pattern but don't know how then this one-sided fan sleeve blouse is a great inspiration to show your designer.
13. New blouse pattern with tribal embroidered and tasselled back
This blouse pattern with tribal embroidery and mini tassels at the back is a wonderful option to team with a classic Bandhani saree for a daytime mehndi event.
14. Multi-layer sheer ruffle blouse pattern
Bring your stylish A-game at the forefront with this multi-layer sheer blouse that can be paired with anything from a saree and lehenga to dhoti or palazzo pants!
15. Latest blouse pattern with a detachable embellished cape
If you thought capes are only supposed to be flowy and light, then have a look at this blouse pattern with an embroidered cape with tassels that it stealing the show of the entire saree.
16. 3D floral embroidered full sleeves blouse pattern
Do you fancy florals a bit too much? If yes, then this 3D floral embroidered full sleeves blouse pattern is something you can try wearing with a satin or crepe saree.
17. Simple collared blouse pattern with sheer sleeves
Image Source: Nazia Syed
Honestly, simple blouse patterns take the cake when it comes to grace and elegance. This blouse with sequined collar and sheer sleeves is a testimony to that!
18. Designer blouse pattern in velvet with zardosi embroidered collar
Outfit by: Sabyasachi
Sabyasachi designer blouse patterns are a dream for every Indian bride. This velvet blouse with round collar and zardosi embroidery is goals to wear with a crepe or chiffon saree!
19. Tutu sleeves blouse pattern for pattu saree
Image Source: Pelli Poola Jada
You thought tutu looked cute only on dresses? It's time to reconsider that with this blouse pattern that has tutu-style net sleeves and is paired with a pattu saree! :O Breaking the fashion rules like a pro, I say!
20. Illusion sheer blouse pattern with one-side balloon sleeve
Experimenting with blouse patterns is something a lot of brides are doing these days. If you too are up for wearing a hatke blouse on your big day, then take inspiration from this illusion sheer blouse with one-side balloon sleeve that a total stunner with a shimmery lehenga!
21. Silver sequined embellished blouse with tassel sleeves
The more sequins the better, right! This blouse pattern is such a stunner to pair with an embellished lehenga for your reception party!
22. Printed floral blouse pattern with mirror work embroidery
The combination of floral print and mirror work is a total killer in this blouse pattern. Pair it with a fluorescent lehenga for your mehndi and look like a million bucks on your big day!
23. Boat neck blouse with embroidered neck and sheer bell sleeves
Image Source: Salt Studio
Bell sleeves are back in fashion and how! Doesn't this blouse pattern look totally eye-catching with big sheer sleeves and embroidered neckline? Perfect to wear with a silk saree, right?
24. Bustier style blouse pattern with cape sleeves
Give your regular blouse pattern a dramatic look by stitching it in a bustier style with big and voluminous cape sleeves!
25. Sheer closed neck blouse pattern with sequined sleeves
If you speak elegance as a second language, you can't help but fall in love with this gorgeous blouse pattern! The sheer neck blouse pattern along with sequined sleeves is creating magic like nothing else!
26. Boat neck blouse pattern with cutwork
Image Source: Nazia Syed
If you are a fan of cutwork embroidery and are looking for a good blouse neck pattern to pair with your pattu saree, then look no further than this stylish blouse design that's a stunner in the true sense. Check out more blouse embroidery designs here!
27. Mesh neck blouse with 3D flowers
This simple yet stunning blouse neck pattern with mesh details and 3D flowers is a great option to wear with a solid coloured chiffon or georgette saree.
28. Brocade blouse with voluminous bell sleeves
Image Source: V-Cut Blouse
There's nothing quite versatile like brocade. This blouse pattern made with black and gold brocade has flowy bell sleeves that make it look chic and modern enough to team with a lehenga or even a saree!
29. Saree blouse pattern with heavily embroidered sheer sleeves
If you are up for wearing a heavily-embellished blouse and have a plain saree to pair it along with, then by all means go and pick a blouse pattern like this one for a modern and stylish look.
30. Sheer blouse neck pattern with attached net jacket
Image Source: Nazia Syed
This blouse pattern with a sheer neck and attached net jacket and minimal embellishment is a great pick to wear with dhoti pants or palazzos for a stylish indo-western look.
Hope that you found a great blouse pattern to stitch and pair with your saree or lehenga!