Boho-Kitsch Destination Wedding held at Samode Palace, Jaipur!
Samode Palace, Jaipur saw a different kind of destination Indian wedding this time around. There were no grand chandeliers or typical clustered floral arrangements – the wedding of Shauna and Sachin was one of a kind awesome, loaded with tons of boho-kitsch elements. For Shauna, she always dreamed of having a wedding like that of Aladdin and Jasmine. The groom rides on an elephant to meet his bride waiting for him in a palace.  The exotic top and harem pant in hues of sky blue was every little girls dream outfit for a fancy dress competition – but Shauna brought this desire to life. Amalgamating the Disney princess dream along with desi tones of red and gold she looked like a striking contemporary princess! A two day destination wedding celebration that began with the mehndi and welcome party where Samode Palace, Jaipur was transformed into a Coachella-like space with loads of colour, dance and whole lot of love. Shauna and Sachin had a vision of a wedding that was different, exotic and yet desi. Along with their wedding planners, Yes Media, they were able to whip up a wedding at Samode Palace, Jaipur that had all the elements of an boho-chic celebration yet had the warmth and closeness of a destination Indian wedding!
Major props to The Royal Affair who captured every element of this cross-cultural destination wedding in all its kitschy glory!
The Mehndi
Celebrations kicked off in a full traditional way where thos gorg couple was seen dancing and twirling in the courtyard of Samode Palace, Jaipur. Shaua stunned in a beautifully flared anarkali with gota work while Sachin went for a tone of burnt orange in a simple cotton kurta.

The Haldi
Shauna brought on her disney princess game with the haldi ceremony wearing a gold tassled bralette with an ethnically printed wrap-around skirt while Sachin too went all-out aladdin in his embroidered jacket and dhoti pants.
The Wedding
All things desi was this cross-cultural wedding. Well, desi with a hint of the dreaminess of a fairytale! Sachin arrived on an elephant with his entire entourage singing and dancing beside him, just like Shauna had dreamt of. Her Aladdin and Jasmine story was truly coming to life!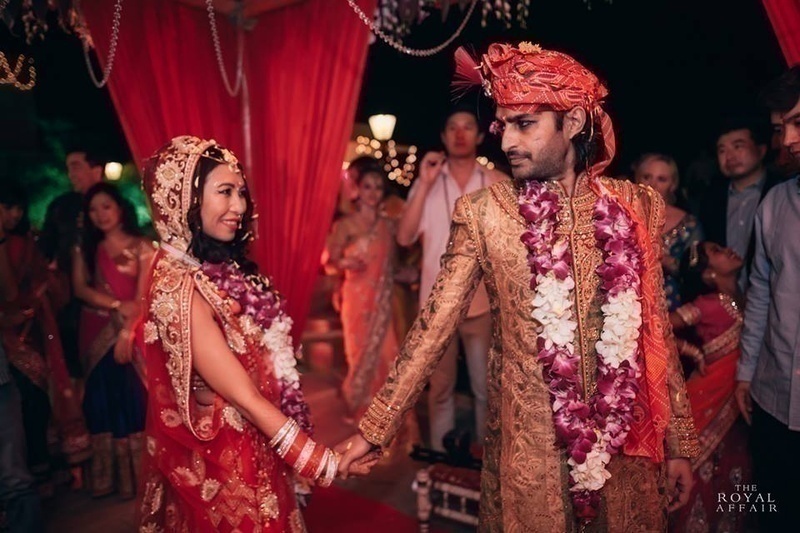 The Holi Party
Although the wedding was after Holi, this stunning couple organized an event complete with a holika bonfire. Loads of colour, dancing and even more love was seen in his unusual wedding celebration as Shauna and Sachin drenched themselves in the true colours of India! This bride stunned us yet again with her boho-chic bralette custom made by Matthew Williamson. Red tassles on a black base with gold studs, beads and shells – this bride knew how to do it boho style!
The Reception
It was a night full of glitz, glam and fun for Shauna and Sachin. Lots of colourful, vibrant lights and outfits that stunned! The groom was dressed like a desi dulhi in a fully weaved navy blue and gold brocade sherwani while the gorg bride wore a traditional