Bridal Jewellery Decoded – How To Select What's Right For You
You spend days, months and almost over a year to ensure everything is perfect for your D-Day. Amidst the entire hullabaloo, what is quite surprising is the least priority given to jewellery. It may come as a surprise but your jewellery budget may be a third of your entire wedding expense as trends report. Most brides tend to push this decision onto parents. After all, mom knows best. While some wear jewellery that is either handed over to them by family, others select jewellery based on what's trending in the market and in Bollywood. However, more often than not, brides and families end up selecting jewellery based on value and what will potentially be the best investment. The trick to selecting the right jewellery is to base your choice on all these factors –
Value and investment
Personal Style
Usability and timelessness of the pieces you purchase.
Whether it's a piece that's small and dainty or prominent and statement, it should be something you love personally. What's the point of having them stacked away in a bank locker for the rest of your life? Know what you're buying and what will suit your bridal attire. You may know what Polki, Kundan or Jadau jewellery is, but can you differentiate which is which and whether or not it is the quality you are paying for. It takes a keen eye and a fair bit of research to buy that perfect piece that will stay with you for a lifetime.
We understand you're already bogged down with other wedding arrangement. So here's our version of a guide to buying bridal jewellery. We have put together for you, the simplest and easiest ways of differentiating between the different types of Indian wedding jewellery that are high on trend. Also listed are some contemporary designs that are most sough-after by brides-to-be.
Go girl, take charge!
Polki Jewellery
Introduced in India by the Moghuls, Polki is uncut, unfinished diamonds. These diamonds do not undergo any enhancement or a lab creation process. These diamonds are in the raw form, and have a dull vintage shine unlike a precision cut, highly polished diamond such as the one used on rings and pure diamond jewellery sets. Polki skips the several steps that makes the stone look like a diamond, therefore it is priced lower than one. Similar in look to Kundan jewellery, Polki commands much better value on exchange and resale. Just like diamond jewellery, Polki is priced at per carat based on cut, clarity and colour of each piece. Uncut diamonds are set on 24 carat gold cases and placed on a gold foil so that the diamonds shine once in contact with light.
Kundan Jewellery
Traditional Rajasthani style jewellery, Kundan, is made of glass and is referred to as glass polki. An affordable version of Polki jewellery, Kundan is an elaborate layered design that has intricately joined glass stones and precious metals with enamelled undersides.
Meenakari jewellery
A team work of Rajasthani and Moghul skilled artisans gave birth to an amalgam jewellery style, today well-known as Meenakari. Initially done on the backside of Kundan jewellery, the Meenakari is an art of colouring and ornamenting the surface of metals with designs of flowers, birds, fish, etc. engraved on it. Gold and silver are used as the base of Meenakari. Gold can hold enamel better than silver therefore any and all colours can be applied on a gold base. On a silver base only green, yellow and blue colour enamel stick well.
Pachchikam Jewellery
In comparison to Kundan, Pachicikam jewellery (originated in Gujarat and Kutch centurions ago) is more crude and fragile. Unlike the use of gold, Pachichikam uses silver as the base for jewellery making. The jewellery making process is quite tedious and complicated. Semi-precious stones and glass stones are inserted in a silver case, the edges are then pressed on the stone and the grooves are filled in. This gives it a crude, rough and hand made touch that is highly appreciated by jewellery connoisseurs. 
Jadau Jewellery
Jadau jewellery is an engraved style of jewellery that is one of a kind. This jewellery was introduced in India by the Moghuls. The making technique includes melting the gold base and setting precious stones, gemstones, crystals and beads with precision and artistry on the base. This way no adhesive or carvings is required to form these exquisite pieces of jewellery.
Navratna jewellery
Navratna Jewellery is nine auspicious stones beautifully set in a single ornament. Each of these nine stones has astronomical significance which is why they are highly sought-after. The nine stones used include diamond, ruby, emerald, coral, pearl, sapphire, garnet, topaz and cat's eye each associated to a planet that offers power. Navratna jewellery is set in mounted rings so that the stones touch the skin. As per an individual's astrological charts the weight of the stones are determined.
Temple jewellery
Made of finest gold and studded gems, temple jewellery was initially used to adorn the idols of Gods and Goddesses. These chunky pieces of heavy ornaments were later worn by temple dancers and now have sneakily made their entry into bridal trousseau. Even today idols are adorned with temple jewellery. These heavy pieces come in designs of motifs, dots and ambiguous patterns with sacred pendants stealing the show. Other than weddings, women are seen wearing temple jewellery on auspicious occasions as they're considered to bring in good luck.
Thushi Jewellery
Thushi necklaces are the first piece of jewellery worn by Maharashtrian brides, right at the base of the neck. This pretty necklace is a series of thick chains of closely-placed minute golden balls made of pure gold. These balls are embellished with intricate shapes and designs that make Thushi jewellery look so exquisite.
Gemstone Jewellery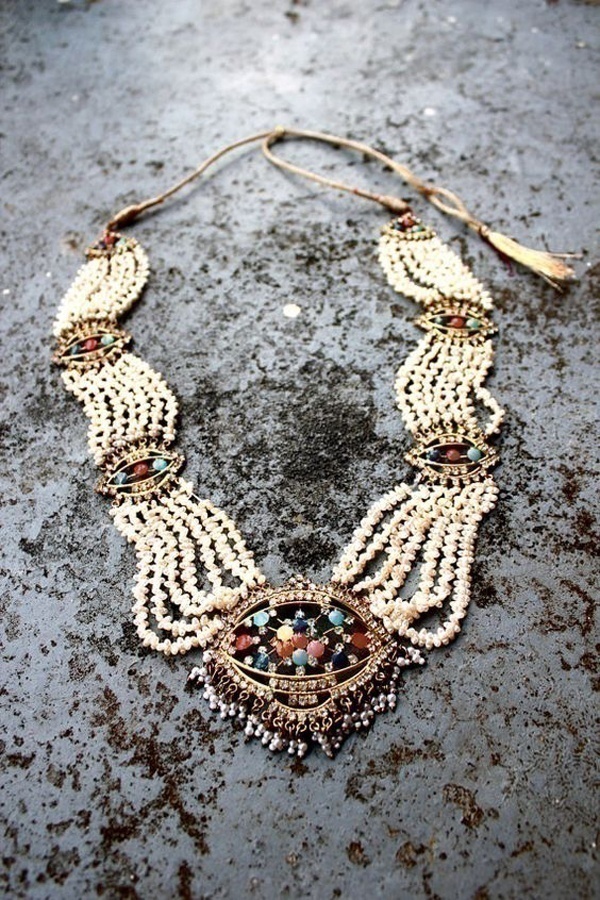 Gemstone, also known as, fine gem, jewels, or a precious or semi-precious stone are pieces of mineral crystals that are cut and polished to make fine pieces of jewelry. Emerald, Ruby and Sapphire are the most sought after gemstones for bridal jewellery. Set in gold or silver and strung together to create the colour blocked look or used with diamonds, these gemstones if high in quality and caratage are a great investment both in terms of value and style.
Diamond Jewellery
Diamonds are a girl's best friend! The most excellent of all gemstones, diamonds are found in six different colours holding significance to six deities. The colourless diamond is considered to be the abode of all deities. An ideal diamond has eight equal sides, six elevated tips, 12 sharp edges and can float on water.
Gold Jewellery
Gold jewellery needs no introduction. Regarded to be symbolic of Lakshmi, the Goddess of Wealth, it is considered highly auspicious by Hindus. Its anti-rust and everlasting shine makes it the most preferred jewellery type for brides to be, not to mention a great investment, given the prices of gold in the international markets.
Silver jewellery
Just like gold, silver jewelry too is quite popular among Indian women. In the rural and tribal areas of India, silver jewellery is an integral part of their adornment. Old is the new gold, therefore, oxidized silver jewellery with traditional designs that give an old and rustic look are in-demand these days. Silver is a great addition to the bridal trousseau but may not be the preferred jewellery type for a bride for her wedding day or for other wedding functions.
Pearl Jewellery
Pearl jewelry can be divided into three different types. Ornaments made using natural pearls, ornaments made using cultured or farmed pearls and lastly, ornaments made using artificial pearls. Natural pearls are rare to find, therefore pearls are harvested and cultivated to make jewellery.  You can determine the quality of pearl jewellery simply by checking the combination of its size, colour, lack of surface flaw and symmetry, with lustre being the main differentiator.
We hope this Indian wedding jewellery 101 was an interesting read. Just like other elements of your wedding, you can now take charge of the jewellery too. Keep checking this space for more dope on bridal jewellery.
Did you find this article helpful? Let us know at content@weddingz.in.