Bridal Shopping in Jaipur: Top 10 Shops for Best Bridal Lehenga & Bridal Shopping in the Pink City
Well, if you thought the beautiful city was for destination weddings only, then you are in for a pleasant surprise! The gorgeous city also offers many places for best bridal lehenga shopping for the would-be brides. So if you are in the city, you must check out Jaipuri lehenga at these top shops for bridal shopping in Jaipur. Visually stunning colours and intricate work make these Jaipuri wedding lehengas stand apart from the others.
While there are many shopping centres in Jaipur, we bring to you only the very best where you will be spoilt for choice. From pre-wedding ceremonies to weddings – you will find something for every occasion here! Much like their art and rich heritage, the bridal lehenga in Jaipur too lean towards rich colours and embroidery, making them a visual treat for the big day! Read on to know more!
Looking for the best bridal lehenga in town to amp up your 2020 bridal look? Then look no further and check out this curated list of the top 10 shops for lehenga bridal shopping in Jaipur:
Ranas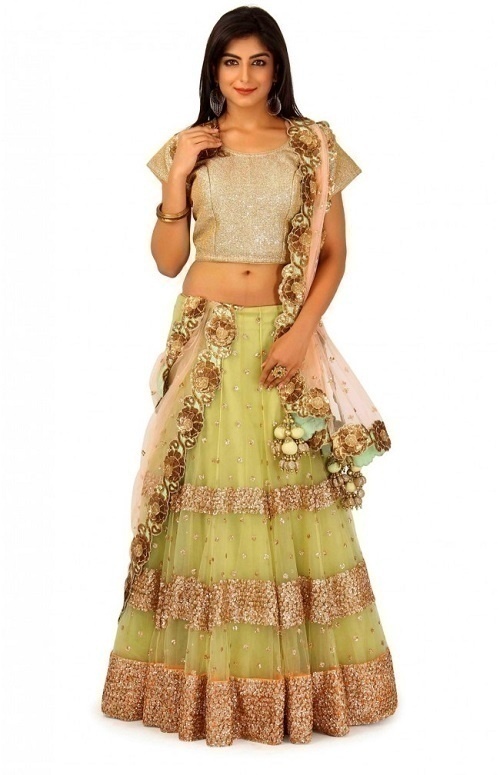 With a vast range of best bridal lehengas to its credit, Ranas in Jaipur is one of the leading places for bridal shopping in Jaipur. Luxurious fabrics, patterns and motifs make these bridal lehengas truly unique and worthy of the D-day! With increasing demand, they introduced party wear lehengas and other types of traditional bridal attire, making it a one-stop-shop for your wedding shopping needs!
Where: Rana's, 1, Ganpati Plaza, M.I.Road, Jaipur
Zari

Image Credit: Zari
If hand embroidery in opulent colours and luxurious fabrics is your style, Zari will have something for you! With an aim to capture the vibrant culture and regal legacy of the city, Zari is one of the most preferred places in Jaipur for the best bridal lehenga and bridal shopping. Gota patti, handwork zardosi, zari work, sequins, elegant drapes and many other exquisite styles are their speciality and are sure to impress you!
Where: 10/11, Narayan Singh Circle, Jaipur – 302004
Vasani
Image Credit: Vasani
The best of traditional and contemporary design blend beautifully in the designs of Vasani bridal store. Artisinal prints, exotic motifs, rich colors and dreamy fabrics define their best bridal lehengas, making them a much sought after place for bridal shopping in Jaipur. Those intricate detailing, mirror work, tassles, they just look lovely on any woman. But wedding is something veryy verry special and I am sure you would want only the best for your dream day. Go ahead and pick your style!
Where: D-69A, Jawahar Lal Nehru Marg, Jaipur
Vandana Creations
Image Credit: Vandana Creations
With a wide assortment of best bridal lehengas, salwars and sarees, Vandana Creations has something for everyone. You can choose from their gorgeous designer wear and make your bridal day attire one-of-a-kind. Available in rich colours with gorgeous embroidery work, these best bridal lehengas are perfect for the big fat Indian wedding!
Where: C-50, Axis Mall, Bhagwan Das Road, C Scheme, Jaipur, Rajasthan 302001
Pratap Sons
Image Credit: Pratap Sons
Established in 1954, Pratap Son's have been one of the pioneers in the industry. Three generations of the family have dedicatedly worked on this exquisite art to make sure that every bride dressed in their best bridal lehenga looks nothing less than a diva! With their gorgeous designs and intricate work, you are sure to find something that will suit your taste and occasion.
Where: SB-39, Rambagh Circle, Tonk Road, Jaipur – 302 004
Saffron by Nidhi Tholia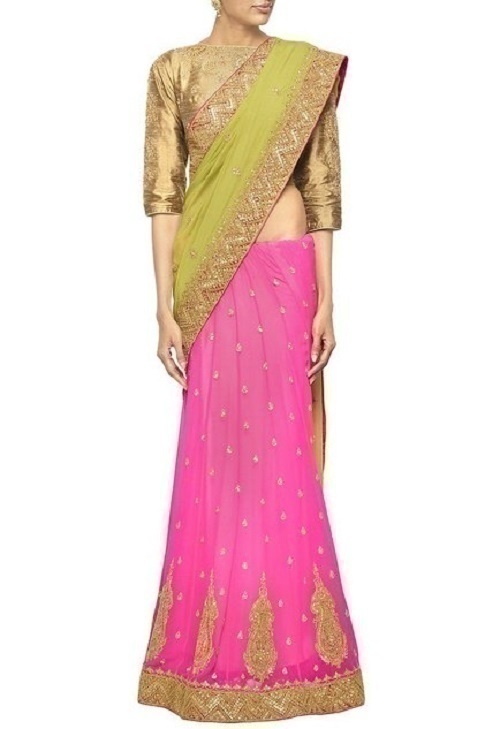 Image Credit: Aza Fashions
Whether you want a lehenga or a lehenga saree, Nidhi Tholia will have something for you that you can rock on the wedding day. Futuristic designs are blended into traditional forms seamlessly, making each creation as unique as you! With their best bridal lehengas, you can never go wrong!
Where:  4 LA 10, Jawahar Nagar, Jaipur, Rajasthan 302004
Islie by Priya Jain
Best Bridal Lehenga Image Source Islie by Priya Jain
Be it the best bridal lehenga or a lehenga gown, Islie by Priya Jain is sure to charm you with its spectacular offerings. For a blend of quirk with traditional work, this is your place to be and must definitely feature on your shopping list.
Where:  Mahima IRIS I & II, Swage Farm Road, Govindpuri, Jaipur, Rajasthan, India
Shreya Agarwal Label
Best Bridal Lehenga Image Source Shreya Agarwal
Unearth a treasure of the best bridal lehengas and exclusive bridal wear collection at Shreya Agarwal Label, a Jaipur-based couture brand. Creative, comfortable and stunning, the ensembles here are tailored to make the modern bride shine.
Where: Vidhyadhar Nagar, Jaipur, Rajasthan, India
Monisha Thahryamal
Best Bridal Lehenga Image Source Monisha Thahryamal Official
Monisha Thahryamal is a designer brand based in Jaipur known for their taste of impeccable cuts, balance of colors and intricate embroidery. The result is a timeless silhouette mix of Indian charm, best bridal lehenga and elegance in a creative way. 
Where: C-38 pancholi vihar, New Sanganer Road, Jaipur, Rajasthan 302019
Yuvrani Jaipur
Best Bridal Lehenga Image Source Yuvrani Jaipur
Yuvrani Jaipur is a designer boutique that is your one-stop destination to fulfill all your trousseau needs. If you are looking for designer clothes like best bridal lehengas, sangeet lehengas, gowns for cocktail or anarkalis for mehendi, your hunt ends right here.
Where: 4, 41, near Urmila Park, Jawahar Nagar, Jaipur, Rajasthan 302004
*Cover Image Credit: The Cheesecake Project