Bridesmaid dresses to rock your best friend's 2018 Indian wedding!
Being a bridesmaid is one of the most difficult tasks. As a bridesmaid you've to make sure that your bride's needs are tended to, arrange for the secret flask of whiskey, steal jiju ke joote, demand your fair share of money and also cry rivers when your bride leaves for her sasural. To add to all of this, you've to look your absolute best, after all tumhare yaar ki shaadi hai!
In the process of helping your friend plan her wardrobe and wedding you'll be left with very little time to plan your own outfit. Wipe those sweat beads sister, cause we've heard your cries for help and we're here to solve your problems with a list of bridesmaid dresses that are beyond gorgeous!
We found some of the best wedding guest dresses, specially for the bridesmaids. The groom's sister can also take a cue from this! Scroll down to check some of the best dresses to wear to a wedding!
Mehendi
Mehendi means you're on duty. You've to feed the bride, dance and get henna on your hands too! We suggest a light lehenga or an Indo Western dress for the mehendi. Brownie points for floral patterns!
Image source: Sukriti Grover
Sangeet
Sangeet demands a glamorous yet comfortable bridesmaid dress. Some bling will definitely do you some good!
Haldi
For the haldi function opt for 50 shades of yellow, syncing with the theme. A light lehenga or dress would be ideal.
Image source: The Wedding Story
Image source: Tailor Tale
Wedding
The dhoom dhadhaka of the shaadi deserves a embellished or sheer lehenga perfect for a bridesmaid. These Indian wedding dresses will definitely do justice to the occasion!
Image source: Rianta's
Image source: Naman Verma Photography
Image source: Tailor Tale
Reception
Reception calls for a gown or a free flowing dress. Don't hesitate to experiment with colours like blue, orange, green, etc. Blue bridesmaid dresses are a real hit, btw!
Image source: Sukriti Grover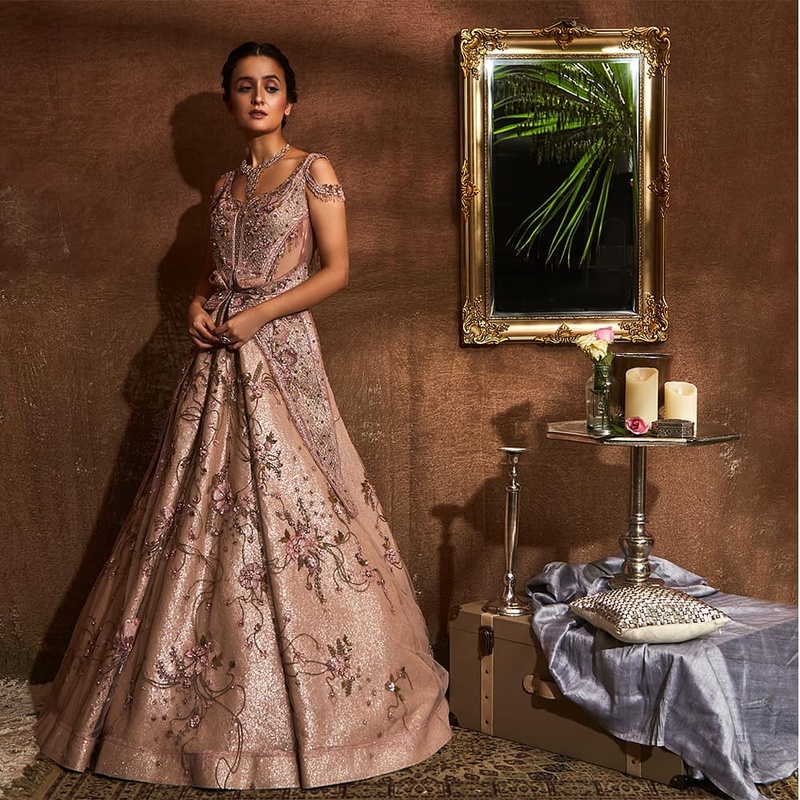 Image source: Tailor Tale
All the sisters and BFFs out there, how relieved are you now? You can attend to your bridesmaid duties and not worry about your wedding dress! Hoping that you can easily draw inspiration for a perfect indian bridesmaid wedding dress now!