Cross-Cultural, Winter Wedding Held at Samode Palace, Jaipur.
We've always found cross-cultural weddings super adorable. When two people from not only different cultures but different continents altogether find each other and fall in love, it truly is something magical!
Swathi and Stefan's wedding story is just that. They fell in love. Plain, pure love. Devoid of racial, cultural and astrological strings that usually come attached with the standard Indian wedding.
They had a lovely, full-blown winter wedding at Samode palace, Jaipur with all the elements that an Indian wedding entails. A brilliant representation of Indian culture and tradition, it goes without saying that Stefan's family was perpetually mind-blown for two whole days.
What to look out for: the stunning wedding décor at the already beautiful wedding venue, how brilliantly Stefan pulled off a Sherwani and some candid love-filled moments that were captured beautifully, thanks to Richa Kashelkar's amazing photography skills!
MEHNDI
As in the norm, the wedding celebrations started off with a Mehndi ceremony, with the venue decorated beautifully in marigold flowers of yellow and orange. In addition to this, rani-pink seating arrangements with ethnic-style bolsters and cushions added to the bright, vibrant mood of the ambience. All of this lovely colour against the quaint neutral colour palette of the backdrop made it quite a beautiful sight to witness. 
Moreover, Swathi looked gorgeous in her orange, ombre-dyed anarkali whereas Stefan stunned us all just as much in a light-gold silk sherwani with a maroon, printed bandhgala jacket to complete his look.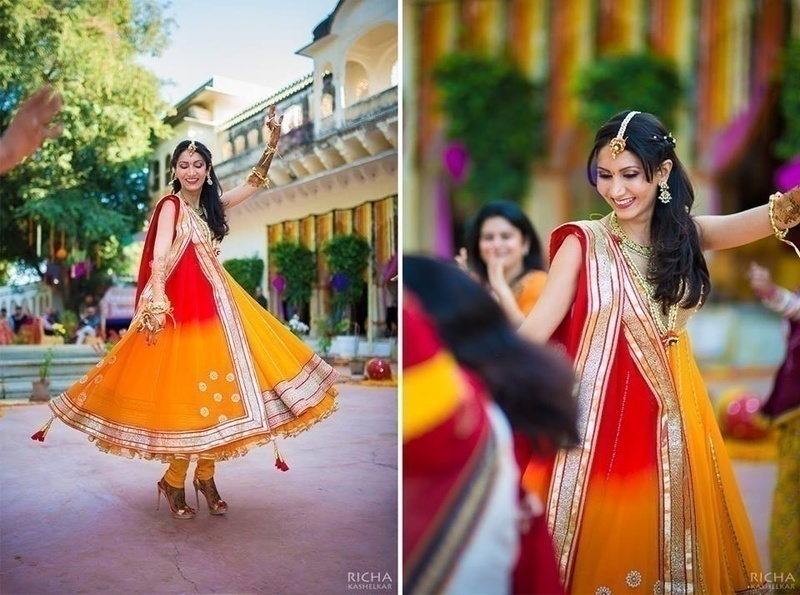 SANGEET
Colour co-ordinated couple make the cutest pairs! We love how Stefan's choice of sherwani complimented his bride-to-be's mint-green and salmon-pink lehenga.
WEDDING
The wedding day arrived and it had Stefan once again effortlessly pulling off a gold sherwani with a hint of red as he arrived on an elephant, like a classic Indian dulha. Swathi on the other hand, looked down at the on-goings, throwing pink petals that matched her gorgeous saree-lehenga with intricate gold embroidery.
In addition to the ceremonies and standard wedding shots, Richa Kashelkar managed to capture and freeze forever some adorable moments that had the couple stealing looks at each other.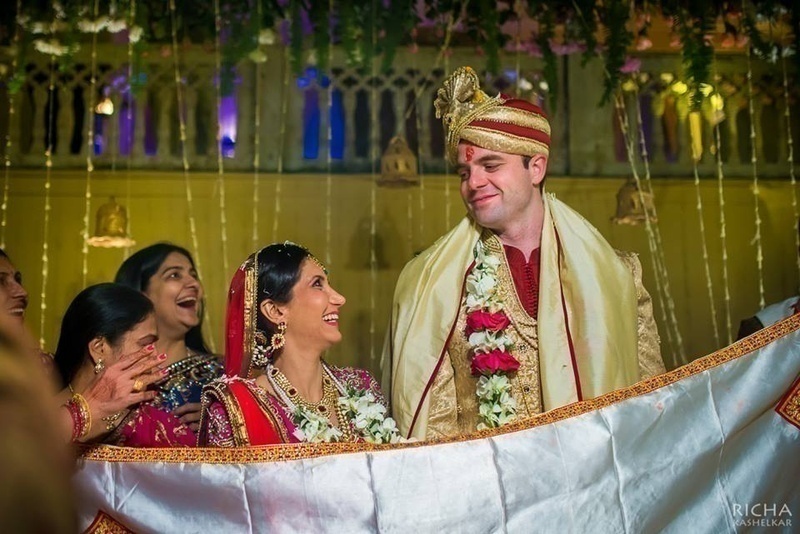 RECEPTION
Finally, for once in all the wedding ceremonies, our man Stefan embraced the west and donned an elegant suit while Swathi stuck to hers in a gold saree, accessorizing with gorgeous diamond jewellery. To commemorate their official togetherness, they had a toast that was followed by a lovely first dance.
WEDDING SHOOT