Dear Grooms, Try Customised Tailoring this Wedding Season!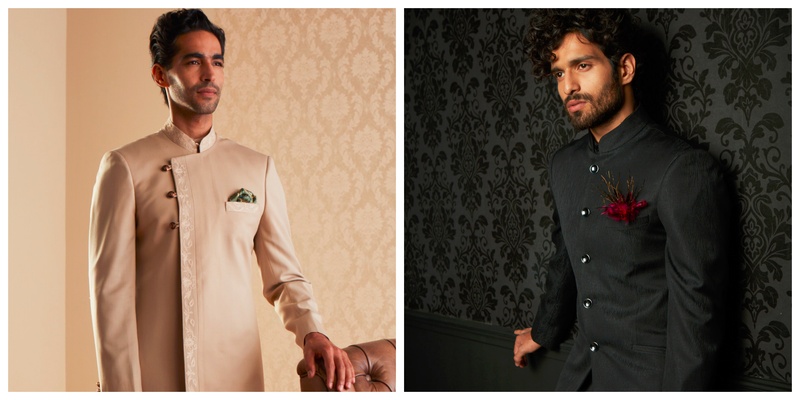 In recent years, grooms' fashion has evolved immensely. Interesting silhouettes, fabrics and colour palettes are now available, allowing the grooms to choose from numerous options. But how should a groom pick the perfect choices?
The concept of custom tailoring existed even before the brands came into play. But unlike the past, the groom does not have to settle for one set or a standard choice anymore. Customised tailoring makes it possible for the groom to create an ensemble that reflects his personality and personal preferences. Moreover, it is tailored to the groom's measurements so the fit is comfortable and just right! Celebrities too, opt for customised tailoring to add personal touches and wear an outfit that is the perfect fit.
Raymond Online Tailoring offers customised tailoring to suit every body type and comfort level. The major groomswear brand not only offers customised tailoring but also comes armed with the choice of a personal stylist to make it even easier to pick what is right and best for you. Raymond Tailoring has the right fabrics for all grooms and groomsmen – from printed jacquard fabrics to the classic black Tuxedo. When it comes to choosing colours and outfits, they should be complementing shades but the groom's ensemble should definitely stand out. Personal stylists at Raymond Tailoring can assist in picking different elements of a wedding ensemble that is perfect for the groom.
The brand is all about providing unique, personalised clothing for men, in this age of fast fashion and readymade wear. The "fit" is incredibly important and varies depending on the body shape and/or fashion preferences. Raymond Tailoring celebrates the uniqueness of every groom and customises the outfit accordingly. 
The process is simple and straightforward. Start the process by logging onto the website and booking an appointment with a stylist. From kurta pyjamas to shirt and trousers, sherwanis to Nehru jackets, pick your outfit and customise it as per your liking with the help of your personal stylist. Your outfit will be delivered at your doorstep within 15 days!
Customised tailoring is definitely something a groom should consider if he plans on making a memorable entry and look incredibly dapper and well-dressed at his wedding ceremonies. 
If you don't believe us, believe them:
"Amazing experience.  Saifan from Raymond Custom tailoring is extremely knowledgeable and responsive.  His suggestions on design elements of the suit were really great. Ultimately a great product delivered before time and to my full satisfaction." – Rajeev Grover
"Very nice experience with Raymond. Rakesh Kunjekar gave a nice service by providing the at-home facility. Right from the presentation to the delivery, the experience was really a good one. Especially the fitting of the clothes were very perfect in the first go itself. Would love to shop in the future without any second thought." – Nishant Bhoinallu
"Awesome concept and awesome service… thoroughly professional and fitting is accurate. I'll highly recommend this doorstep service to everyone, also already looking forward to my next experience with Raymond custom tailoring. 5 stars for Mohsin Khan who is very professional and knows his stuff really well." – Sachin Kamtekar