We all know the different jewels that are associated with each month of the year. They each have their own significance. We've used them in necklaces and engagement rings but why not in our wedding bands? The wedding ring is a symbol of love and trust. Your wedding ring is a piece of jewellery you'd never want to take off. Adding these gorgeous stones to your ring will make you want to wear them because they are unique and so beautiful.
1) Garnet
Image Source: Thenorthwaystudio
Birth month: January – When you think of a wedding ring, you are instantly drawn to something you can wear daily. This gorgeous gold ring will stand out.
2) Amethyst
Image Source: Yanajewellery
Birth month: February – The month of love deserves this purple gemstone. The shades of the amethyst vary but this ring with diamonds captures the essence of this gem. 
3) Aquamarine
Image Source: bijouxjewelsuk
Birth month: March – This stone gives the impression of the ocean. It will make you feel like a mermaid princess. 
4) Diamond
Image Source: Jewelleryavenue
Birth month: April – The king of all gemstones, getting a band of these stones for your wedding ring is a great way to use it. Gone are the days when one solitaire was the trend. Nowadays it is about making a piece that is delicate and can be worn every day.
5) Emerald
Image Source: Erstwhilejewelry
Birth month: May – The emerald is a stone used by kings and queens in almost all their jewellery. One emerald on a band of gold and diamonds will make your ring perfect.
6) Pearl
Image Source: Davinjewelry
Birth month: June – Pearls are often misunderstood as a precious stone that can only be used for necklaces and earrings. Adding just one pearl to your ring will make it unique and beautiful. 
7) Ruby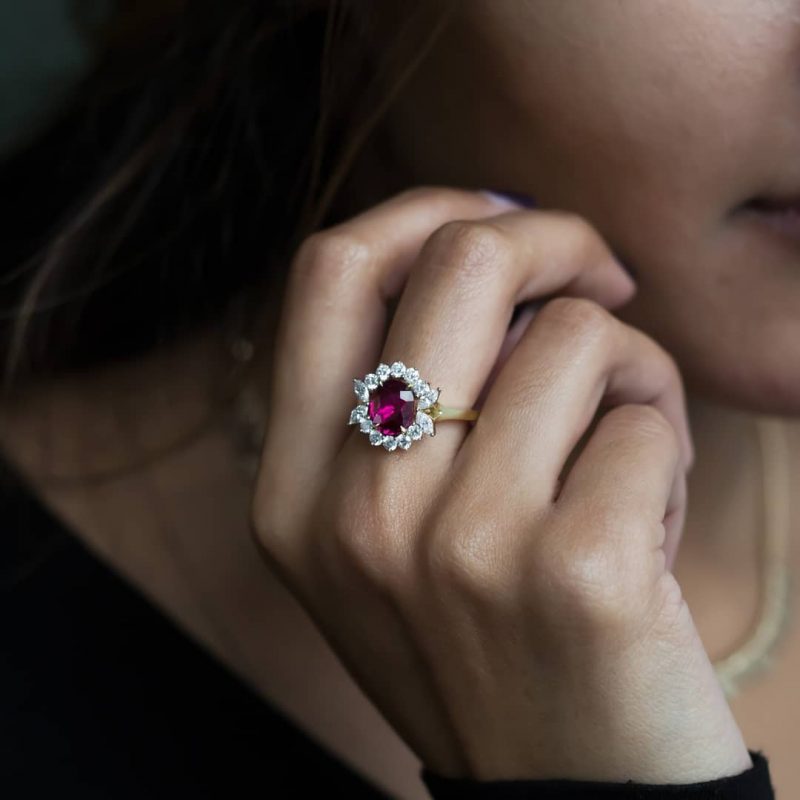 Image Source: Designsbykamni
Birth month: July – The royal gem will make your hand dazzle. No one will ever want to take off such a wedding ring.
8) Peridot
Image Source: Gardensofthesun
Birth month: August – The designer here has mixed two of our favourite green gems to make the perfect wedding ring. It is petite and very cute. 
9) Sapphire
Image Source: Bertjewellery
Birth month: September – Sapphires go with any skin tone and are beautiful to look at. This ring with diamonds set on a gold band will be an accessory you will never part with.
10 ) Opal
Image Source: Michelliafinejewelry
Birth month: October – The name is derived from the Greek word "opallios" which refers to alter given its multidimensional nature that is suitable for the bride with a bold and bright personality. 
11) Citrine
Image Source: vinnyandcharles
Birth month: November – This deep red-orange gem is very calming to look at. On your wedding band, the solitaire will be different and eye-catching.
12) Tanzanite
Image Source: ohsoperfectproposal
Birth month: December – This gemstone with hints of blue and purple will make your wedding ring stand out. The small diamonds around the gold band make it luxurious.
Your wedding band is the one thing that will go with you everywhere. You need to be careful when picking the perfect ring. Do not pick an extravagant piece if you are not comfortable with it. Sometimes a simple gold band looks perfect. But if you want to add your personality to the ring, pick your birthstone. It will bring positive vibes to your marriage.