Destination Wedding Venues in Udaipur that will Light Your Most Awaited Day
When we talk about destination weddings there is a list of things that will definitely pop up in your mind. The concept of Destination weddings has got a lot to do with the location that you decide to host your wedding. To make it a bit interesting, we at Weddingz.in conducted a poll to know which destination wedding venue would you prefer when it comes to locations like Udaipur and Goa. We got a stupendous response from your end and a majority of you guys have ditched the beach weddings of Goa for the Maharaja style weddings in the royal city of Udaipur. We, therefore, decided to come up with a few handpicked destination wedding venues in Udaipur that will surely give you the royal vibes on your big day. 
The city of Udaipur, which is famously known as the city of lakes, definitely does justice to the word 'grand'– be it in its historical past, the monuments, palaces, and even in the hospitality, they offer. A destination wedding definitely requires a fair bit of planning so that all the boxes are ticked on the D-day without any hassle. For the smooth functioning of the process, these venues in Udaipur will give you an outline before going ahead with your bookings.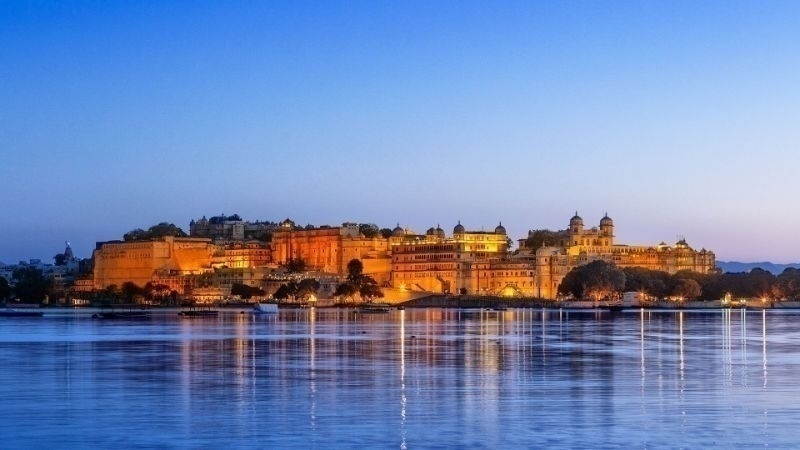 With City Palace Udaipur – 4 times winner of Best Heritage Hotel – in your kitty, your destination wedding is surely going to be a big hit! Now, chart out your guest list for the biggest wedding of the year. Sigh… imagine romance bubbling in the heart of the lake. No, we are not kidding! This iconic palace is situated at the center of Lake Pichola, and that makes it one of the most prominent places for celebrations of any kind. And how can we miss out on the efforts of in-house decor artists, caterers, and other staff who leave no stone unturned to provide such a royal treatment to each and every guest. Book yourself grand open-air lawns or a mighty hall to accommodate all your guests comfortably. Adding to its glamor, the venue has adopted all the modern amenities to ensure the utmost comfort of your guests. So what are you waiting for? Plan your wedding at this marvelous royal wedding venue in Udaipur.
Address:
City Palace Udaipur – Shiv Niwas Palace, City Palace Complex, Udaipur
Lake Pichola, The City Palace Complex, Udaipur, Rajasthan 313001
Ever thought of taking a Helicopter ride to your wedding destination on your big day, landing at the helipad in style , and walking down the aisle with a beautiful bride by your side? Well, this isn't a dream anymore! You can actually do that with the help of Lalit Aviation. To make your dreams turn into reality, we suggest you plan your destination wedding at one of the magnificent banquets offered at The Lalit Laxmi Villas Palace. A mesmerizing venue at Fatehpura, this hotel chain has won multiple awards for its delicious cuisines. Being one of the best 5-star marriage venues in Udaipur, it is located on a hilltop amidst the breath-taking Aravalli hills, overlooking the Fateh Sagar lake – making it an ideal location for your destination wedding. This palace can easily accommodate around 4000 guests on your list and turn any ordinary affair into a royal celebration.
Address:
The Lalit Laxmi Villas Palace, Fatehpura, Udaipur
Fateh Sagar Rd, Near Zinc, Fateh Sagar Lake, Udaipur, Rajasthan 313004
Can you imagine a visit to Venice without a boat ride? No, right? Just like that, you can't explore the real Udaipur – known as the Venice of the East – without a private boat ride! Indulge your guests into this once-in-a-lifetime experience with exclusive boat rides offered by The Oberoi Udaivilas Palace. This venue is the perfect wedding location at Mallatalai for you to start a new chapter of your life. With romance and heritage in the air, this palace is the very definition of the destination wedding venue. The stunning ambiance and amazing experience will make you fall head-over-heels for this venue. So, host small to grand weddings at one of the best luxurious wedding venues in Udaipur, and wow your guests with the amazing hospitality offered here.
Address:
The Oberoi Udaivilas Palace, Mallatalai, Udaipur
Badi-Gorela-Mulla Talai Rd, Haridas Ji Ki Magri, Pichola, Udaipur, Rajasthan 313001
If you are fond of cars, and especially, a vintage car, this destination wedding venue is perfect for you. Fateh Garh Palace is not only one of the best wedding venues in Udaipur but also possesses a heritage of vintage cars that your guests will surely love to explore. If you are looking for a palatial wedding with a touch of Rajput legacy to it, your quest for the venue comes to an end with this palace. With the best-in-class decor and a dash of heritage, this palace becomes an ideal choice for your pre-wedding shoots followed by wedding ceremonies. Whether you are looking for an open-air wedding or indoor function, you can never go wrong with this venue!
Address:
Fateh Garh, Sisarma, Udaipur
Sisarma – Bujra Road, Udaipur, Rajasthan 313001
Do you want to celebrate your union in the most romantic city in India, and that too without compromising on your comfort? Your hunt for the perfect venue comes to end with The Leela Palace coming to your rescue. Being one of the best 5-star venues for hosting destination weddings in Udaipur, The Leela Palace ensures your guests and you all the comfort with astonishing views around the premises. This venue has mastered the art of delighting their guests with the utmost comfort and lip smacking cuisines that your invitees will remember for many years. The palace, with its dedicated staff, ensures that your wedding celebration is the best experience of your life. So, take a ride through its rich heritage and indulge in aristocratic nostalgia, as this is the best venue to make your wedding an incredible affair.
Address:
The Leela Palace, Chandpole, Udaipur
Pichola, Udaipur, Rajasthan 313001
We are sure that, by now, you have already fallen in love with these destination wedding venues in Udaipur and started planning your palatial wedding. If you want to keep looking for more, don't forget to check out our website for more venues in Udaipur.