E-invites: 10 Ways To Make Your Wedding Invite Stand Out
Wedding invites set the tone for everything. Be it your lehenga, the Mehendi practices or even the main ceremony. It may seem like the most minuscule part of the wedding process, but sometimes, you could also go wrong with these. The printer may use the wrong paper, they could get wet in a sudden rainstorm or the colour and font may be all wrong. A quick fix to such a mishap is E-invites. With the increasing usage of technology in the world today, why bother even printing cards? Besides, you're also saving a ton of paper! 
Here we've picked a few images from designers around the country who are experts with wedding e-invites. So let's take a look and ideate as we move along. 
1) A Minimalistic Wedding E-Invite
Image Source: krutisinvitations
This adorable invite is very straightforward, has all the necessary details and is also made with a whole lot of love. Celebrate the feeling of togetherness with this e-invite.
2) A Theme-based Wedding Invite
         Image Source: Digitalpuzzle
You can pick your theme and see it unfold in front of your eyes. This cute 'Save The Date' resonates with the theme of the couple's love for travel and love for adventure. It is simple, straightforward and adorable. 
3) A Pre-Wedding Shoot Invite
    Image Source: exoticInvites
Make use of your pre-wedding pictures for some gorgeous invites. This adds your personal touch and the pictures are not just used for Instagram likes. You can even use them for a countdown to the big day. 
4) An Illustrated Wedding Invite
    Image Source: aditibasantillustrations
A caricature is a great way of personalizing these invites. It adds a touch of warmth and humour to the invite. Plus, it is super fun to have a cartoon version of you, right?
5) A Carton Wedding Invite
     Image Source: graphic.bee
This gorgeous invite is full of happiness that this couple is waiting to share with their beloved guests. With minimal details, the designer has focused on showcasing the love that couple share. 
6) Separate Event Wedding Invites
 Image Source: Itchhatalrejadesigns
This card made especially for the Mehendi ceremony is a great example of ideas that e-invites can help you build on. You can also pick and choose the guests you wish to invite for separate occasions. 
7) A Traditional Wedding Invite
Image Source: flyingelephantdesigns
This card can also be printed but the vibrancy of colours add that touch of oomph to the traditional elements that this invite captures. 
8) A Digital Painting Wedding Invite 
Image Source: paperbugs_17
This cute digital painting of the couple is a great example of the plethora of things you can do with e-invites. They've captured tradition and being an e-invite also incorporated modernity in the invite. 
9) A Colour Themed Wedding Invite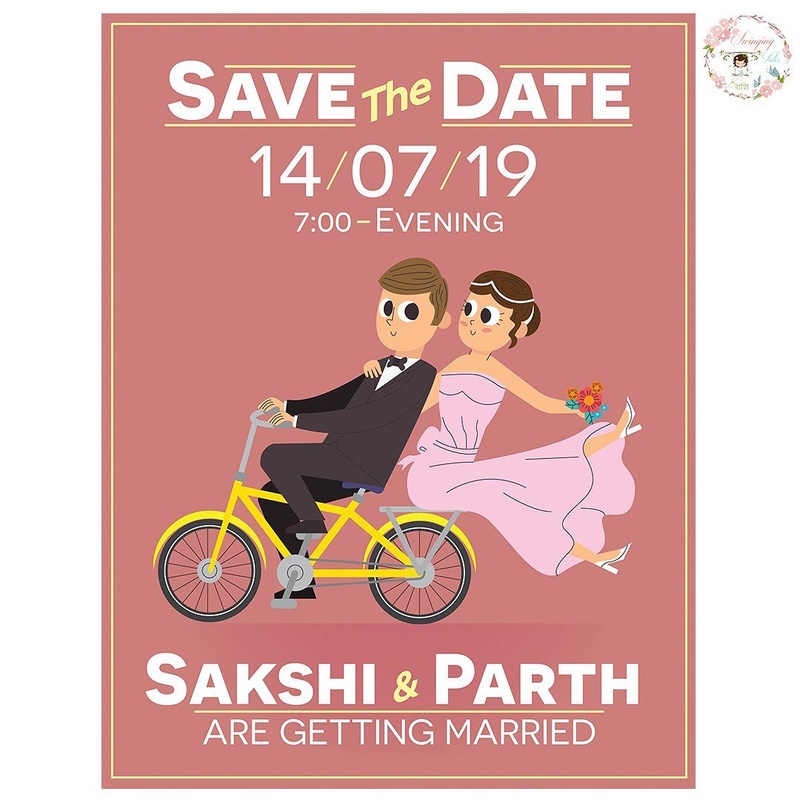 Image Source: swingingtales
This card has the perfect contrast between the shades of pink that the couple has picked as their theme. This tiny touch of humour make it adorable and the feel of comic-like illustration makes for a great 'Save the Date.'
10) A Destination Wedding Themed Wedding Invite
Image Source: _beyond_design_
A card fit for a great destination wedding. This adorable design will make your guests not miss your wedding. The colours, the elements of the card and the cute depiction of the couple make the card memorable.
Reasons To Go Digital With Your Invites: 
1) The colours you pick will be the exact ones you want. 
2)You need not wait for the cards to arrive. 
3)You save trees and paper.
4)You can send them in real-time. 
5)You save money and spend it on something else like an amazing honeymoon or a beautiful piece of jewellery.
Get your creative juices flowing and create your E-invite Already!