Are you one of those couples who wants a traditional and classy wedding ceremony for their big day? If yes, then you are on the right page at the right time. We have scoured the entire city of Shirdi to find the perfect venues for one such dreamy wedding. Just scroll down our list of the best wedding hotels in Shirdi and find the best one for yourself. We hope that you might stumble upon a one that you always dreamt of and this city is so sacred and pious that you'll feel the blessings showered upon you as you exchange the vows with the love of your life. Start browsing!
Hotel JC Castle, Shirdi, Shirdi
Hotel JC Castle boasts of a large wedding lawn in Shirdi and is located in the heart of the sacred lands of Shirdi. It offers an exclusive multi-cuisine vegetarian treat to indulge your guests in sumptuous buffets, making this venue ideal if the wedding feast is the most important element for you. They also have their decor team to make your wedding look fabulous. This venue in Shirdi allows you to hire your favorite service providers to customize your event as per your wish. Hence, book this venue and enjoy your day to the fullest. 
Daiwik Hotels, Shirdi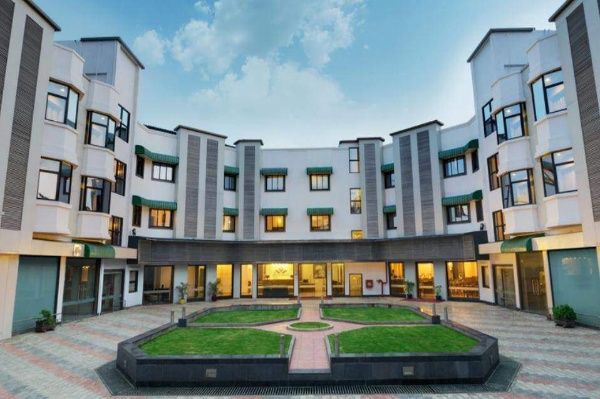 Just a few minutes' walk away from the famous Sai Mandir, Daiwik Hotels has all the luxury to offer. The venue is beautiful and you can sense this charm as you enter the hotel. This 4-star wedding hotel in Shirdi not only exemplifies magnificence but also falls under the budget category, so you get the best of both worlds without putting a dent in your pocket. You can easily host an intimate wedding ceremony at this party hotel in Shirdi while it takes care of the decor and food for the day. It also has cozy and well-equipped rooms for accommodation, as the wedding usually takes days to end. So, book this awesome venue and enjoy your day to the fullest. 
The Temple View Hotel, Shirdi
If you are looking for one of the finest wedding venues in Shirdi, then The Temple View Hotel is the one you should go for. As the name suggests, the venue has the mesmerizing view of the Sai Baba temple, and you can capture this view in your wedding photographs. This hotel offers all the 4-star amenities to ease the wedding planning and make your day just perfect. This hotel features a banquet hall and a terrace venue that you can choose from as per your guest list. It gives you the liberty to hire decor and food service providers to serve on your wedding day. All in all, this wedding location in Shirdi can be a perfect pick. 
Sai Neem Tree Hotel, Shirdi
Sai Neem Tree Hotel is a venue tucked in the pious lanes of Shirdi and definitely, a one to look out for. You can pick from its multiple event areas depending on what kind of wedding you want – a traditional indoorsy wedding or a grand outdoor celebration. The interiors are simple and classy, and you can jazz up the settings by hiring your favorite decorator. While you have all the freedom to hire a decor artist of your choice, you can count on this wedding hall in Shirdi to make all the arrangements for the wedding feast on your big day. The venue is also very close to the temple, hence, all the more reason to pick this one. Get your bookings done and enjoy your day to the fullest.
Hotel Three G, Shirdi
Popular for its courteous and friendly hospitality, Hotel Three G is a prestigious wedding hotel in Shirdi. This hotel has a tiny hall to celebrate your wedding in an intimate setting. It can fit around 80 guests, so you can host a destination styled traditional wedding right in the heart of Shirdi by booking this venue in Shirdi as your wedding location. Along with this setting, they also render decor and food services in-house, so that all you have to do it enjoy your day and they'll take care of every detail. So, if you have a tiny guest list, then book this venue right away. 
Did you stumble upon a venue, where you would wish to host your wedding on our list of the best wedding hotels in Shirdi? You can check out more wedding venues and more services on our exclusive website.
Weddingz.in brings hassle-free event planning and venue booking at your fingertips! Book with us and bag 'Guaranteed Best Prices' on all the wedding venues or event areas on our website. If you have any queries about a venue or want to learn more about our services, visit Weddingz.in or give us a call at +91- 76-66-77-88-99.