Extravagant Indian Destination Wedding held at The Sofitel Resort and Spa in Krabi, Thailand
Give us a minute while we catch our breath! The impeccable, larger-than-life wedding of Rushi and Disha Shah held at The Sofitel Resort and Spa in Krabi, Thailand left us mesmerized with wide-eye-wonder and a whole new dimension of Destination Wedding goals! After seven pre-wedding functions in Mumbai, Rushi and Disha had a three-day destination wedding extravaganza in Krabi, Thailand. Each pre-wedding function with its own unique décor details and entertainment factor! Wedding planners, Momente Weddings,took the Shah Family's ideas and brought each one of them to life through perfection and painstaking attention to detail adding elements that made this entire destination wedding celebration one of a kind! While the talented team at Reels and Frames beautifully captured this Big Fat Destination wedding in all its glory! 
Mehndi and Sundowner
After the guests arrived on the first morning, they had a small welcome party followed by lunch. Later that evening, they had the Mehndi on the lawns with live singers, Thai bamboo dancers and wrestlers. They also had booths setup with different activities to entertain the wedding guests. The decor for the Mehndi and Sundowner was set in bright shades of green and yellow and Rushi and Disha's outfits perfectly complemented the entire pre-wedding event.
Casino and Masquerade Night
After this warm welcome with loads of dancing, it was time for some more dancing! Day 1 of this Big Fat Indian Destination Wedding closed with the grand Casino and Masquerade night. This pre-wedding event saw Disha in a princess Belle like ball gown and Rushi looking sharp in a velvet maroon sherwani. A billion twinkling lights, a crowd that danced through the night and gamers ready to play the game – this opulent wedding event was all things grand and how!
Cricket Match
Day two of the wedding celebrations saw a more competitive side of the guests – Rushi and Disha decided to see whose wedding entourage is best through a game of cricket! The Parle Panthers and the Cambay Cougars were ready to battle it out in style. Trophies,  pom-poms and a loud bunch of enthusiastic people made this game of cricket truckloads of fun!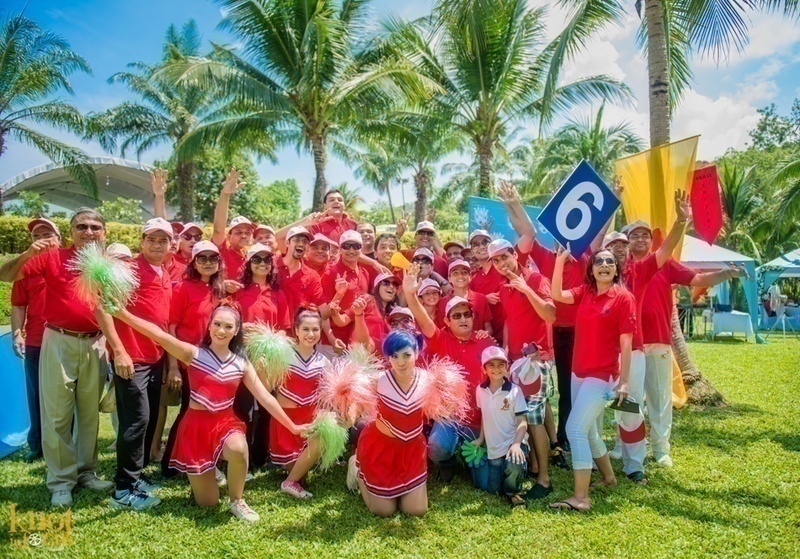 Island Beach Party at Hong Island
The couple chartered yachts to transport guests to Hong Island for the next part of their adventure-filled wedding celebration. Recreational activities and relaxation areas  were planned for the guests. Limbo, Hawaiian belly dancers and a breathtaking sunset took Rushi and Disha's Hong Island beach party a whole new level of destination wedding goals!
Sangeet
Later that day, Rushi and Disha along with their friends and family had an extravagant Sangeet ceremony that went on till the early hours of the morning. Set in an Arabian Nights theme with Moroccan lamps, floral centrepieces, and beautifully hung drapes along with mirrored strings – a pre-wedding ceremony set up fit to shoot a movie scene. Sizzling, Bollywood movie-worthy dance performances were put on by the couple, the kids, the cousins, the uncles and aunties too but the dance routine put on by the parents of the bride and groom truly stole the show! So much energy. So much excitement.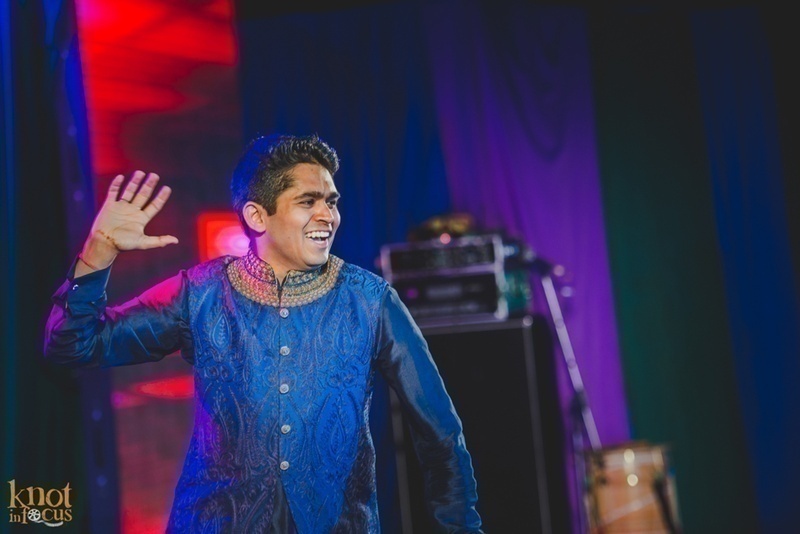 Haldi
The morning of the wedding saw an intimate haldi ceremony for the bride and groom. Meaningful rituals and traditions were carried out by the families of Rushi and Disha. After the pooja was over, lots of laughter and hugs were shared as the duo's friends and family painted them in this holy yellow paste.
Pool + Foam Party
Rushi and Disha have taken #DestinationWeddingGoals to a whole new level – the usual pre-wedding pool party was upgraded to a foam + pool party to double up the fun and relaxation before the Big Fat Indian Wedding took place that evening. Bright décor, quirky props and Zorb balls – this was one party we were dying to be at!
Wedding
With every passing pre-wedding event, the celebrations of Rushi and Disha only got grander – and it was no surprise to see their wedding as the grandest of 'em all! The bride's Tarun Tahiliani lehenga, stunning polki jewellery, her majestic entrance – we could just go on and on about the aura Disha had, on the wedding day. The cutest moment of the wedding ceremony was the varmala where the love in Rushi and Disha's eyes was overflowing! Their all floral, red and white mandap with ethnic latkans was perfect for their wedding ceremony that took place with the setting sun as backdrop.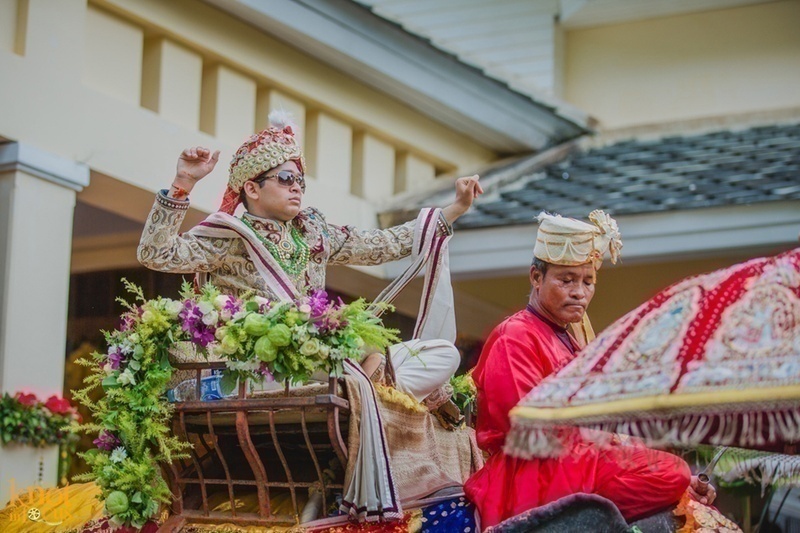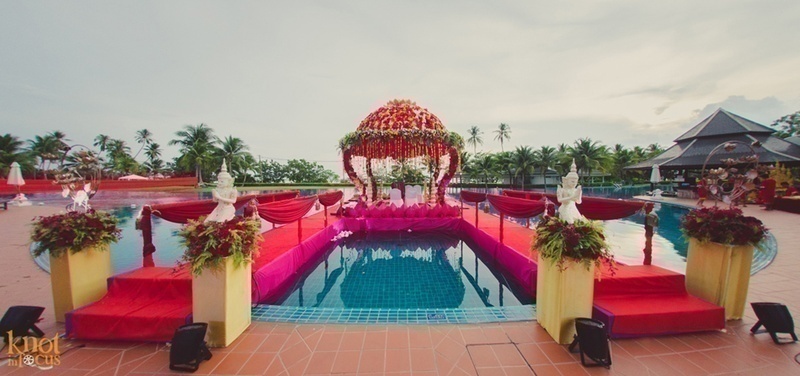 UV Party
This electrifying UV party was the perfect way to end the three day Big Fat Indian Wedding celebration! Bright lights, loud pumping music, flashing UV lights and so much fun – Rushi and Disha looked like they had their own little EDM fest at the Sofitel Resort and Spa in Krabi, Thailand.
Reception
They then had another reception in Mumbai which had a complete crystal and purple theme – all things regal and grand, don't you think? Live band music, finger lickin' good delicacies and décor details that took our breath away! This Mumbai reception was the perfect end to Rushi and Disha's Big Fat Indian Wedding celebrations!
Wedding Planners – Momente Weddings
Bridal Lehenga – Tarun Tahiliani
Location – Sofitel Resort and Spa, Krabi
Photographer – Reels and Frames
MakeUp Artist – Sonam Chanda