Firdaus – Sabyasachi's Latest Indian Bridal Wear Collection Wows us, AGAIN!
While on our daily task of insta-stalking our favourite bridal wear instagram accounts – we were glued to one particular account in specific. Who? You might ask. It was the instagram account of the guru of bridal wear! The man behind the pretty scatter of sequins in lehengas, the artisan who rediscovered the greatness of the Mughal era through his collection. That's right, Sabyasachi Mukherjee, The master of Indian bridal wear, recently launched his latest brainchild, Firdaus to the world through the medium of Instagram.  This collection takes us back to the colonial times, where Sabyasachi takes inspiration from Kenya, Burma and dhsa in weaving each lehenga and sherwani to perfection.  The term "Modern Heirloom" is something that especially caught our attention – Sabyasachi brings to indian bridal wear an old-world charm with Firdaus. Keeping the feel of ancient India, he adds elements that speak of elegance, royalty and poise. The motifs of birds, coconut trees and flowers – an unusual combination put together so beautifully, with each piece of indian bridal and groomswear becoming a piece of art.
The Firdaus Coat
Farsi needle work.
Antique textiles of Qajar Dynasty
113 colours, vegetable dyed silk floss.
Dip dyed brocades and silver gilt.
69 artisans, 2800 hours of pure love.
Over 2 million stitches.
A modern heirloom.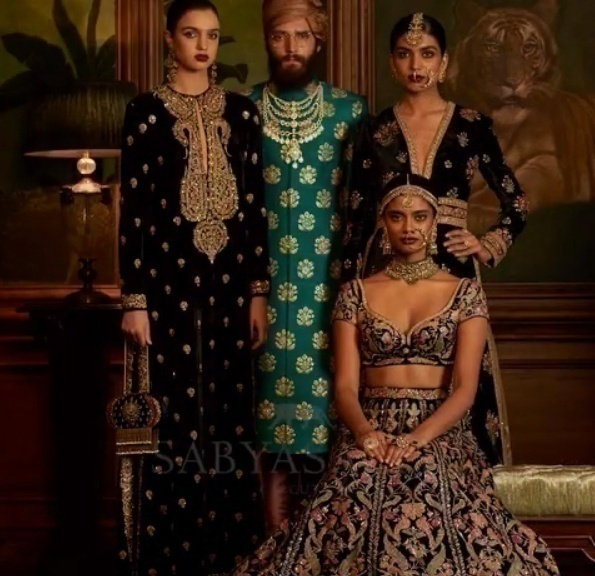 Regal use of navys and gold complemented with pastel pinks and green
Sabyasachi redefining the double drape dupatta – a sheer net paired with a brocade dupatta
Bridal and Groomswear inspiration – a gorg black match embroidered design for both the bride and groom
All about the little details!
Tones of peach paired with deep maroons – floral motifs, trees and fruits made elegant
Sabyasachi's signature – Sequins!
Dark. Black. Beautiful.
Coconut tree motifs made it on to the clutches and jootis too
Lovelove the colours popping against the black base of this floor length jacket 
Dapper groomswear picks!
Few of our favorite elements from Firdaus – Brocade borders, the classic Sabyasachi Panther, Taj Mahal Blouse Designs and Floral Sequinned Jootis
Big embroideries for the Bold bride!
Full focus on the lehenga with these tiny gold buttis paireed with color blocked velvet dupattas and blouses
Stunning Modern Heirloom jewellery by Kishandas & Co.
Bridal and groomswear in hues of olive green and sage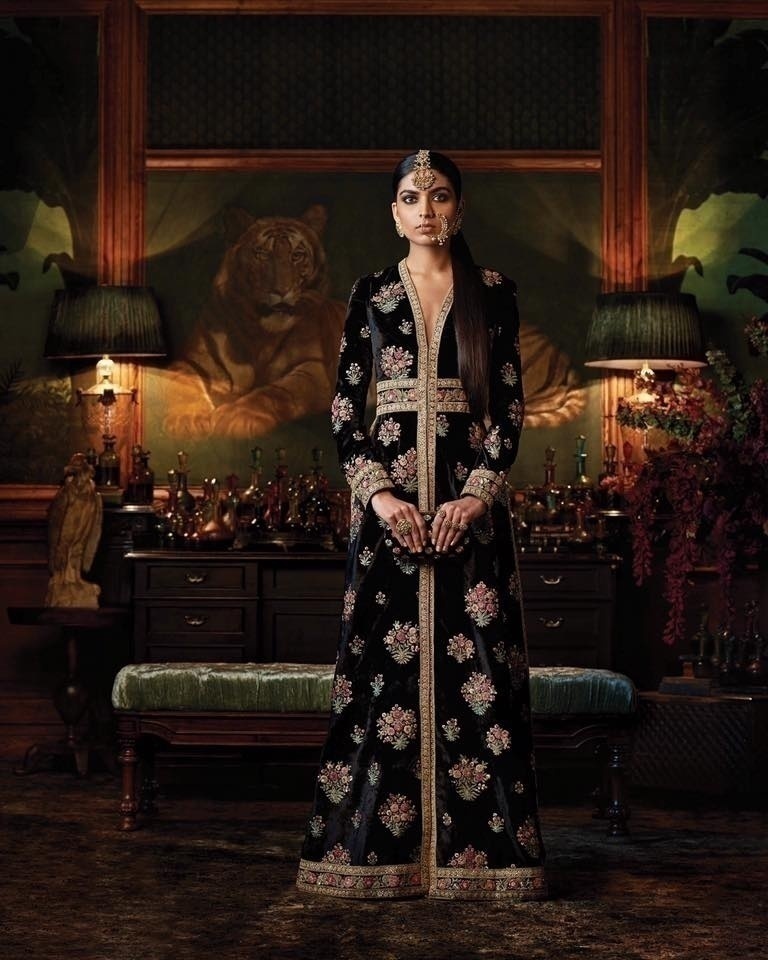 Another stunning floor length jacket – perfect for a grand reception ceremony
Emerald green elegance combined with contemporary stripes
Sabyasachi comtemporarizing the jacket lehenga – who said only men wear jackets?