Flamboyant Hindu-Sikh Wedding Held at Shiv Vilas, Jaipur
Nanki and Ishaan's wedding at Shiv Vilas, Jaipur might as well be a synonym for flamboyance! We love how this Sikh-Hindu couple managed to plan an uber-cool, fun and yet traditional wedding all by themselves! But of course, none of it would be possible without all the help from the fabulous fam-jam. 🙂 The location had a beautifully quaint aura about it. What to look out for: Each and every outfit that Nanki wore and the fab décor!
MEHNDI
Nanki and Ishaan's mehndi was all things colourful and all things fun. The pristine stone structure, Shiv Vilas looked just about flawless with its intricate carvings. The couple went for vibrant and bright décor that stood out wonderfully against the white backdrop. Orange and pista diwans, hot pink pillows, marigold floral décor… all by the poolside. It looked rather lovely. They even had a bicycle-rickshaw that was all done up in pretty florals.
Nanki wore a pink pleated dhoti dress by Sonia Khurana with statement earrings and a matha-patti. We just loved the look. Ishaan colour co-ordinated in a pink kurta and cream dhoti-pants by Pranay Baidya. He even added Tom Ford aviators, to top it all. Much wow, Ishaan 😉
Also, check out that fancy-ass signboard! 😀
PRE – WEDDING SHOOT
The shoot happened after the mehndi function. Nanki dressed herself in a pretty mint green and gold gown while Ishaan stuck to his pink ensemble. The couple seemed to be made for each other. <3
HALDI
For the haldi ceremony, Nanki decided to wear something from the closet of mother dearest! Allll ready to be spoilt, haha 😀  She accessorized with a necklace, earrings and orchids – the first flower Ishaan ever gave her. Awww =)
 Ishaan's haldi outfit was designed by Pranay Baidya = dhoti pants, a cream kurta and a yellow Nehru jacket; topped off with a gold pocket square and juttis.
Love all the emotion we see in the pictures captures brilliantly by Romesh Dhamija Productions!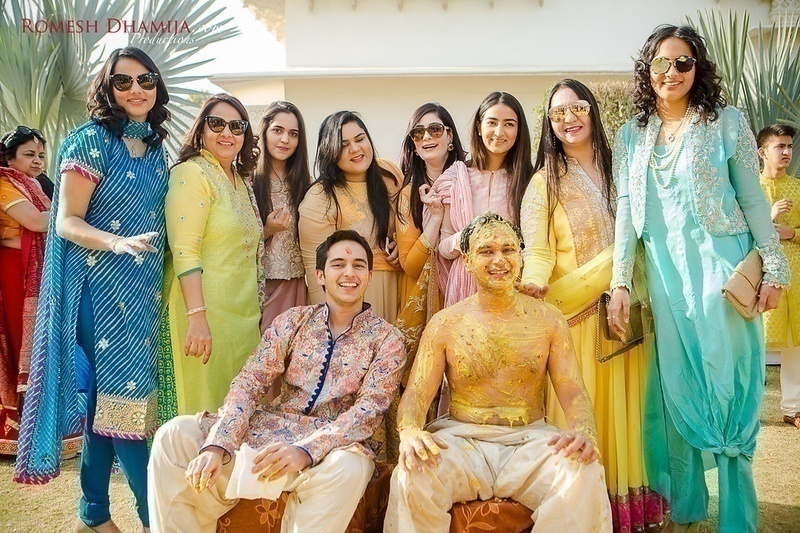 SANGEET
The Sangeet saw Nanki in a beautiful red lehenga with detailed gold embroidery by Sonia Khurana. Ishaan wore a black gold-embroidered Sherwani by Pranay Baidya. He accessorized with a red bandhini turban and a red dupatta that matched the heavy gold work on his sherwani. The Varmala ceremony took place on this night itself.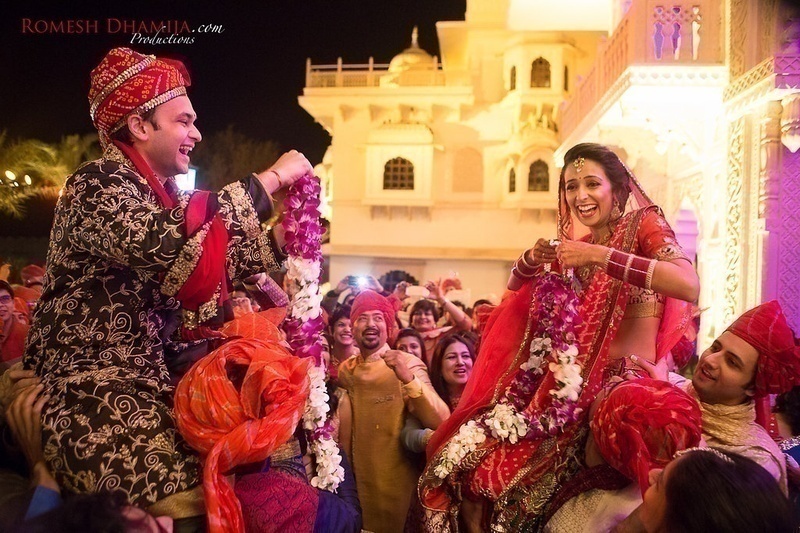 SIKH WEDDING
The colour palette for the wedding was a pastel shade of pink. The venue was decorated in pink and white drapes with floral arrangements. Nanki wore a light pink and mauve salwar suit – a replica of her mother's wedding suit in lighter colors – designed by Sharon Walia and made in Jalandhar, Punjab. Ishaan dressed himself in a white sherwani with gold details, also by Pranay Baidya. He complimented his bride by accessorizing with a light pink turban and matching juttis.
Pink Overload? Hell, yes! But it never looked better. All the elements came together so perfectly to create one pretty pink picture. =)
HINDU WEDDING
The couple had a second Hindu wedding ceremony post the Sikh wedding. Nanki looked just about gorgeous in an ombre-orange and blue lehenga with stunning hand embroidery by Sonia Khurana. The groom looked quite dapper himself in a regal peach and orange ensemble with  a matching safa, completing his look with a navy embroidered belt. And yes, Pranay Baidya did his magic once again and designed this outfit too!
The mandap décor was beautifully done. Orange tones were added to the pink drapes along with bright flowers.
RECEPTION
Nanki graced the occasion in a purple velvet gown by Ridhi Arora and her better half chose to wear a classic white tuxedo with black lapels and a statement butterfly tie.
These two were just adorable throughout the night! Loved the shots of them dancing and just being soo in love. :') 
Wedding vendors:
Photographer- Romesh Dhamija Productions-photos and films
Event co-ordinaters- Baraati Inc.
Decorator- Bhawna Ujjal from Yes Media
Makeup Artist- Natasha Arya
Caterer- Shiv Vilas Palace(in-house)
Invites- Designed and created by Nanki Walia and Ishaan Dhurka with artwork and paintings provided by Sharon Walia