Floral naths for your Mehendi is the new trend in town!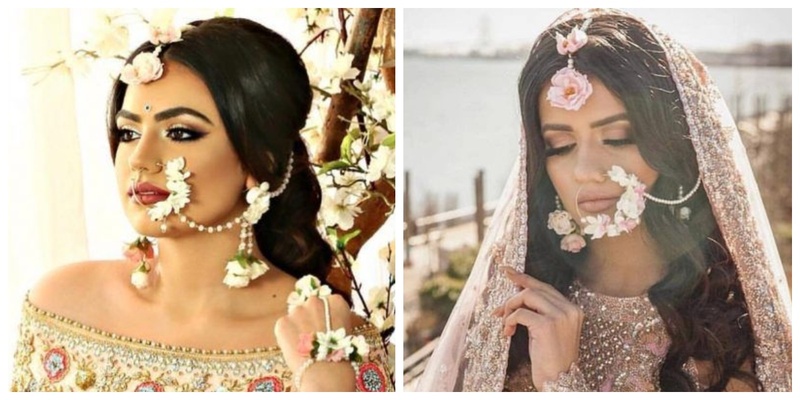 Floral jewellery is most brides' favourite pick when it comes to accessorizing for their Mehndi function. While floral 'naths' have been quite a popular pick overseas, in India you may have not seen a lot of brides go for it.
However, we spotted a few brides who wore some gorgeous floral naths for their mehendi ceremonies and absolutely fell in love with them! Scroll down to have a look –
1. Jasmine and Rose petals nath with a pearl chain
This gorgeous floral nath made with the petals of pink roses and white jasmine is just stealing my heart away! The nath chain created with pearl beads is perfectly completing the alluring floral nath!
2. Artificial mogra flower nath with a gold chain and white beads
Image Source: LeFleur Jewels
We spotted real brides sporting this artificial white mogra floral nath with a white beaded chain. Simply a Wow affair!
P.S.- Loved the hanging bead at the bottom of the nath.
3. Minimal gold chain nath with pastel pink rose petals
This bride's choice of an absolutely adorable minimalistic gold chain nath with pastel pink rose petals completes her bridal look perfectly!
4. Gold nath with mogra flower at the bottom
Image Source: Pink Orchid Studio
This bride went for a gorgeous floral nath with Mogra flowers decorating the bottom of it. The golden nath is completed with a white beaded chain.
5. White flower brigade from nath to the chain
Image Source: Money Images
This gorgeous white floral nath chain simply too pretty to look at!
6. Complementary mogra floral chain adding grace to the golden nath
The simple gold nath gets its added elegance with this additional mogra flower chain! For a bride that is a lover of florals, here is the perfect option for you.
7. Artificial rose nose pin with a beaded gold chain
Another stunning example of a beautiful bridal nath. This one here features an artificial yellow rose flower as the nose pin decorated with white beads. The nath has a pretty white bead chain completing its look!
8. Pastel pink floral nose pin with a simple gold chain
Image Source: Rav B Beauty concepts
If you are a nath fan, but still want to keep it minimalistic then I think this is the perfect choice to go for. It features a simple pastel pink flower at the nose pin with a gold chain completing the nath.
9. Three different styles of floral nath for your personality
Image Source: Money Images
The three different kinds of floral naths shown here give you an option to choose the best one according to your personality! The extreme right one features a floral nose pin with a beaded chain. The middle one features a nath half decorated with white and pastel pink flowers completed with a pearl chain, while the extreme left one features a floral extravaganza nath with white flowers starting from the nath and covering the entire chain. So, what's your pick?
10. Simple gold nath with pearl chain
Image Source: Ronica Kandhari Photography
This might not be a proper floral nath, but if you believe in a minimalistic look, well, look no more. This simple nath is perfect to complete your minimal bridal mehndi look!
P.S.- Loved the floral bajuband!
So brides, which one did you pick to complete your Mehndi look?
Image Source Pinterest unless specified!