Food Trends that you need to see for your 2018-19 Wedding!
People might forget what you wore, what was the decor like, but they will NEVER forget what they ate at your wedding! Food is arguably the best part of any wedding. Tons of people just attend to gorge on the unlimited free food! #gatecrashers
Everyone follows the fashion trends, but have you thought about following any food trend? Well, here are some food trends that you should follow to make your 2018 – 19 wedding more memorable!
1. Nostalgia Trip
Let your guests take a trip down the memory lane with candy floss, popcorn etc. Plus the kids won't whine. Win win!
Image source: Wedding Nama
2. Donut Delight
Everybody, I repeat, everybody loves donuts! Donuts will add the much requires oumph element to your wedding!
Image source: Jodi Clickers
Image source: Nikki Closser Photography
3. Soup Shots
Vodka shots are fine.. But have you ever thought about how cool will soup shots be?
Image source: Studio Finch Photography
4. Customised Macarons
Customised or printed macaroons are slowly becoming the rage. By the time your 2019 wedding arrives, they'll be a super hit. A macaron croquembouche sounds delicious as well!
Image source: Vintage Nutters
Image source: Amazeology India
5. Bite Sized Appetizers
Easy to consume, bite sized appetizers are a great way to make your guests happy. A little splish splash here and there and you're done!
Image source: Little Food Co
6. Comfort Food
Comfort food can be a n number of things..daal chawal for some, burgers for others. Keep it simple, silly!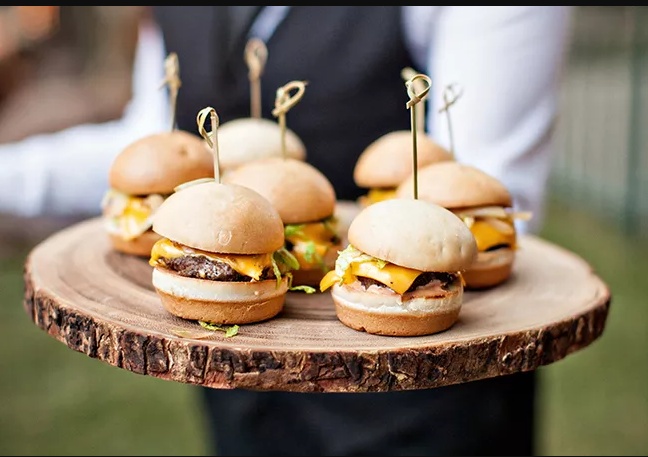 Image source: B & G Photography
7. Wonder Cone
Cones aren't meant for ice creams only. Ask your caterer to experiment a little and to make chimney cones with delicious fillings. A little Budapest in India!
Image source: Delhipedia
8. White Chocolate Fountain
Dark chocolate fountain is so yesterday! Make way for white chocolate, baby! Keep an assortment of marshmallows, biscuits and fruits to go with it.
9. Simple Desserts kept in a Fancy Shancy way!
You don't need a fancy dessert, just a fancy setting and a good DSLR! Make most of the subtle environment and don't go overboard.
Image source: Shevan J Photography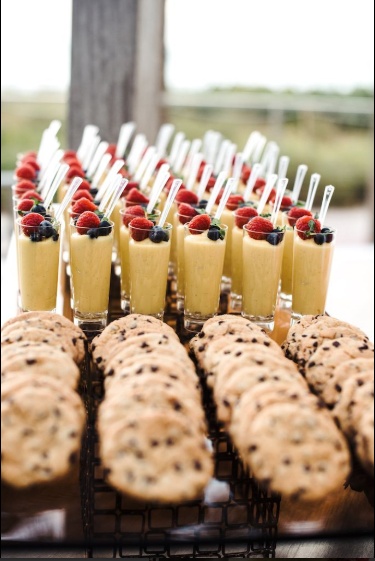 Image source: Anchor and Veil
So the food mantra is to keep it simple and light this wedding season!