Gold and White Themed Wedding at Hyatt Regency, Dubai Creek Heights
A pristine white and gold themed wedding held at Jumeirah Creekside Hotel, Dubai has us currently swooning over its cute DIY details and the simplicity of it all. This international wedding feature is all about the love! Tanvi and Satish's entire day time wedding was set in a theme of white and gold. From this bride's gorgeous gold bridal lehenga bought from Asiana Couture, Delhi to her dapper groom's gold, multi-toned sherwani from Studio by Janak, and the outdoor wedding décor too. All of it perfectly matched their entire white and gold wedding vibe. Tanvi's matching green and gold bridal jewellery from Suhana Arts and Jewels, Shahpur Jat, New Delhi was just plain stunning. Their wedding photographers Into Candid Weddings did a brilliant job in capturing this simplistic, sweet wedding affair with the utmost precision resulting in flawless wedding photographs!
 From the bride – "The whole wedding was just wonderful. My husband knew that the whole south wedding concept and all the rituals was new to me so he kept making me smile and laugh all throughout the ceremony to make me feel comfortable. A good way to start a new life I think 🙂 Also the joota chori moment! Siding with my cousins against my husband and his brother was so much fun :D"
The cute details like the Instagram Chalkboard, the colourful pinwheels with ribbons that hung beautifully from a tree, and the little bells on their gorgeous white mandap made their outdoor wedding décor level up in the pretty factor majorly!
The evening brought with it Tanvi and Satish's wedding reception party held at The Address Downtown, Dubai and it was all things glorious. Regal table centerpieces, pretty pink and white fresh flowers placed with mirrored plates – absolutely stunning. So many #WeddingDécorGoals right here! Tanvi picked a royal shade of navy blue to wear at her indoor reception party. The gown from Studio by Janak flowed effortlessly as Satish danced with her. Their wedding cake too was oh-so-pinterest worthy – white, pearly and chic!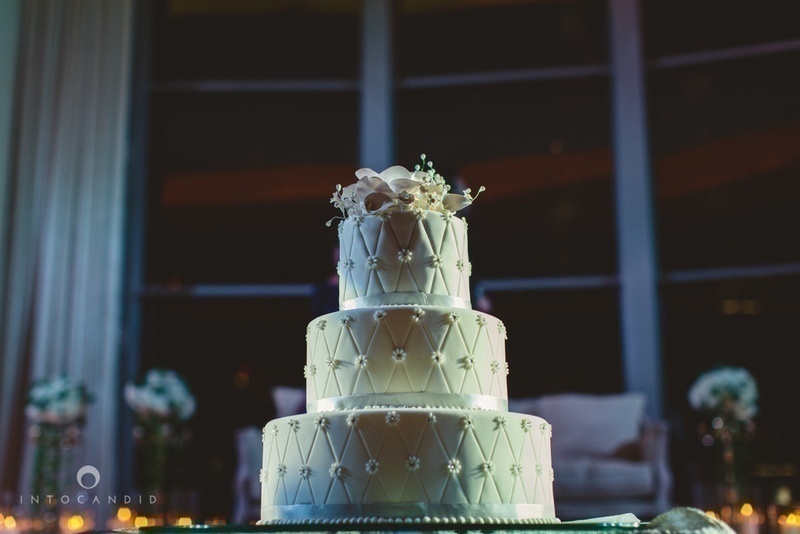 Advice for brides-to-be from this real bride herself – "When it comes down to the day, all that matters are the memories you make. Your family, your to-be family, your friends are all that matter. Not the months of planning, not the stressing, the tears or the details. The people around you will be the only thing that will matter. So relax and enjoy it – because once it's over you'll miss it immensely."
Wedding Venue – Jumeriah Creekside Hotel, Dubai
Reception Venue – The Address Downtown, Dubai
Wedding Lehenga – Asiana Couture, Delhi
Wedding Sherwani – Studio By Janak
Reception Gown – Studio By Janak
Reception Tux – Kachins Clothing
Decorator – Sada Al Afrah
Jewellery – Suhana Art and Jewels
 Wedding Photographer – Into Candid Weddings