FRIENDS fans, listen to this – Jennifer Anniston is the official Maid Of Honour for Courteney Cox!!
I dunno about the FRIENDS reunion, but Monica Geller is all geared up to walk down the aisle and any guesses who will be her Maid of Honour? Well, you guessed it right, it's gonna be none other than Rachel Green (and here's hoping she can have the champagne at this wedding – you gotta be a FRIENDS fan to understand that).
Yes, the news is absolutely true. They became BFF's while shooting for FRIENDS and are still closer than ever. So, when Courteney Cox decided to get hitched to her Snow Patrol guitarist Johnny McDaid, it was a no-brainer that Jen will be her 'Maid of Honour'.
A source told in an interview, "Courteney and Jennifer are thick as thieves and Courteney wouldn't want to walk down the aisle without Jennifer by her side. They have a very strong friendship."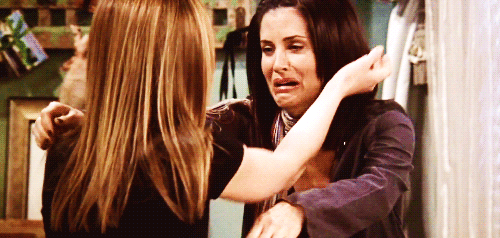 P.S. When Jennifer tied the knot with Justin Theroux in 2015, it was none other than Courteney, who was her maid of honour.  
About the happy couple:
Courteney and Johnny began dating in 2013 and announced their engagement a year later but separated for four months before reuniting in 2016. The much-in-love couple plan to tie the knot at the guitarist Johnny's home in Derry, Northern Ireland.
They will then travel to Malibu, California, to say "I do" at a lavish second ceremony in front of friends and family on the beach.
Ahhh with a wedding plan like that, I can hardly await their pictures.
Well, you didn't think I'll end the article without a throwback to the best Monica-and-Rachel moments did you?
Also, here's hoping for the whole FRIENDS cast to be there!!!!