From the celebrity guestlist to inside scoop – here's all the exclusive deets on the big-fat #Nickyanka Wedding!
Nick Jonas and Priyanka Chopra have ARRIVED. The couple just touched down in Jodhpur, where they're getting married this weekend and looked insanely glamorous and much-in-love.
They are all set to tie the knot in a Christian ceremony on December 2, followed by a Hindu wedding ceremony in the later part of the day.
The Wedding schedule:
According to a report in DNA – their mehendi and sangeet ceremonies will be organised tonite. This will be followed by a haldi ceremony on tomorrow and a cocktail party later in the night.
The Ladkewalle:
Nick's older brother Joe Jonas with his fiancé and Games of Thrones star Sophie Turner:
Nick's parents Denise and Paul Jonas:
Nick's another older brother Kevin Jonas with wife Danielle: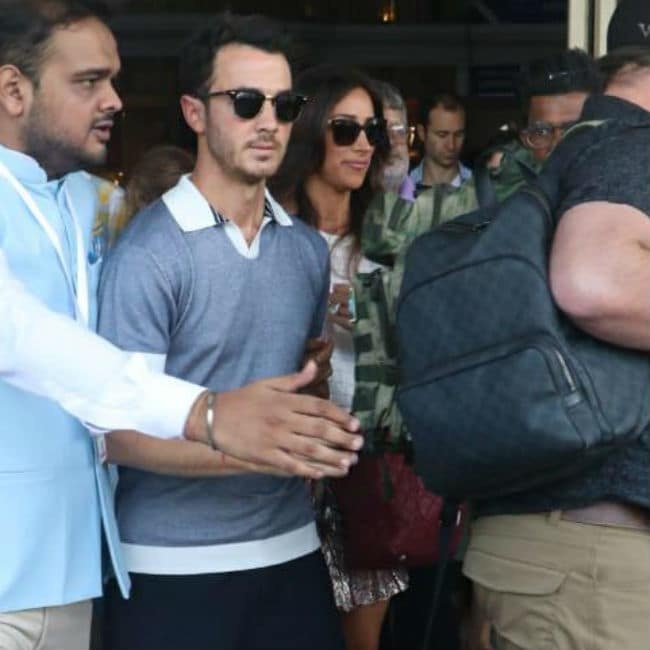 The Ladkiwalle:
Priyanka's mother Madhu Chopra, cousin Parineeti Chopra also accompanied her on her way to Jodhpur.
Several other aunts, cousins and relatives also reached Jodhpur ahead of the pre-wedding celebrations. The bride-to-be's best pals Mubina Rattonsey and Anjula Acharia, are also a part of the event.
No Phones allowed:
According to the reports, security at the hotel has been majorly ramped up ahead of the wedding—with the staff restricted from using their cell phones in order to prevent photos from being leaked.
One outlet even reports that "jammers" are being installed to block cell signals during the ceremonies themselves—just to be extra careful. Dang!
Other B-town guests:
Soon after Priyanka and Nick's arrival, Shibani Dandekar and Karan Kundra and singer Ganesh Hegde were also spotted at the Jodhpur airport.
Canadian YouTuber Lilly Singh popularly known as IISuperwomanII was also spotted arriving in Jodhpur. Quantico star Yasmine Al Massri was also spotted in Mumbai during the puja and will be attending Priyank's royal wedding.
A source has confirmed that Priyanka's Baywatch co-star Dwayne Johnson is one of the confirmed guests on the lists. It is to be noted, The Rock had also worked with Nick in Jumanji and therefore, is expected to not give this royal wedding a miss.
Among the Bollywood celebs, Arpita Khan Sharma who also attended Priyanka's post engagement party is also expected to fly to Jodhpur for her friend's wedding. Alia Bhatt has also been a regular at Priyanka's parties and was there at her post engagement party and the recent pre-wedding party she hosted days before flying to Jodhpur. She is also expected to be a part of her big royal wedding.
Well well, let the wedding festivities begin already!