Edible Wedding Décor Ideas: Creative Ways to Use Fruit at Your Wedding
By now, we're all used to floral centrepieces, paper lanterns and strings of fairy lights decorating a wedding. But what we seldom see in Indian wedding décor is fruit. Just as colourful, creative and actually less expensive than even floral arrangements, fruits are a fabulous choice to deck your wedding halls with. Plus this edible wedding décor idea could totally double up as snacks for your guests to much on! Everybody lovesss fruit.
And no usual post-wedding mess to clean up after either! Okay, we can go on and on about why fruits are a great idea for your upcoming wedding but you get the gist. Check out these fab visuals for a better idea on how to creatively incorporate fruits at your big day. J
FRUIT BASED WEDDING CENTERPIECES
There a number of things you can do for some creative and nice-looking fruit centrepieces. Filling up a bowl or a container aesthetically with choice fruits is the most convenient one. You could also combine fruits and flowers together for a lovely pop of various colours! If you want to stick with inedible, carve out a pineapple and use it as a vase to hold flowers.  A little more work, but definitely worth it!
FRUIT BASED WEDDING TABLE SETTINGS
These are rather simple to incorporate. All you need to do is lay out your favourite fruit at your wedding dinner table in a pleasing manner! It could serve as a healthy entrée to your wedding meal.
FRUIT BASED WEDDING DÉCOR
Light up your venue with some apple based candles. All you need to do is hollow out apples and place small candles inside them. If you don't want to do the work, fill up some pretty birdcages or any nice container with fruit. You could also hire a decorator and go all out by having some amazing fruit installations. Look out for the fruit swan in the pictures!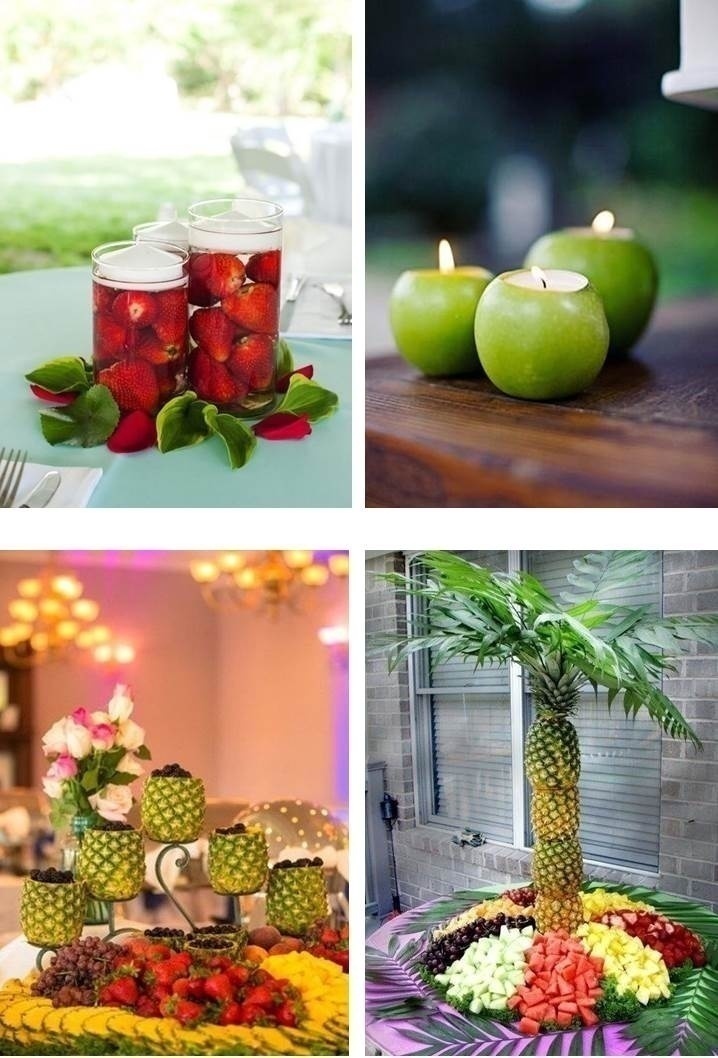 FRUIT BASED WEDDING CAKES
Bored of plain old white icing? Naked cakes with fruit toppings, chocolate sticks holding in a mixture of fruits or simply a fruit flavoured cake are some of the other options you could try out. Check out these creative fruit based cakes and tell all your cake ideas to your vendor for that perfect dessert affair.
FRUIT BASED WEDDING FAVOURS
Skip the pan, mukhwas and mithais for some healthy food! Fruits are a great way to spoil your guests and send them off with some edible wedding favours that they will love more than that predictable box of ladoos.
Image credits: pinterest.com