Halloween Special: How To Plan the Most Perfect Gothic Wedding Ever!
Halloween is just around the corner, and we in India may not be as psyched about it as everyone abroad but it does its own interesting charm to us too. But while we play dress up and throw Halloween parties, that's just about where it ends. So why not take it up one notch and consider the idea of a gothic wedding?! Hey, we've all had that one emo/goth phase in our lives. And if not, we've known someone who has!
Plus, you have so many options to pick from. Vampires, zombies, Tim Burton-esque dollies and so many more! So since it's the season for all things scary and spooky, what we have for you is a detailed visual aid on how to plan the best gothic wedding that the town's going to be talking about to no end. 😀
The idea of a goth wedding toooooo much for ya? Well, consider a fun halloween themed pre wedding bash for your friends and extended wedding party. It's  quite alright to incorporate an element of whimsy and outlandishness to some of your casual pre wedding functions, more importantly if this is your personality. So risk taking brides who are courageous to express themselves and let their inner child out while creating life long memory of a fun party at your wedding, consider this!
GOTHIC WEDDING INVITES
Everybody loves a creative wedding invitation. If you're a vampire lover, then try experimenting with some coffin prints, fangs and dripping blood? If you're a Walking Dead fan, we have some gory flesh-and-blood combos for you to try out. But then again, if you'd rather steer clear of the nasties, and are a classic Goth, those beautiful high towers and wrought-iron gates should serve as great inspiration. Plus, we haven't forgotten to include some fab visuals for Tim Burton followers too!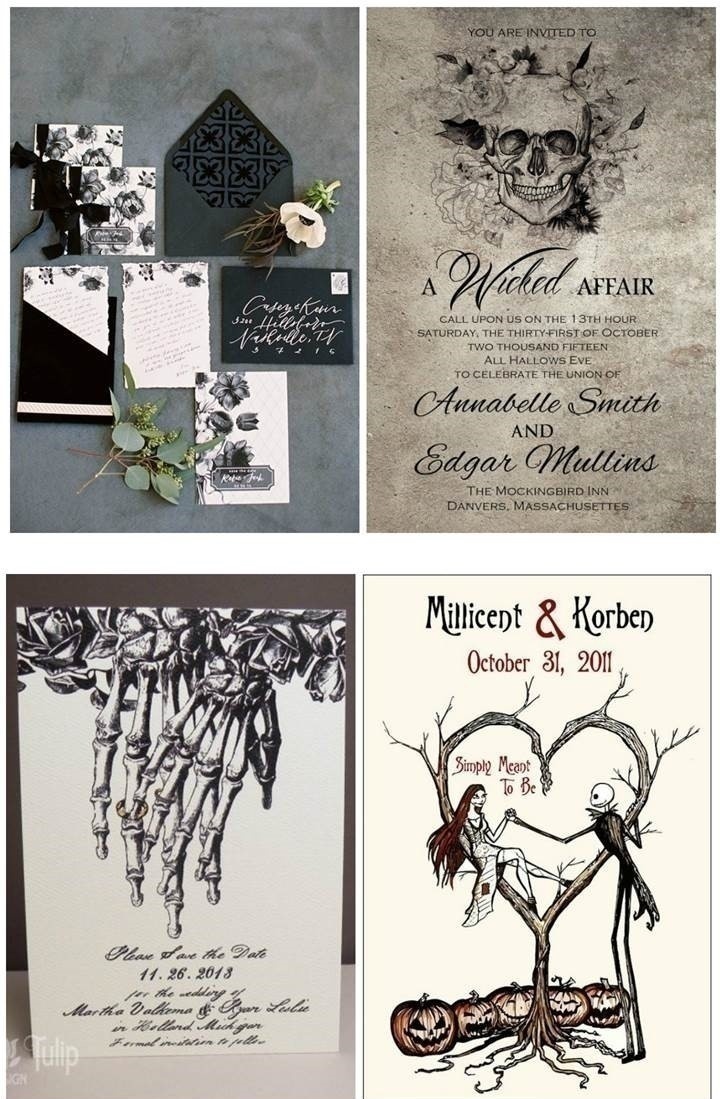 GOTHIC WEDDING DÉCOR
Gothic décor is beyond beautiful. It has this intriguing dark charm about it that you can't help but appreciate, if not love. From dark roses, to black lace and drapes, to classical motifs, you have a ton of options to pick from. This is, if you're deciding to tone it down for friends and fam. But, if you insist on going all out, some skull décor, suspended bats and maybe even skeleton ushers may add a nice touch! Carved pumpkins are perfect for the Halloween theme.  My personal favourite is the combination of black roses, a statement skull and some crystals. Whimsical, dark, enchanting. =)
GOTHIC WEDDING CENTREPIECES
GOTHIC WEDDING TABLE SETTINGS
GOTHIC WEDDING CAKES AND CAKE TOPPERS
As much as I love these, I may advise you to take it easy on this one. Not everybody would want to eat a cake with blood dripping down its sides! You could opt for a black-icing cake topped with gothic motifs, maybe some skulls if you want to take it up a notch.  My favourite? Tim Burton cakes! Cute + creepy. What more do you want!
But if you want to tone it down a little, go for creatively spooky cake toppers instead.
GOTHIC WEDDING CATERING
Okay, don't say we didn't warn you! Some of these drinks and dishes may sound fun and some of them are just gruesome. Take your pick based on your personal level of creep! 😉
Also, keep in mind the guests because I doubt many people would enjoy eating 'finger' foods. Get it?  Ok, sorry.
But in all honesty, blood-cocktails and potions may be real fun but make sure you know your guest list. If you do want to go ahead and incorporate the weirdest foods, try having a counter for normal foods for those that just aren't as fun as you. 😉
GOTHIC WEDDING ATTIRE
Tops the important list. Always. Black gowns may be rather unusual but that's what sets them apart. And if you're an Indian bride, did you really think that you'd never find good enough black wedding wear? Check out these fab designs that'll blow your mind. All-black would be too drab for your big fat wedding, so we suggest you pair it up with gold, silver, red or even white to maintain the festive mood.
GOTHIC WEDDING PHOTO IDEAS
Photos are a great way to immortalise your wedding look. (Because really, we're not all vampires.)  Check out these ideas that'll blend in with your Gothic wedding theme perfectly! A dark backdrop or dim lighting would work best. Try shooting at a graveyard for that X factor. ;D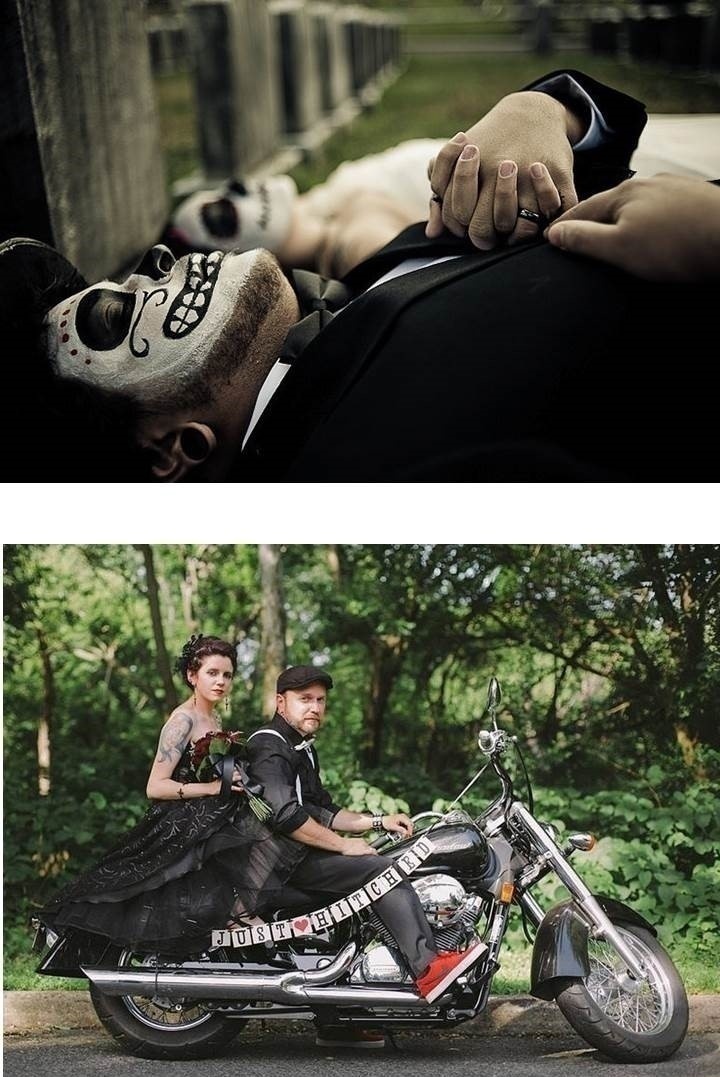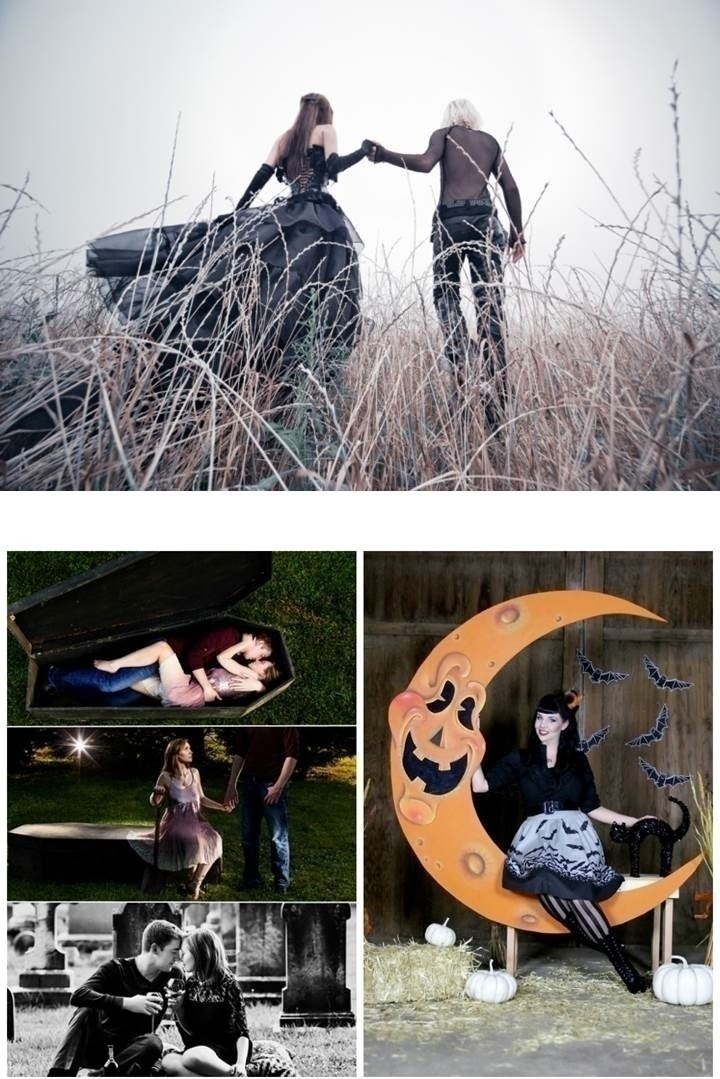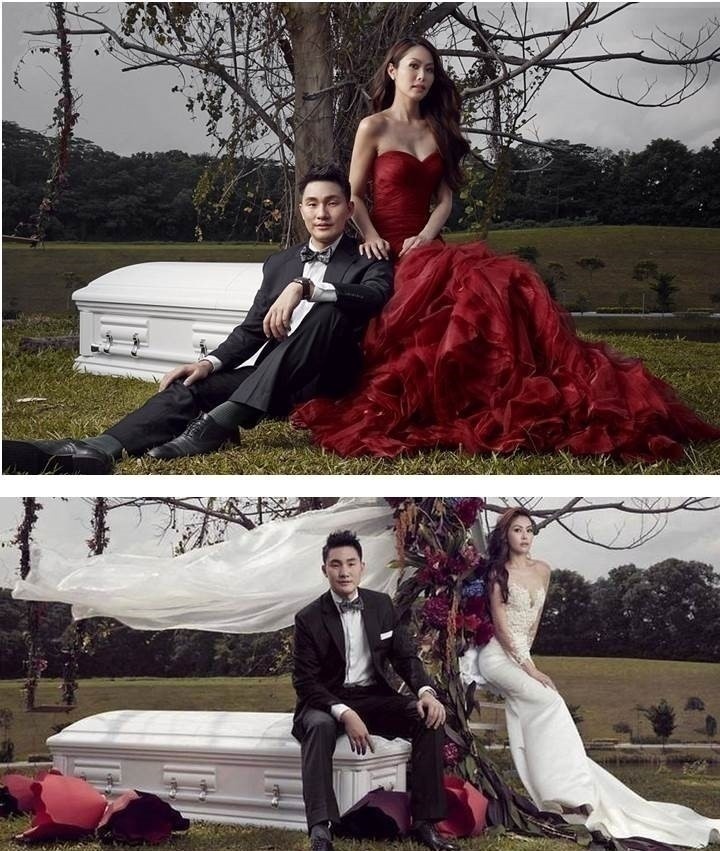 GOTHIC WEDDING FAVOURS
Not that your guests will forget your off-beat wedding easily but handing out favours will make sure of that! Plus, they'll be super pleased with these creative ones. Candies, chocolates, 'potions'.. they're all good as well as convenient favour ideas! If you want to hand out something that'll last, engraved candles are a good idea.
If this is indeed is too dark for the likes of you, check out some of our other themes that are just as creative!
Image source: pinterest.com