Hetali and Harsjeet's Gujarati Destination Wedding at Jagmandir, Udaipur
A Destination wedding held at Jagmandir, Udaipur that has all kinds of glam in all its elements. The décor, the outfits, the unconventional mehendi and the unabashed love visible on every face – This Big Fat Indian Wedding was not only about the glamour and style but also about genuine emotion, loads of fun and uber cool oufits that are sure to leave you inspired.
The Mehndi 
No dhol-baja, vibrant drapes or aunty-ji's singing "mehndi hai rachne wali!", just one gorgeous bride sitting quaintly as the mehndi artist uses her hands and feet as a canvas that displayed intricate patterns of  pretty peacocks and paisleys with twirls and twists that connected these ethnic designs just beautifully. Not many brides opt to have an intimate mehndi ceremony, but looking at the grand celebration that followed we can tell why Hetali wanted to have such a homely ceremony.
The Welcome Party
Upside-down ethnic umbrellas in vibrant colors, equally vivid guests and some crazy Bollywood style dance moves. We spotted some of the most quirky attires that are definitely going to set a trend for future Big Fat Indian Weddings. The Gujarati Thali and Gau-Mata printed Nehru jackets were definitely first to catch our eye. Worn by the groom and the brother of the bride these never-seen-before prints are ones that will soon be the trend at the Indian wedding market. Plus, lots of leheriya and bandhani flowing around – We absolutely adore pure-Gujarati weddings like these for their distinct taste, style and elements that set them apart from any other.
Sangeet + Engagement
LED screen backdrops that display fluttering hearts and kaleidoscopic lights are now the "in" thing for grand Sangeet ceremonies like these – but Hetali and Harsjeet decided to go all classic romantic with their stage set up. A full red rose covered wall set the backdrop and the amorous mood for the evening. The deep reds and fresh greens could put any LED screen to shame. Dressed all dapper in a black Jodhpuri suit, Harsjeet got down on one knee and asked Hetali to be his forever – and that kick-started the desi dancing celebration! Lots of drinking, eating, thumkas and selfies later this beautiful night came to an end.
The Wedding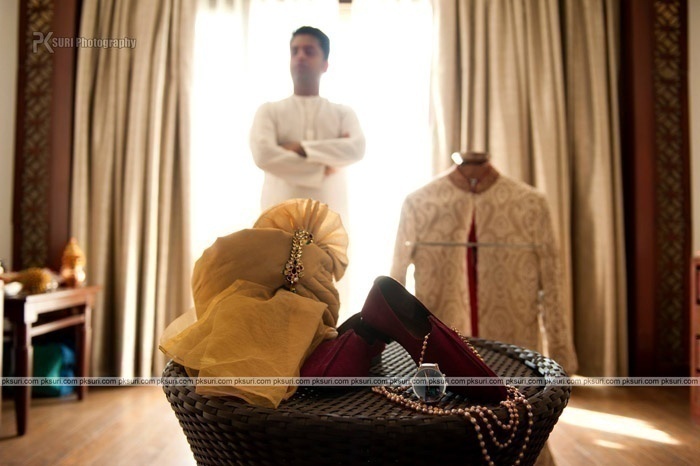 Gold speaks of elegance and class like nothing else does and both, Hetali and Harsjeet's attires exuded a regal vibe like none we've witnessed before. The stunning bride donned an all-gold lehenga from Sabyasachi's 2014 collection that had stunning accents of maroon with gorgeous gold sequins – a classic Sabyasachi bestseller! Harsjeet on the other hand looked like a million bucks in his crisp white textured sherwani and gold tissue safa. But what leveled-up his fashion game were definitely his maroon velvet jootis that perfectly complemented the bold border of Hetali's lehenga.
Post-Wedding Photoshoot
The exceptional PK Suri Photography captured this grand Gujarati wedding affair with such flair and flawlessness, visible in each photograph captured. They used every square meter of the royal space at Jagmandir, Udaipur to capture photos that spelt out love, happiness and a little bit of crazy, loud and clear.