Cross-Cultural, Hindu-Christian Wedding Held at Taj West End, Bangalore
Pratibha and Ashwin's story is not a cliché, fairytale love story. There was no love at first sight and all that drama. It all started out with just a solid base of friendship before they decided to spend their lives together. The two met in Melbourne, while volunteering for the same social club at college. And just like other university students, they simply hung out. But what was striking was that they were and still are poles apart but still shared the same goals. Almost like their paths were different but the destination was the same. Destiny doing it right, I suppose!
 Another facet that sets apart this couple's wedding is their humorous family:
"In most love stories, the families are the so called 'villains' but in ours, they were the comics. When Pratibha told her mother she had her boyfriend, her mother's response was "You're joking, you lived with us for 22 years and with all the liberty we gave you, you didn't have a boyfriend but 6 months away from home and you've found one?"  – Ashwin
Ashwin's Aunty Anna thought he was dating my roommate, not hiding the fact that he didn't bother confirming or denying. And so began a fantastic journey of endless entertainment, countless laughs and the smoothest courting one could have asked for. – Pratibha
 
But what we really loved about this couple is how adorably they spoke of one another. #relationshipgoals!
Prathibha is a very strong, independent and level headed woman but she can also be very stubborn! Her parents also confirmed that she was always a stubborn child and although I didn't sign up for the stubbornness it was part of the package that is – Prathibha. She is however an equally understanding person with a friendly nature and will always do the best for her friends and family! She has been very supportive of me throughout my career over the past few years and been the rock in our relationship. She is the apple of my eye, the straw to my berry, smoke to my high and the yin to my yang. – Ashwin
JACKPOT! That's exactly what I hit with Ashwin. A man who can cook, bake, SING, jive, garden, fix anything that comes his way and makes the best Crème Brulee and Chicken 65. Talents and skills aside, he's the most ambitious and patient person I've ever met, also someone who can strike a conversation with anybody – I mean absolutely anybody – 2 year old to 92 year old! That's possibly because he can go from behaving like a 2 year to speaking as slowly as a 92 year old – tests my patience, this one! Our friends refer to him as the walking talking Google, if he doesn't already have an answer to a question, he'll make sure to give it to you after reading about it. – Pratibha
PRE – WEDDING SHOOT
Pratibha and Ashwin's pre-wedding shoot by PixelStory.in was all about peaceful, romantic vintage vibes. Our bride-to-be donned a classy beige dress with net overlay while Ashwin sported a casual look in jeans and a white shirt. They even had a bright red retro car to add to the backdrop that wrapped up the colour palette splendidly.
WEDDING
As Pratibha and Ashwin come from different cultural backgrounds – she, being a Kannadiga Hindu and him, an Anglo-Indian Catholic, the decided to have the best of both worlds at Taj West End, Bangalore. Plus, as most of their guests were traveling from overseas, they felt that giving them the feel of an authentic Indian wedding would be ideal.
This cross-cultural wedding started off with a South Indian style wedding ceremony co-ordinated by Pratibha's mum, all with the help of the meticulous wedding planners at 3 Productions. With only 200 guests, they wanted it to be intimate and traditionally South Indian. Pratibha looked quintessentially beautiful in a pink-red saree with gold hints from Mysore Saree Udyog while Ashwin kept it simple in a toned-down gold ensemble.
In terms of décor, they chose pastel hues. 3 Productions suggested having marquees for an added touch of elegance. They even had a bridal party that served as the Catholic touch to a solemn South Indian ceremony.
 
FUNNY MOMENTS
Having an absolutely witty man for a partner during the ceremony was definitely a bonus! We had to be constantly reminded of solemnness and sacredness. One of the most funny moments for me was when the couples came to bless us during the ceremony by showering us with turmeric rice (Akshathe) and pouring milk from a silver pot on to a coconut that Ashwin and I held from opposite ends and Ashwin very cheekily said to me "Imagine the amount of biryani we can make with all this rice – try and collect as much as you can, times are tough". – Pratibha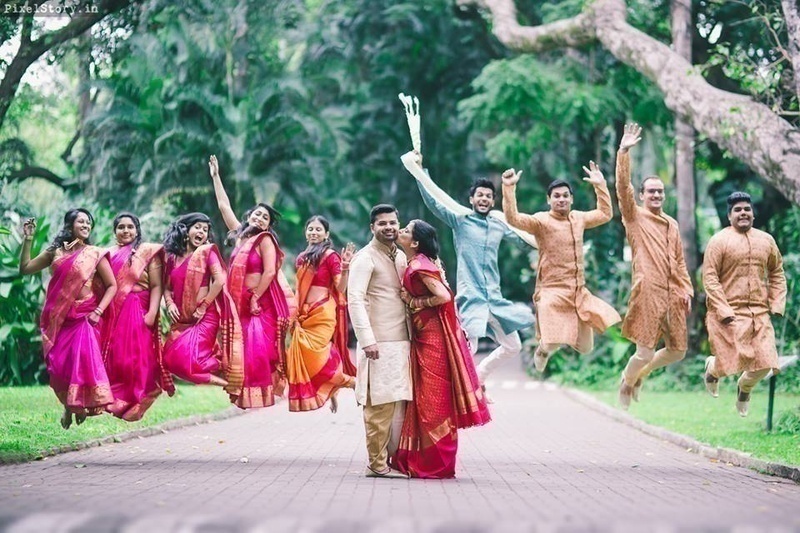 AFTER – PARTY
The after party was everything Anglo, from having Ashwin's guitar teacher's band from Coonoor playing on the night to the Grand March to the vintage chandelier – it was exactly what they had envisioned.  Pratibha chose to wear a beige fishtail gown with black lace adornment that was bought from Duchess Boutique in Melbourne. The groom looked dashing, sporting a suit by Peter Jackson, Melbourne.
The eventful night included the first dance, the father-daughter dance, a toast by Ashwin's uncle, the maid of honour speech and bride and bride groom speeches.
 
Venue: Taj West End, Bangalore
Photographer: PixelStory.in
Event Planner: 3 Productions
Bridal Wear: Wedding – Mysore Saree Udyog; After Party – Duchess Boutique, Amsterdam
Jewellery: Sri Krishna Diamonds and Jewellery, Bangalore