How to Handle Wedding Day Emergencies?
Everybody wants a fairy-tale wedding day that's just about perfect. But in case you haven't noticed, "nobody is perfect". So while most of your wedding may go according to the fool proof plan, there may be some things that just aren't in your control! So to help you worry a little less, we've got a list of quick fixes to handle common wedding day emergencies for a bride. Keep scrolling!
SPILLS AND STAINS
Different stains need to be dealt with different methods!
Water-based stains like wine:
DO NOT RUB as this will spread the stain. Dab gently with a moist cloth dipped in water or club soda. Once the wedding is over, take it to a dry cleaner's asap.
Oil-based stains like perfume or food:
Dab the fabric with talcum powder or corn starch for around 10-15 minutes until it absorbs the blot.
Cosmetic stains (make up):
Treat it with some club soda immediately, sprinkle it with some salt and let it dry.
Spilled ink:
Spray a piece of cotton with hairspray and lightly rub it on the stain.
Chewing gum:
If chewing gum gets stuck on your dress, don't start screaming! Just apply ice to the area until the gum hardens and then scrape it off.
PUFFY EYES
Tends to happen when you've spent the sleepless night fretting about the impending wedding! The best thing to do is to quit worrying about it and get a good night's sleep. But since the mind rarely co-operates and you do happen to wake up with puffy eyes, first drink a glass of detox lemon water. While you do that, keep two teaspoons in the freezer for 15-20 minutes. Take them out and place them face-up on your eyelids. (The rounded part should be in contact with your eyelid)
If you don't have any teaspoons, just wrap ice cubes in a tissue and do the same. The coolness will help drain excess fluid from the blood vessels around your eyes.
You could also steep two tea bags (not herbal tea because you want the caffeine) in hot water, freeze them, and place them on your lids for 15 minutes. Then apply a light layer of eye gel with caffeine or chamomile.
MAKE UP PROBLEMS
Ideally, the best thing is to have your make-up artist around! If not:
Mascara / Eyeliner:
If you are the classic bride, you WILL cry at your wedding; which in turn will cause your mascara to run. (If it's not water-proof)
Just use a wet Q-tip to take off the smudged mascara/eyeliner. You might need to touch up your foundation around the eyes as well so keep that and your compact within easy access.
Lipstick:
To avoid getting lipstick on your teeth, blot it with a tissue after applying. You could also set it in with light compact, though the colour might not be as dark. Another way is to put your finger in your mouth and pull through. This will get all the lipstick that is on the inner part of your lip.
Shiny face:
This tends to happen when you have make up on for long hours. Ensure that you have blotting papers around to suck up the shine. Apply compact again if needed.
ZIPPER MALFUNCTIONS
You can rub a bar soap, lip balm, a candle or a graphite pencil along the length of the zipper to get it running smoothly. Do this a few times, making sure that no thread is stuck along the fastener.
Another temporary, short-term solution for a zipper that won't stay done up is to spray the closed zipper with a strong hold hairspray. The hairspray acts as glue, holding the zipper teeth together. Be sure to cover both sides of the outfit with a towel so you don't get any product on the fabric.
SURPRISE ACNE
Ughhh. If there's one thing that's outta your hands, it's this, especially with all the wedding stress mounting high. But don't worry; there are a few ways to control it.
> Best thing to do is to get a dermatologist to inject you with a dose of cortisone, causing it to shrink.
> If you can't do that, try holding an ice cube to it for 10 minutes to reduce the inflammation and then apply a benzoyl-peroxide based acne cream.
> Dab on white toothpaste on the pimple (make sure it has mint). Leave it on for as long as you can. Use more concealer than usual and dab it with compact.
HICCUPS
> Take a teaspoonful of vinegar. Its sour taste could stop a hiccup in its tracks.
> Breathe slowly and deeply into a small paper bag. (Stop if you feel light-headed.) This increases the carbon dioxide level in the blood and makes the diaphragm contract more deeply to bring in more oxygen, which may stop the hiccup spasms. 
> Try to swallow repeatedly, and then drink a glass of water while plugging your ears.
HANGOVERS
Drank a little too much at your pre-wedding bash? Try out these remedies to stop your head from pounding on the morning of your big day!
> Get an hour or two of extra sleep. But do not sleep excessively!!
> Drink tons of water! Your body is probably super dehydrated.
> Studies suggest sipping on ginger or peppermint tea is the perfect soothing brew for hangover-related nausea and stomach aches. Green tea is also known to be detoxifying and helpful to the liver.
> Eat a meal full of carbs. Avoid all forms of dairy though, eggs included.
TOO MUCH PERFUME
If you went a little overboard, dab your skin with a handkerchief or cotton dipped in rubbing alcohol to neutralise the scent.
BROKEN HEEL
Always practice walking in your new heels before the wedding day. 
If you still do manage to break one, don't worry. Just keep fevi-quick around; it'll patch up the broken heel in no time. Though, this might just be temporary.
SHOE BITES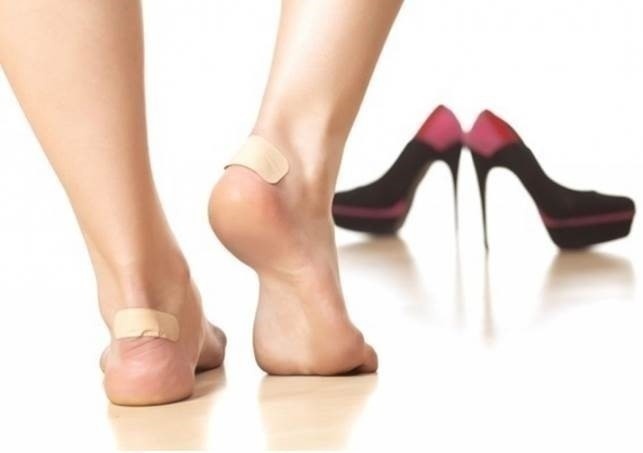 Again, practice walking in your new heels before directly wearing them on the wedding.
Wrap both your big toes and little toes in Band-Aids. Cover the back of your heel with a Band-Aid too. This will avoid friction between your skin and your footwear.
You could also apply petroleum jelly inside your shoe and leave it overnight.
Another method is to apply coconut oil for 3 nights to soften them
Image credits: pinterest.com