7 Cool Ways To Have An Eco-Friendly Indian Wedding
Wedding Invitations
SO much paper is wasted with every wedding invitation which is useless once the wedding is over. Now that it is 2017, let's go with E-invites over the numerous online handles that we have.
Try using plantable paper if you really want to send tactile invites. (Plantable paper is biodegradable and embedded with seeds, so when you plant it in soil, the seeds grow while the paper decomposes.)
Cloth decor
Avoid the strings and strings of gendha-phool decor that every Indian wedding has. Use cloth decor instead like colourful drapes hung in nice ways!
Jaimalas
Instead of using floral jaimalas, you can go for jaimala made with organic/recycled paper flowers.
Cloth is also another option. This couple used satin jaimalas for their eco-friendly wedding: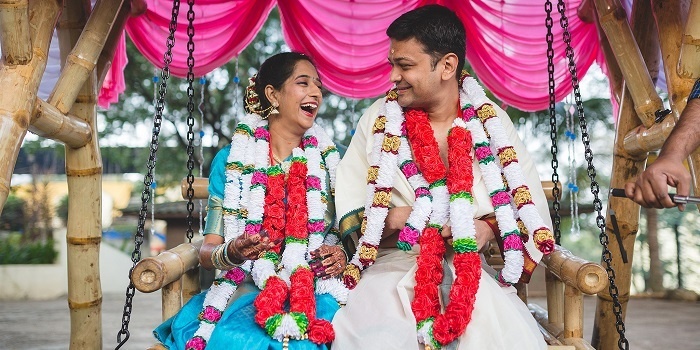 Fruit-based Centrepieces
Centrepieces usually are made of large flower installations that are then just thrown away after the wedding. People even use ice-sculptures – what a waste of water!  We've seen a few weddings that went with fruit-based centrepieces which could be eaten and not wasted:
Edible Cutlery
Instead of using plastic spoons/forks, opt for edible cutlery ( yes, you can eat the spoon too after your meal). They're usually made from wheat/rice/etc or even chocolate for desserts. You can also get them in flavours.
Find edible cutlery here.
Eco-Friendly Wedding Favours
This couple printed their thank-you notes on plantable paper. How cool is that?  
You can also give out potted plants as a wedding favour.
If you realllly want to go the extra mile, you can stick to using only vegan/ non-dairy products like:
> vegan ice-cream or cake
> Dry fruits/nuts instead of milk-based mithais
Check out this couple who had a totally eco-friendly, vegan Indian wedding. Yes, they pulled it off brilliantly!