How to pick a lehenga according to your complexion
Before we get started with our thesis, let's be clear. You really don't need to open your diary and make a note of all the colour combinations. The idea is to play with your preferences and pick something you feel excited about. If you have got started with your customary bridal trousseau shopping and selecting the perfect bridal lehenga choli, you need to know that not every colour can suit your skin tone. So, while you're on a hunt for the right bridal lehenga, here are a few things to keep in mind.
Brides with a pale, warm skin tone (Fair)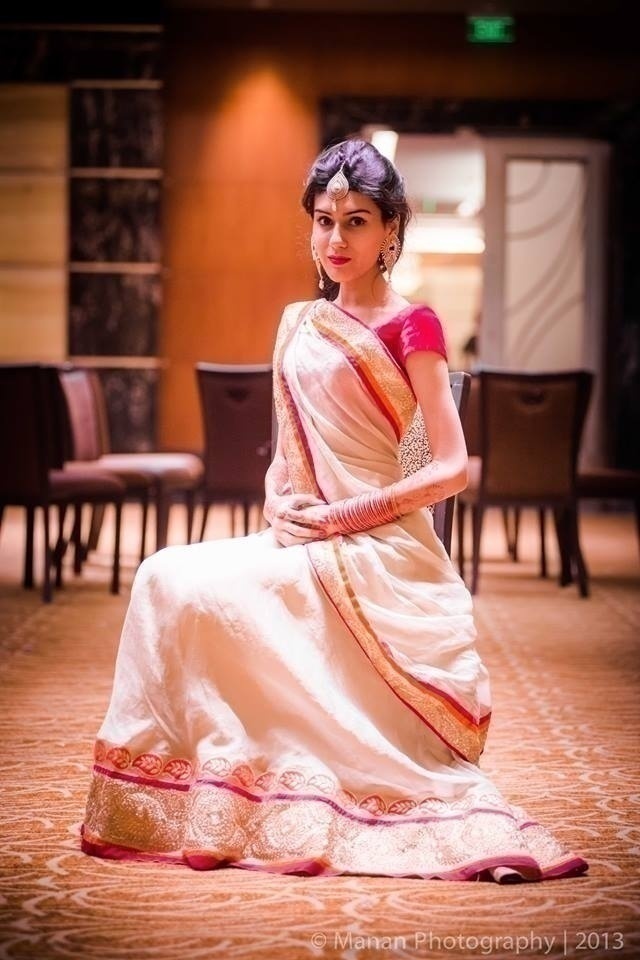 Photo By: Manan Photography
Photo By: Shutterdown Photography
Photo By: Robin Saini
If you're someone with a pale warm complexion, then you have a wide list of colours to choose from. You should ideally select something which suits your skin type. The best example for a pale warm skin tone is the gorgeous Kareena Kapoor Khan. If you closely observe, she's one of the best-dressed actresses within the film fraternity as she wears the right outfits, which match her skin tone. Colours like raspberry pink, bright shades of blue and pink, wine, emerald green and midnight blue suit a fair­-skinned person. Softer pastel hues like peach, light pink and mint green accentuate the bride's personality and make her look lovely on her wedding day. Avoid grey or brown as they tend to make you look dull.
Brides with a warm, medium skin tone (Wheatish)
Photo By: Salim Khan Photography
Photo By: Going Bananas Photography
Brides with a wheatish skin tone should opt for colours that bring out the warmth in their complexion. Warm and earthier colours are ideal for women of this skin type. The beautiful Genelia Deshmukh is the best example of a bride with a wheatish skin tone. She wore a beautiful red and gold bridal saree and completed the look with a nath and 'mundavalya' for her wedding day, which was perfect for her wheatish complexion and made her look every inch of a Marathi mulgi. You should pick warm shades like orange, yellow, red, hot pink, peach and coral while selecting the best bridal lehengas. Earthy and medium tone colours like dusty pink and royal blue rather than midnight blue are great as well. Avoid beige and grey as they make you look dull in pictures. Shades like a deep green, purple and violet become too dark and make you appear very dull.
Brides with a dark, dusky skin tone (Olive)
Photo By: PK Suri
Photo By :Shutterdown Photography
Photo By: Phototantra
Dusky skin tone beauties are always considered to be 'sexy'. Women with an olive skin tone could stand out of the crowd with the right colours. There is a misconception that pastels don't suit dusky skin tones as they can make every bride look gorgeous.Pastel pink, mint green, burnt orange, peach and emerald green will make sure everyone notice you while you make an entry on your wedding day. Colours like maroon, wine and neon do not go well with an olive skin tone. For dusky beauties out there, avoid ultra-bright colours as they don't suit your skin type and can be overpowering. Bipasha Basu is a great example of an olive skin tone, who confidently wears even heavily-embellished red or emerald green lehengas in her movies.
Photo By: Robin Saini
More important than the colour of your outfit is the colour of your makeup. Even if you make a tiny winy mistake with the lehenga, a pop of brightness in your makeup can instantly transform how you look. Every woman is comfortable in her skin, and you should just concentrate on how to accentuate your whole look with the right choice of bridal lehenga.