How to Plan an Affordable Destination Wedding: If Going the Budget-Conscious Way
We've often wondered if destination weddings are only for the rich. Is it all about money and keeping it lavish? Well, having thrown into a pool of weddings at WeddingZ.in, we think it's just stereotyped, and destination affairs could be easy on the pocket. C'mmon, who wants to get under mountains of debt just for that one day? That's no way to start a marriage.
These days, brides want a prince charming and a beautiful destination wedding too. Whether you are pining over a destination wedding on the sand or at an exotic location, small steps, budgeting ideas and planning can bring the costs down majorly. Yes, the words "destination wedding" and "affordable" can be used in the same sentence.
Here are a few tips for getting the most bang for your buck, and pulling off the wedding celebrations with sane finances.
Tell yourself "Let it Go"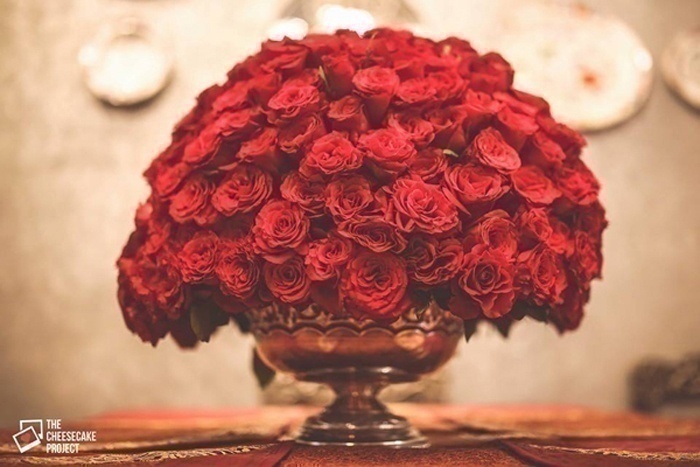 Photo By: The Cheesecake Project
Remind yourself that everything you had dreamed of cannot be included in your ceremonies. A budget destination wedding means that you might not be able to plan the 'do's' down to the very last detail. Figure out the things that really matter to you; it could be flowers, cakes or music. Just because your friends had belly dancers at their wedding or someone else hired the makeup artist who worked with Aishwarya Rai; you don't have to go berserk.
Location Mania
Photo By: PhotoTantra
Yeah, the regal Jodhpur palaces, the unscathed Andaman & Nicorbar Islands or the exotic Goa locales look mesmerising. Who said you also should opt for these popular wedding locations? Go for unconventional and smart places like Jim Corbett, Shimla, Alibaug, Rishikesh, etc. Smaller cities could look really beautiful in your wedding photos. Unexplored and unseen; you can paint these towns the way you like and not get stuck with the trappings of popular demands.
Off-Season Destination Wedding?
Photo By: Photobhoot 9
A peak season can rip wallets apart, and off-season weddings can turn out to be much cheaper. After all, choose a certain destination depending on its weather, the feel and of course the budget factor. Imagine this – You book a certain place as it looks beautiful during the monsoons. You are waiting at the beach for the baraat, and it begins to pour like crazy and non-stop. Arrgh! We don't want that. Also, keep in mind that your travel budget, the price of flowers or catering will go up if it is some occasion like the Valentine's Day.
Skip the Gifts and Knick-Knacks
We know that already! How can one not get gifts or give wedding favours to the guests? Trust us, cutting out these knick-knacks will only save you the effort and moolah. Ask attendees to not give 'gifts' per se and cash would do instead. Destination weddings are a penny pincher for sure; get the cash and let that help you sail through your expenses. Also, it's completely 'ok' to skip favours as the truth is – most people don't land up using those little things and they are stacked in one corner of their house as memories.
Book Early – Transport & Stay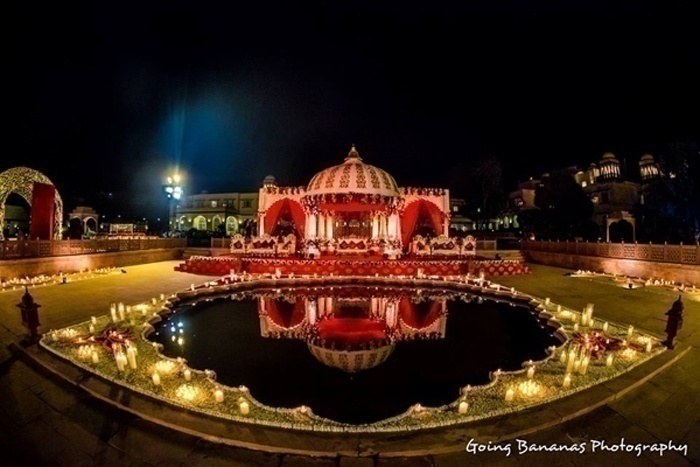 Photo By: Going Bananas Photography
If you booking flight or train tickets in advance, you will land up saving big. So, lock the date, confirm if the guests are coming and go for it. Don't be hesitant to ask your travel agent or airlines if there are any deals or discounts for bulk booking. In fact, check the deals first and then decide when is the best time to book. So, airlines, hotels and even dancing rooms and beach fronts can be booked in advance with a good number in mind.
Trim the Guest List
Photo By: PK Suri
Sure, you might have a lot of friends and even bigger family tree. Trim your guest list; chop chop chop! It's a special day and be clear that everyone is not invited. Just be sure about who to call and who to meet later at a house party. Around 80 – 100 people is just what you need. Anything more than that will cause a dent in your pocket.
DIY Decor
Photo By: Navdeep Soni
With a beautiful location at your disposal, the landscape is going to be extravagant and spectacular. Who requires decorations? Just relax and enjoy the natural beauty of the beaches and open-air gardens. Obviously, there are a lot of things you could do it yourself. Save money by avoiding luxurious and pricey flowers to cover up the venue. Make your own bouquets and centerpieces. If you don't know how to go about it, check out a video on YouTube.
Keep your alternatives unhooked as you can need them any time– destination weddings can be fun and economical if planned correctly. There are many couples who have successfully planned dreamlike yet low-cost destination weddings and you can do it too by following these tips. Good luck!