Bridemaids Goals 2017 – Everything An Indian Bridesmaid Needs To Know!
Bridesmaids Alert: Make-up artist Priyanka Arora tells us what's hot this season! From make-up to lehenga to jewellery – check out what's happening on the bridemaids front this wedding season.
Wedding Make-Up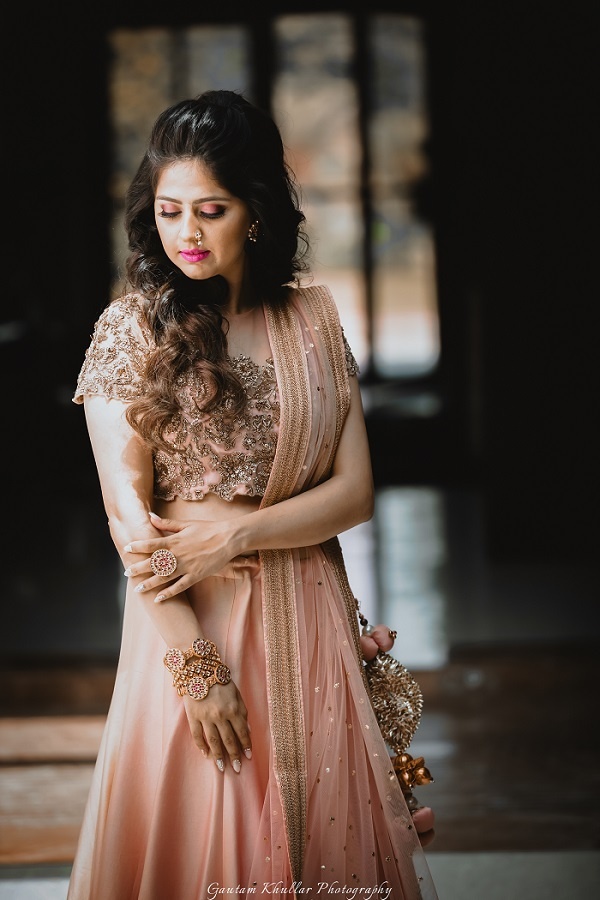 > Try a bold look with your eye makeup and explore as many colors as you can. One color that is going to be sparkling this season is the color BLUE.
> Make sure that you are using a good foundation and it is well blended. If you are going for a party that is going to last for a whole day, use a very light weight foundation or mousse but make sure that the makeup doesn't look cakey. BLENDING is the key, ladies.
> Glow for it, gorgeous! Contour and strobe your pretty features using a good highlighter and contour. Try out different looks for all functions such as smokey, glittery and matte eyes. Add a little drama to your face by using eyelashes to complete the look.
Wedding Outfit
> As a bridesmaid, make sure your outfit is comfortable outfit is to be comfortable.
> According to me, a bridesmaid should wear something modern yet elegant and classy.
> The off-shoulder trend, which is a popular street-style, has made its way to the bridal world also.
> Cropped skirt with a crop top is one of my favorites for a Mehndi function.
> Digital prints in geometric, abstract and floral embroideries and patterns are the latest trends.
> Running around for small errands in comfortable shoes for a bridesmaid can be such a relief. Wedge heels make things perfect in terms of exaggerating the height and giving comfort. If you are still a pencil girl, walk in those heels many times before you actually wear it on the final day.
Wedding Jewellery
> Invest in a statement Mathapatti or a Nath. Try out different types of Nath's considering their different sizes and patterns for your look.
> If you are going for heavy Mathapatti or Nath, go subtle with your neckpiece. Playing around with different chokers can also be considered.
Remember these bridesmaid's tips and you are good to go! Remember there's no better makeup than CONFIDENCE. I believe that all women are pretty without makeup and can be pretty powerful with the right makeup and dressing tips!
Priyanka Arora:
Priyanka Arora specialises in Bridal Makeup and she is now the leading Bridal Makeup artist in Delhi NCR and North India. From destination weddings to exotic locales like Udaipur and Goa, everyone wants a piece of Priyanka. She is every bride's dream and she is one of the most easy going, patient and friendly Makeup artists.
Priyanka's approach to makeup is simple. She is all about using the right products in the right places to accentuate a person's best features and more importantly their natural beauty. Everyone is beautiful in their own way. To be able to see that and to bring that out to the best of her ability and creativity is what she likes to focus on.
Credits:
Outfits: Manish Arora, Anushree Reddy, Blush, Gazal Gupta
Photography: Gautam Khullar Photography
Jewellery: Raabta Jewels