It Only Happens at Indian Weddings!
Ever seen a sentimental bride who cries for no reason (even at the sight of her puppy?). Yes, we are Indians and we don't care about the occasion or mood. Even when we are pretending to be simple, there's a lot of dhoom-dhadaka, naach-gaana, rasmo- riwaaj…There will never be lack of entertainment. No matter where we live, we are full of inspirations from Yash Chopra, Karan Johar and Sooraj Barjatya movies. In India, our parents still cry when the lovable dog gives Madhuri Dixit's letter to Mohnish Bahl in Hum Aapke Hain Kaun.
     Photo By: Navdeep Soni
Be it your old aunt showing her dance moves or that long waiting time for the buffet counters, all of us have attended indian weddings and experienced many crazy moments. Here's a sneak-peek at a few of the whacky things that can only happen at Indian Weddings! Go ahead, take a sweet laugh break.
When are you getting married, beta?
                                                                                   Photo By: Going Bananas Photography
If you are 21 and above, prepare yourself to be bombarded with questions about your impending wedding, whenever you attend an Indian marriage ceremony! It doesn't matter if you have no clue who that particular aunty or uncle is. If you're single and of a marriageable age, then it's everyone's business to know when is the big day? And if you're lucky enough, there are some prospective grooms in the queue. But if you ever mention that you're not interested in getting married at all, then God save you!
Wedding crashers
A scene from 3 Idiots
How can any wedding be complete without having at least a few who gate crash and that too with confidence! Remember the gate crashing scene from the movie 3 Idiots?? They self-invite themselves for all the free food offered at the wedding.
What is a wedding without gossips?
Lehenga kaafi bhaari hai! How much do you think it costs? How much gold is she wearing? Must be fake, for sure. Oh, do you know she starved herself for two months just so that she could fit into that beautiful wedding attire! Her makeup looks so awful? And it goes on and on…
The curious case of the missing shoes a.k.a Joota Chupai
Photo By: Going Bananas Photography
A famous, Bollywood-flavoured tradition, this has now become a money-making time for the bride's sisters. Having said that, it still remains one of the most loved and religiously-followed indian wedding tradition.
Band Baja Baraat
Photo: Aivayi Aivayi Song Still from the movie 'Band Baaja Baaraat'
This is easily one of the craziest and best things about any Indian wedding. The 'thumkas' and 'latke-jhatkes' to the famous Bollywood party numbers, be it 'Aivayi Aivayi' or 'London Thumakda' or even the 'Saat Samundar' songs. The baraatis groove to the recent Bollywood party numbers played by the band walas.
Where's the bar?
Photo By: Robin Saini
The otherwise sober, stern uncles are a different sight to see at weddings. If you've been to a lot of Indian weddings and observed very closely, you'll find that there are men who arrive at the wedding, enquire about the open bar and rush to it straight away. Yes, even without congratulating the couple.
Never-ending wedding festivities.
Photo By: Navdeep Soni
Indian wedding functions and ceremonies tend to go on for many days, with a lot of pre-wedding rituals taking place before the actual wedding day. From having a highly synchronized sangeet function, elaborate mehendi or haldi function to cocktail and reception party till the bidaai, we tend to extend the excitement and fun factor.
Flash the cash
Photo By: Going Bananas Photography
How can you not flash the money to show your emotions? And what best way to do it than at weddings? Then again, like every other absurd thing, this too has been given the 'tradition' label to it. This has gradually become a trend at a lot of Indian weddings and seems unlikely to fade out anytime soon.
Mehendi colour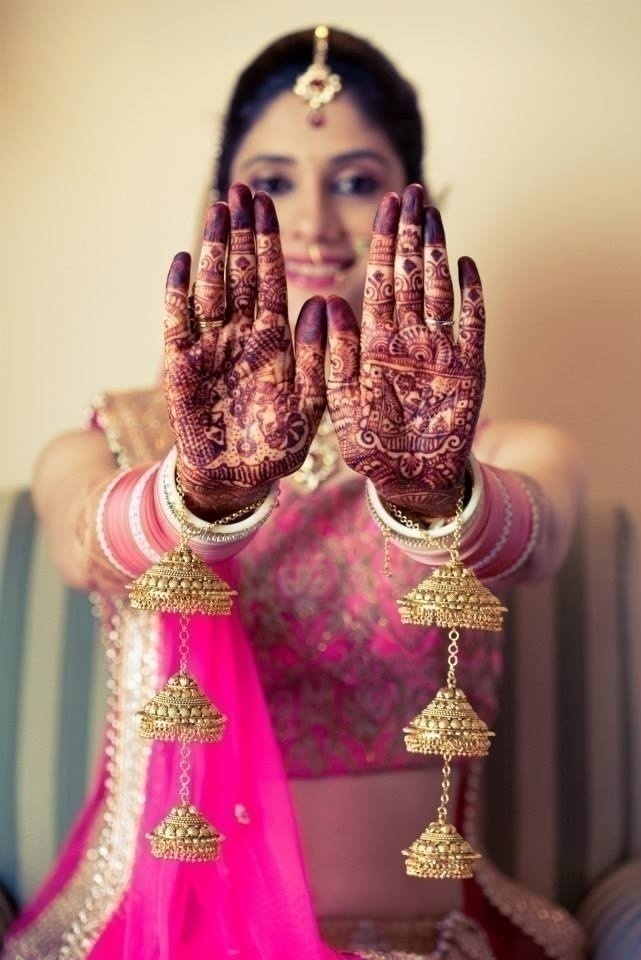 Photo By: Manan Photography
Mehendi colour decides how much your husband loves you.
You heard it right. In India, it is commonly believed that darker the colour of your mehendi, the more loving and caring your husband will be. Gosh, the pain that a bride goes through just to get that mehendi colour.
Bride and groom have their 'muh-dikhai' directly post wedding.
Photo By: Going Bananas Photography
Yes, this is still prevalent. There are couples in India, who aren't allowed to see each other before the wedding at all. Everything is decided by the families as most of them still live with the belief that it is bad luck for the couple to see each other prior to the wedding.
We are the ladkewale
Photo By: Camera Crew
'Hum ladke walon ke taraf se hain' is enough for the groom's family to expect royal treatment and expensive gifts from the bride's family.
Shaadi ka khana
Photo By: Manan Photography
Food served at the wedding is the only thing people tend to remember very vividly, post wedding. The buffet system is an added advantage as people can indulge in it, how much ever they want.
Choreographed dance performances with loud music
Photo By: Navdeep Soni
Every house in the vicinity would easily guess that there's a wedding happening a few blocks away. Music at a high volume, flashy lights and loud cheering from the crowd remains our signature style.
Selfie sessions
Photo By: PK Suri
This is the age of selfies. No wedding is complete without a selfie. With every single person all decked up, the line 'selfie toh banta hai boss' stands true.
Photo By: Camera Crew
And the list can go on and on. Hey, but we are not complaining! We love our dose of wedding chaos as much as you do. After all, who wants wedding celebrations to be about just standing up with a sophisticated chuckle and clapping? Weddings need some craziness, and we have no intentions of hiding the fun side of us.