#Jophie – Decoding Sophie Turner & Joe Jonas' Wedding in Paris
It's official people – Sophie Turner and Joe Jonas said "I DO" in a Chateau in Paris and I literally can't keep calm! Yes you read that right peeps. The Game Of Thrones actress and the Joans Brothers musician walked down the aisle for a traditional ceremony at Château du Martinet in Provence, France and as expected, took the internet by a storm. 
For the uninitiated, #Jopie (a hashtag created by none other than Le – sister-in-law herself – Priyanka Chopra) had a very hush hush Vegas wedding at the Little Wedding Chapel, where we saw the bride wearing an all-white Bezva jumpsuit as the couple exchanged ring pops and said their vows. Since then, fans have been awaiting the real, official wedding as there were not enough pictures of the same apart from Diplo's instagram live of the whole ceremony! (which was pretty cool if you ask me :P)
The Wedding: 
The couple tied the knot in a very lavish ceremony with friends and family at Château de Tourreau – which is an 18-century private estate turned five-star property. 
For the ceremony Sophie wore a full length, figure hugging traditional white gown. She completed the look with metallic stilettos, minimal makeup, hair rolled up in a bun and a veil. 
The groom on the other hand, complimented the bride in an all-black suit, alongside his groomsmen – Kevin, Frankie and Nick Jonas, who also chose to wear black tuxedos. 
What really caught my attention is Priyanka Chopra. Mrs. Jonas chose to wear a pastel-pink Sabyasachi lace saree with floral embroidery and looked stunning. She paired this six-yard staple with a sleeveless blouse, minimal makeup, a side messy bun, adorned with two roses! 
Although, I would have personally vouched for a gown, Peecee! I can't let go of an image of PC wearing a stunning gown in a chateau in Paris. I mean Sophie did wear a lehenga at your wedding! But then again, who to pull of a saree in Paris than the OG desi girl herself?
The reminder in a lehenga – for your eyes only: 
Porky Basquiat: 
Porky Basquiat – the Number 1 groomsman also made a trip all the way to France to see his parents get married like a good boy and I am totally in love with his pictures! Sophie and Joe adopted Porky in 2017, and the pup has ever since been a part of the family. 
The Pre-Wedding Rehearsal dinner and party: 
The couple hosted their rehearsal dinner and party at the Hotel de la Mirande in Avignon, Provence, and from the looks of it, instructed their guests to wear white. This in turn, made the couple stand out as #Jophie decided to wear matching bright red outfits. (While I might not have a Red Wedding pun to pull in here, you are free to let your imagination run wild ;)). 
Sophie was looking ravishing in a red floor length gown she wore for the party while Joe stunned everyone in a satin cropped-pant suit. Scroll down to see the pictures: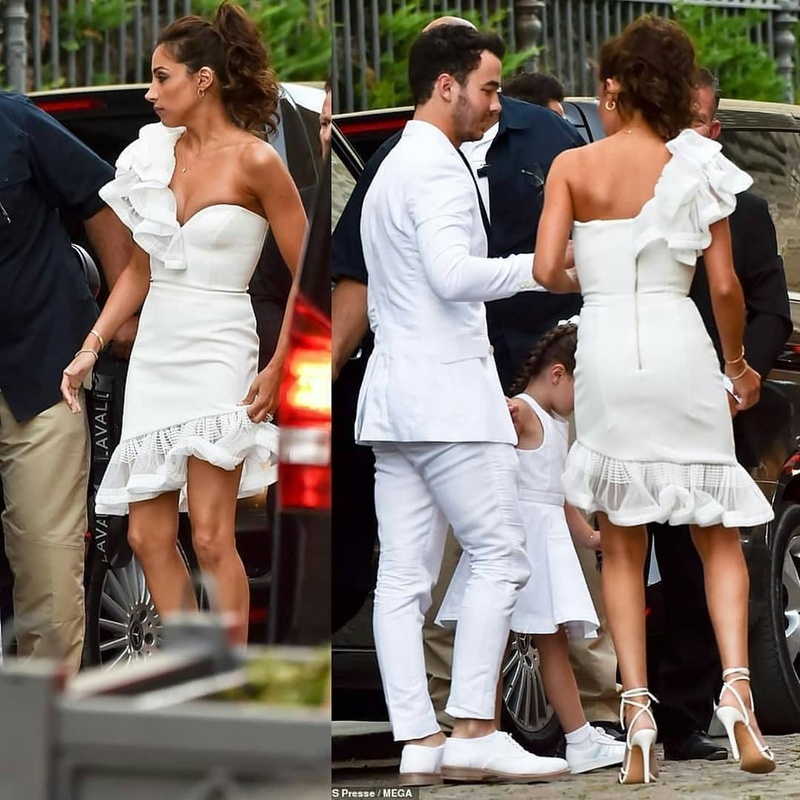 Well, well, here's wishing this couple a lifetime of togetherness!