In Focus: 'The Wedding Brunch' At J.W Marriott Is Perfect For Your Big Day!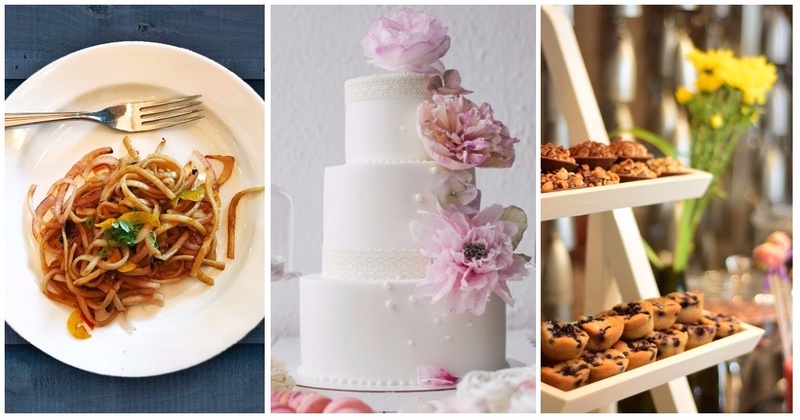 J.W Marriott recently hosted a wedding  to which we were cordially invited. Titled 'The Wedding Brunch' it was an ideal setting in respect to any wedding, sangeet or related event that one would like to host! The idea behind this was to create a wedding setting that is inclusive of the right ambience, delectable food and wonderful hospitality – The team at Marriott nailed every aspect of this.
We walked into the well-lit J.W Cafe at 2:00 but to be honest, we wish we'd been there sooner. The entire place was filled with a large number of global and Indian spreads that we couldn't possibly finish in the hour and a half that we had left! ( The brunch was until 3:30)  
The staff there led us to our tables in the most courteous manner. The best part was they didn't look they'd been put up to being nice to people as a duty. They were genuinely so warm and hospitable – which made us feel rather comfortable in all the fancy food and ambience. 😀
Once we were seated, it was rather difficult to decide what we'd like to try first (trust me, they had like a billion options) so we settled for the safest, or rather most common – fresh fruit and waffles. With just one piece of watermelon in my mouth, I was already sure this was going to be an excellent meal! It was chilled, super-fresh and juicy – beyond what any local vendor sells. They had a complete platter of a variety of fruits like dragonfruit, berries, melon and more. The waffles were made perfectly, soft and fluffy with a generous helping of chocolate sauce to go with it.  We also ordered mimosas to go along with it.
Next, we tried the japanese noodles and rostie station – me, going for the rostie with a potato base topped with wild mushroom, roasted chicken and gruyere cheese. I loved the taste of each of these, the mushroom being the best!
Next came the spaghetti (which happens to be my favourite food so naturally I loved it. Kanika, who was accompanying me at the brunch, went for the classic biryani along with chicken gravy. From what I hear, it was the perfect blend of all the spices, with chicken that was cooked perfectly. It was not bland and just boiled, but had good masala that added to the taste. The gravy that she tried was chicken tikka masala and paneer khatta pyaaz – which she was please with.
By now, our stomachs were almost full and we were just wondering how we're going to taste the other cuisines! If you're wondering how we weren't already fit to bursting, it was because we wisely took small helpings of each meal – which we would advise you to do as well, if you want to taste a large variety.
Anyway, we went over to the sushi and starter section now. (Yes, we know we should've had the starters first.)  
The starters were all served in cute up-right cutlery similar to spoons. They had everything from stuffed olive with cream cheese, to chicken and bacon wrapped in delicious flavours.
They had over 10 different variations of sushi, both veg and non-veg – we were very impressed by the taste as well as the aesthetic of each. So perfectly made!
The highlight of the entire brunch was:
Honey Glazed Ham
Pork Roast
Roasted Duck
Seafood and meat grill
Being the highlight, we couldn't possibly skip these! So we tried small slices of each – needless to say, they were all grilled / roasted / glazed to perfection. Except, I do wish the Pork Roast had a much lesser amount of fat. Or maybe I just got the wrong slice.
Okay, by now, we were so so stuffed – but dessert was still left! And looking at the range of desserts they had, you'd find a way to make space.
The main focus was the wedding cake of course. Apart from this, they had yorkshire pudding, multiple pastries, a rich chocolate cake, doughnuts, macarons, cupcakes, more pastries and even candy. We did our best to taste a little of each dessert – not being fully successful. From what we did have a bite of, the pastries were moist, the cream was good – not too sweet, not too bland, and the cake was simply delicious.
Now, we were officially done with food for the next week, so we called it a day and concluded the meal with some tea.
Brunch details:
> The brunch is great for a wedding affair – with an excellent variety of every cuisine you can think up.  
> Each meal is cooked perfectly, satisfying every taste bud. Your guests will be raving about this forever.
> They have every single cuisine of food you can think of – from nachos to sushi to candy to some things I can't even name.
> It is steeply priced but variety of food, that is all extremely delicious justifies this.
> Pro-tip : Have extremely small helpings of everything, so you can taste a little of each! Trust me, you want to.
Hope you enjoyed this read. Do try out the brunch at J.W Marriott, Sahar, Mumbai!