Katia and Nimai's Exquisite Destination Wedding held at Fairmont, Jaipur
Beaded Varmalas. Floral waistcoats and elephant polo! –sound like anything you've ever seen before? Katia and Nimai's grand wedding held at Hotel Fairmont, Jaipur was all kinds of class with its own touch of elegance – one like we've never seen before. This beautiful couple celebrated their union in a fun filled 3 day wedding with oodles of elegance, opulence and class. Celebrations that began with the exquisite dinner and dance the first day everyone arrived, continued with the same energy and happiness up until the tasteful reception.
Classy Cocktail Dinner & Dancing
The classy dinner and dance show Katia and Nimai in their chicest avatars with Katia looking mesmerizing in a gorgeous red cocktail gown while the soon-to-be groom donned a crisp grey suit with a floral waistcoat that looked oh-so-stylish – grooms wear goals, right here!
Elephant Polo
Katia and Nimai truly redefined the term Big Fat Indian Wedding with this amazing way to engage their guests. Nimai and his boys geared up for a game of Elephant polo on a bright sunny afternoon. Team Purple vs Team Orange it was! And Team Orange clearly won. (notice the shiny gold medals in the group photo) A perfect way to add a touch of fun to a traditional desi Jaipur wedding, we think!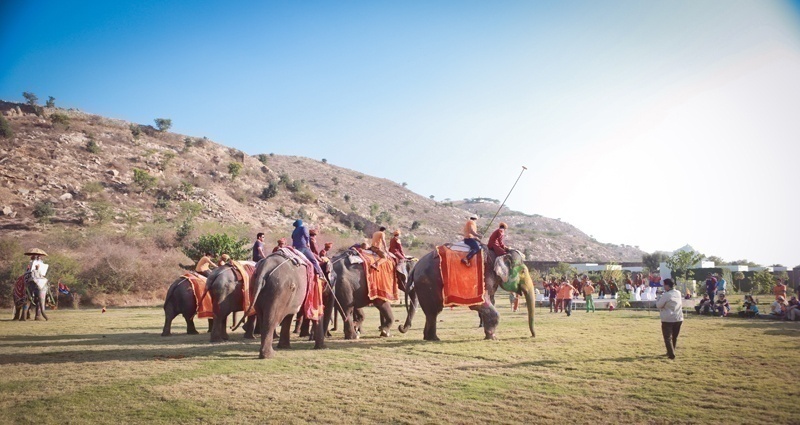 The Mehndi
Katia opted to go minimal with the ceremony as well as the mehndi design on her palms, which was perfect for her minimal bridal look. Held in the courtyard balcony of the opulent hotel which brought in the most gorg sunlight, illuminating the entire space beautifully.
Moments Before The Wedding
We lovelove how regal, yet simple their getting-ready photos turned out to be. Katia, elegant as ever looked gorgeous putting on her exquisite diamond jewellery that matched her pretty pink net lehenga. We adore Katia for keeping it so simple and minimal with her makeup and accessories too. She let her stunning face be the highlight and we were in  awe!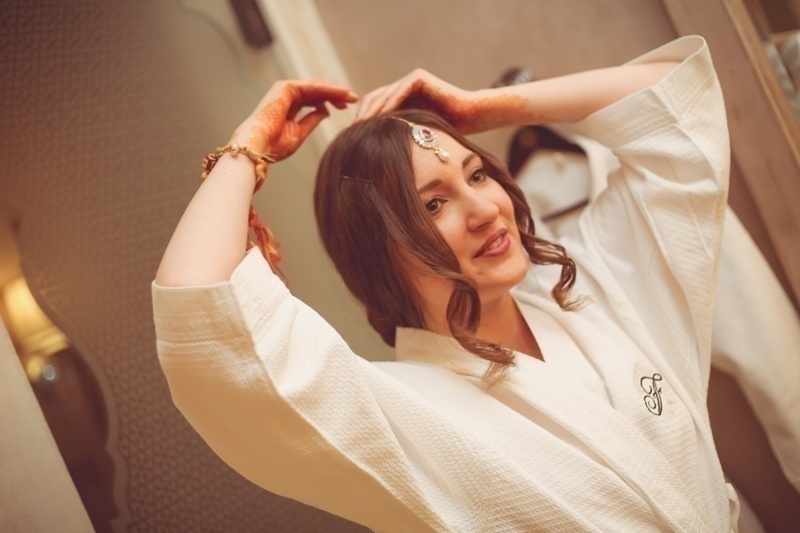 The Wedding
Uncomplicated strings of marigold suspended from a cube frame mandap was a perfect setting for Nimai and Katia to take their Saat Pheras. What we found extra special about this gorgeous couple was their beaded varmalas! Eco-friendly and chic! Katia varmala was strung with maroon and white beads while, the dapper groom dressed in a regal purple sherwani wore a maroon and white one to compliment perfectly.
"Love knows no boundaries" – This age old adage just got real for us when we saw this beautiful couple and their families getting together! – Team at  Fotografia 9 who shot this wedding absolutely flawlessly! The angles. The candid moments. The warm hugs and elephants too! They captured each aspect of this Jaipuri affair with an eye for detail like no other.