Latest Wedding Gown Trends That Will Make You Dreamy!
Bridal gowns are oh-so-feminine, fanciful and delicately dazzling. From the light and flowing soft sheaths with long trains to the heavily-embellished ones, a wedding dress is a prized possession for the bride.
If you're a conservative bride who prefers sticking to the traditional designs, we would still encourage you to browse this collection for ideas and inspiration. For all the offbeat brides out there, we've got an interesting line up of surreal wedding dresses you'd want to give a try!
Coloured or Printed Wedding Dress
Ditch the traditional whites; try on different hues and prints.
For the daring brides bored of the whites and off whites, try on some interesting light colours or floral prints to make a pretty style statement.
Cape Wedding Dress
Cannot commit to sleeves? Go for trendy capelets.
Brides who wish to bare yet stick to the norms can add a dramatic touch their look with interesting cape styles. The designs are endless. You could also have an extended train along with the cape to easily separate it from your gown.
Short Wedding Dress
Can't manage a full length, flowing bridal gown? Cut it short.
It's not mandatory for you to wear a long gown with an exaggerated train. Go short on the length and get flirty. This could also work well as a cocktail party dress for other functions.
Overblown Wedding Dress
For those who love all things in excess!
If you prefer long bridal gowns but are looking for something more than extra, a ballroom-style gown can make you look ecstatically magnificent. You could add excessive tulle, fantasy scale ruffles, lace or combinations of them all to heighten your look.
Wedding Dress with Accentuated Necklines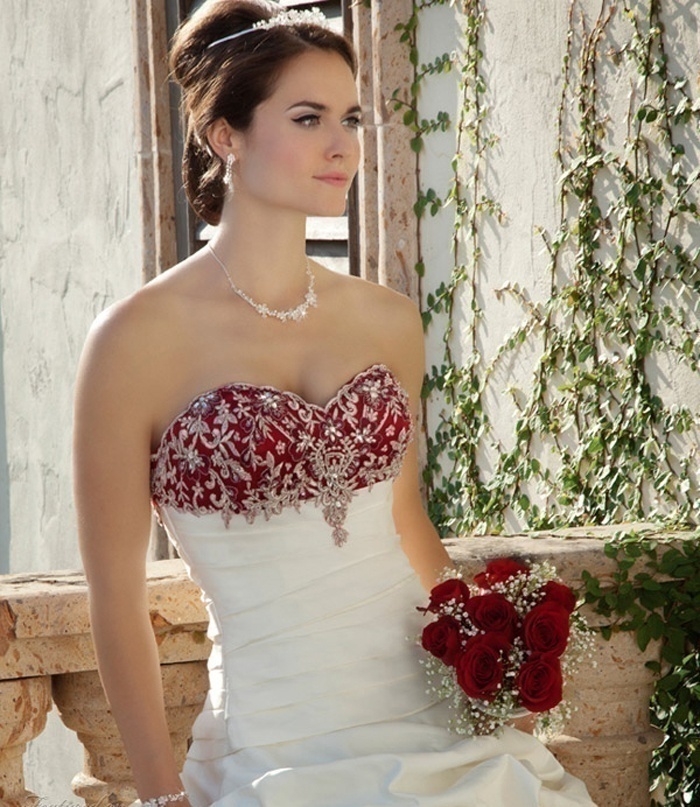 Not much of an accessory person? Get all the bling onto your wedding gown.
You must have seen wedding gowns with an embellished torso, but how about taking the design one notch higher? This design of the simple bridal gown attracts all the attention to the neckline. You could choose to heavily embellish it with gems and crystals or unique embroidery creations.
Wedding Dress with Crop Tops
Flow with the trend!
Crop tops have given fashion an edgy groove. Did you try incorporating them in your wedding dress design? Internationally, this two-piece style is a hit! For the brave brides, this bohemian influence can make you stand out and grab oodles of compliments.
Jumpsuit Wedding Dress
Dodge the dress; wear a jumpsuit.
One of the biggest trends to have successfully made the cut in the world of weddings is the jumpsuit-style of wedding dresses. It's a fantastic option for offbeat brides looking for something unusual. You can play with the back details, highlight the waistline with embellishments, embroideries, and so on. The biggest plus point with this style – you do not need to worry about the season your wedding date is set, you can carry out this style with ease given its high scope of design features.
Geometric Pattern Wedding Dress
Wedding Inspirasi
Looking for unique textures? Try geometric.
A crazy idea but adding geometric shapes and designs to your otherwise boring dress shape gives it a twisted and edgy look. Introducing these geometric shapes and styles transfers the attention to your dress and makes you look distinct.
Metallic Wedding Dress
Love metal? Go metallic!
Silver, copper, bronze or gold – the choice is yours. Shine and shimmer on your big day wearing a metallic bridal gown with elegance. Based on your skin tone, choose the hues that can bring out the radiance. This style is the best for those who love the crisp, chic and glam look.
We hope you had fun exploring these surreal wedding dresses, just as we had piling them up for you. If you know more of such cool bridal dresses and styles, write to us at content @weddingz.in.
Have a look at our bridal wear collection at the 'Shop' for some more ideas and inspiration.