Maggam Work Blouse Designs on Pattu Sarees
All the beautiful blouse designs that you see the beautiful brides donning nowadays, mostly have maggam work designs on it. One of the most popular and elegant embroidery, maggam work designs are mostly done on pattu sarees. The rich heritage of India has always fascinated us and so has its textile traditions. Giving you the Mughal feel in this modern era, these maggam work designs on pattu sarees are just what you want!
The maggam work blouses on pattu sarees are quite trending in the ethnic world and its time that you add one to your collection. These heavy maggam work blouses add to the grandeur of your attires on any given occasion. These maggam work blouses can be paired with plain sarees as well and gives you the option to experiment with different styles.
Here are a few exclusive maggam work blouse design images that will make you crave to have one in your closet. So, now that you have a complete maggam work blouse designs catalogue what are you waiting for? Rush to the tailor now!

This new and trendy maggam work design with fine detailing and a palki frame in it looks simply classy. While the phrase "Sarvar ki Dulhania" weaved into beads is a trend that all brides-to-be need to follow! This new art f customising your wedding lehengas and blouses is something that will be loved by one and all for moch such ideas you can read our blog on 10+ Ways To Personalise Your Wedding Lehenga!

This simple maggam work blouse design in golden thread is perfect for festivities and other traditional afairs. The heavy work blouse design paired with a simple saree speaks of elegance and sophistication.

This maggarm work blouse of a pattu saree is done on a net fabric and the semi circular designs provides a rich feel to this otherwise simple saree.

One famous design in maggam work is in animal motifs. This peacock maggam work blouse design in threads and zari is something that gives a regal touch to this pattu saree. 

Pattu sarees are simple but the overall look can be instantly lifted up if the blouse design is heavy. Thhis heavy maggam work blouse design with colorful beads and sequins enhance the look of this pattu saree design.

This kundan maggam work design on pattu saree adds richness to the overall look, kundan work includes addition of stones to the work.

Maggam work is all about beads, sequins, zari and stones. This particular sleeves has the combination of all and will instantly up your style quotient!

This cut work design with maggam work on it looks absolutely stunning and the tassle adds to the extra edge!

This South Indian bride looks pretty in this coral coloured saree with maggam work in peacock motifs. The design along the neckline of the blouse adds a finiching touch to the overall look!

This trendy pattu saree in golden with a trendy maggam work blouse is something that you will truly want in your closet!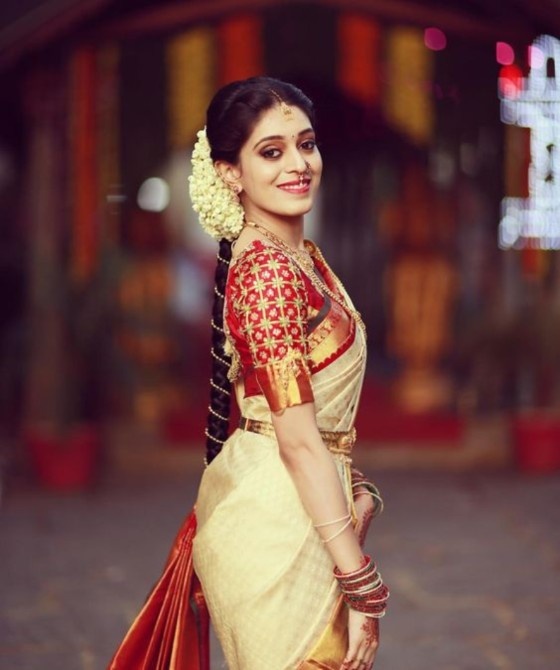 This maggam work design in checks on  apattu blouse is simple yet at its elegant best. The contrasting shade of red with a broad zari border enhances the white!