Magnificent Outdoor Wedding Venues in Bangalore for a Fairy Tale Wedding
Why confine your wedding celebrations within the four walls when you can take it up a notch with a trendy outdoor wedding? In the last decade, Bangalore has seen so many skyscrapers erected and infrastructure development around that it is very hard to find outdoor lawns for any kind of celebrations. But, you do not worry, as we are here to your rescue. If you always dreamt of an open-air wedding, we bring to you a rundown of magnificent outdoor wedding venues in Bangalore.
 
The Pergola has a unique concept of the eco-friendly outdoor venue. You can bring in the feel of the famous 'Brindavan garden' from Mysore, as some of the promoters of this venue were also restorers of the original Brindavan garden. The specialty of this venue is musical fountain that enhances the charm of your big day. One of the offbeat wedding venues in Bangalore makes itself a perfect match for social gatherings, pre-wedding ceremonies, corporate outings, and outdoor weddings. The venue has an amazing blend of nature and ultramodern infrastructure. Located close to Govardhan Theater and a few minutes away from Yeshwantpur Metro Station, your guests won't find it difficult to locate the venue. This easy to commute venue can comfortably host all small and medium size gatherings. It is hard to believe without looking at the image that this venue has also managed to add a rooftop garden in the outdoor party plot.
 
Key features:
Rooftop garden in an outdoor venue
Thematic decor for your wedding
Eco-friendly party hall
 
Address: The Pergola, Rajajinagar, Bangalore
83B, Yesvantpur Industrial Suburb, Rajaji Nagar, Bengaluru, Karnataka 560022
 
If you want the retro look with all the modern amenities around, The Tamarind Tree, Bangalore is the perfect venue for you. You can easily find this exotic venue near to Avalahalli lake. The wedding looks astonishing when your selection of modern decor blends with the retro look of the venue. You can bring in your own food caterers to serve your guests with delicious delicacies as per their culinary preferences. You can choose from multiple lawns offered here to organize celebrations of any kind. Not only this venue can help you host pre-wedding events and weddings, but you can also book it for lifestyle occasions, photo shoots, fun events, classes and camps, exhibitions, and more. The Tamarind Tree, Bangalore mixes well with traditional floral decor as well as with the modern decor. Old artifacts, the carving on the walls, and disrupted idols of deities make it look like a heritage place.
 
Key features:
Multiple lawns to match your requirements
Pondside celebration location
Destination wedding location
 
Address: Tamarind Tree, JP Nagar, Bangalore
88, Avalahalli, Anjanapura Post, JP Nagar 9th Phase, Kanakapura Road, Bengaluru, KA 560062
 
Tamara Wedding Venue, JP Nagar, Bangalore
This venue is handpicked especially for you. Tamara Wedding Venue has a huge lush green lawn to incorporate all your wedding ceremonies. This venue acts as a perfect backdrop for your pre-wedding and wedding photoshoots. You can pick the best match for your wedding requirements as the venue has multiple banquet spaces available for you. There is a fix mandapam for wedding rituals, and there are lawn and banquet hall to cater to your ceremonial quest. A pleasant and serene ambiance is a gift of nature to this venue. This stunning outdoor wedding lawn in Bangalore allows you to host one-of-a-kind wedding in presence of your friends and family. Food and decor are taken care of by the venue, so you can indulge in the celebrations without worrying about a thing.
 
Key features
:
Marvelous ambiance for each celebration
Huge lawn to accommodate celebrations
In-house decor nailing each event
 
Address: Tamara Wedding Venue, JP Nagar, Bangalore
Golahalli, Bengaluru, Karnataka 560108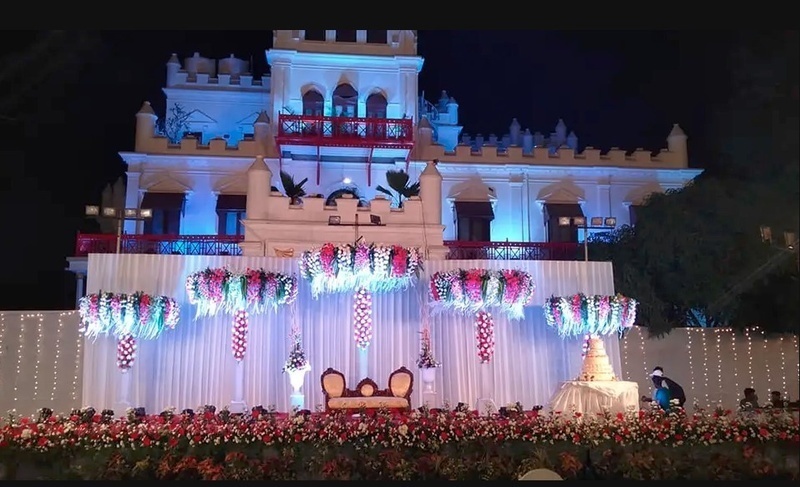 If you ask us why we chose Jayamahal Palace, Bangalore, for your big day? Our answer will be – every daddy's little princess deserves a fairy tale wedding. This palace was once the home of a Mysore Royal Family. Even after more than 100 years, this palace has its charm intact and fully capable of adding a royal elegance to your wedding celebrations. With the amazing hospitality of this venue, a royal treatment is what you can promise to your near and dear ones. Feel like a King or Queen of the world on your big day with stunning decoration offered by the venue or bring in your own decorators to deck every inch of the palace. Give your food a homely touch with your own caterer. Take a peek into palatial living with spectacular lodging facilities available here. And, also you can plan your pre-wedding photo shoot, corporate gathering, and grand receptions. Trust us, this palace is an ideal pick for a destination wedding in Bangalore! Why wait? Book yourself a 4-star heritage luxury wedding lawn in Bangalore for your big day.
 
Key features:
4-star heritage luxury hotel
Royal destination wedding
Lodging facility available
 
Address: Jayamahal Palace, Palace Ground, Bangalore
1, Jayamahal Road, Near Cantonment Railway Station Road, Bengaluru, Karnataka 560046
 
Are you looking for a theme wedding without missing out on the traditional feel? Are you looking for a totally unconventional venue to tie the knot and make your friends envy you? If your answer is yes, then your quest for that perfect venue has come to an end. Take a sneak peek into Panchavati Pavilion on Kanakapura Road, Bangalore and decide yourself. You can now host a village style wedding within the radius of hi-tech Bangalore city. With rustic decor and convenient travel, you won't miss out on any traditional photographic moment. Bestowed with modern amenities and humble staff, this is a perfect location for your pre-wedding events, weddings, receptions, and corporate gatherings. If you are looking for a farmhouse for weddings in Bangalore, you will still find this venue on the top of your list. You can count on the decor artists here to deck the venue magnificently or you can also opt to customize the decor as per your choice. Keeping all the things into consideration, this is a perfect location for a destination wedding in Bangalore.
Key features:
Open Amphitheater available
Rural settings for events
Peaceful ambiance
 
Address: Panchavati Pavilion, Kanakapura Road, Bangalore
41, Kanakapura Road, Bangalore, Kaggalipura, Pattareddypalya, Karnataka 560082
These are some of the well-connected outdoor wedding venues in Bangalore. Each and every venue is unique and has so much to offer everyone. We understand how difficult it can be for you to select one for your big day. Why not share these links with your family and friends, and see what they have to say!