Mandapam Decoration: What's Trending in Wedding Decorations?
Vanakam people! So, how different could mantapa decoration for weddings be? Isn't it the same four pillars, floral pieces and panditji? Well, let's be clear first. Blame it on the movie Two States for giving us some inspiration and showing us that beautiful, rustic temple wedding. The images of banana leaves, genda flowers, invitations enclosed with jute threads and the entire South Indian vibe is still fresh in our minds. Mantapa decorations are all natural and innately Indian!
What we love about this South Indian wedding decor for mantapas? The unapologetically Indian style and earthy charm! Yeah, there are some mandapam decoration ideas with a modern twist and we think it's better to keep it all desi. What say?
So, without further ado, here are some mandap decoration looks that are elegant. Look, look!
Rustic Elements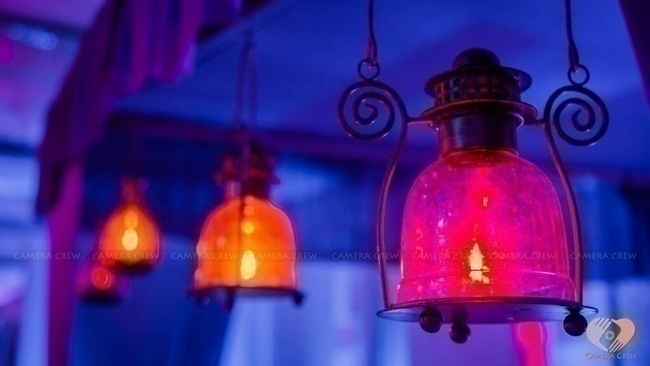 Photo By: Camera Crew
This decor idea is all things mysterious and traditional. Throw in wooden planks and all earthy colours like rust, green and white. It's a South-Indian wedding after all! Although, red and white is a traditional theme, but minimalism makes it look more effortless and fun. Go for those lovely floral hanging and cute umbrellas to add a unique charm. Let those flower lanterns hang about carelessly and the temple bells that you loved as a child mesmerize your guests.
Genda Phool Floats & Rangoli
Photo By: PhotoTantra
South-Indian celebrations are synonymous with all things done the 'genda phool' way. Ah ah, people…don't underestimate the power of these flowers. They will make your wedding gorgeous and pretty place for photographs and unending memories! How about a wide brass or stone tub with genda phool floating on scented water? Even flower rangolis can be placed at strategic locations to attract the attention and spruce up the mantapa decoration.
Animal Lovers
This one's for the daredevils. We love the idea of flower sculptures of animals at the entrance or on the sides of the mandapam. Popular wedding choices are the peacock and elephant flower structures. We guarantee you one thing – this mantapa décor will be the most talked about detail at your wedding with people taking selfies around it all the time.
Shrubs & Greenery
If you are not bit by the flower bug, it's time to experiment. Move over flowers, move in shrubs and ferns. Lots of green elements will not only make the wedding decor interesting, but also make it visually pleasing. It might not be everyone's cup of tea, but when you get married amidst greenery, the grass mandap gives a colourful pop of green! Use it for the entrance or mandap pillars.
Neon Paper Lanterns & Kites
Photo By: Rohan Mishra Photography
As much as we like the idea of all things fancy, sometimes even simple crafty materials can steal the show. Paper lanterns are one thing but those lovely bright-coloured ones are another and just drool-worthy. We totally love them! And kites are an easy DIY idea for your wedding decor. Use them in hues of yellow, pink, orange and add a fun element to the ceiling.
Umbrellas
Photo By: The Creative Lens
How about taking ordinary objects and transforming them into something unmatchable? Umbrellas are one of those things that can add an element of 'wow' to your mandap decor. Want something different? Pick bright hues and turn them upside down in the passageway.
Banana Leaves
Humble banana leaves are a wedding decorator's best kept secret. Apart from using these textured plant leaves on serving platters, you can also use them for wrapping glass candleholders. If you are having a rustic wedding, you definitely need banana leaves! You could also use them just as an aisle decor going towards the mandap.