Manika and Tushar's Chat Magni, Pat Byaah Amidst COVID-19
At the beginning of 2020, we were all ready with our plans – plans to travel, to get fit, to turn vegan (maybe?), and of course, many couples were looking forward to their wedding! But obviously, unbeknownst to us, 2020 had other plans. It presented us with COVID-19, a pandemic no one saw coming.
So, instead of going out and about life, we were all halted exactly where we are thanks to coronavirus. Currently, the world is slowly recovering and the best way to do so has been by staying home and practising social distancing. But as they say, where there is a will, there is a way and for couples who wanted to get married, they did and how! Jo hona hai woh toh hoga he, right?
And the idea of social distancing is the complete opposite of anything to do with celebrations. It means not inviting and meeting most the people you want by your side, no large gatherings, no air-kisses, no holding hands and no mingling. But this couple overcame all these difficulties and adhered to all norms as they decided to tie the knot amidst the ongoing pandemic!
Meet Manika Agarwal & Tushar Garg!  
As world over couples delayed or rescheduled their weddings, this couple decided that their 'together-forever' had to start now!
Tushar and Manika met through an arranged marriage meeting in their hometown Chandigarh. They were referred to each other by a common family connection. So, Manika's family and Tushar's family decided to meet. Fortunately, everyone got along really well, including the couple. So, T & M decided to meet again. It was in their second meeting where both realised, they were made for each other!
Getting married was a battle they had to plan and fight for! It was their first hurdle as a couple and as a new family. This is because Chandigarh, like every other city in India, was under lockdown. However, recently, the government had started allowing weddings under special circumstances, i.e., with very few people and with permissions from the local authorities. So, Manika and Tushar took permission from the SDM of Yamuna Nagar.
We took permission from the SDM of Yamuna Nagar and this permission allowed them to get married with only 10 people attending their wedding. But they could have delayed their wedding, right? And waited for bigger celebrations?
"It became important for us to get married on the same date because we were unsure of the COVID-19 situation getting better and we both thought that it is going to be a great idea spending time with each other being quarantined together and that we both won't get this special chance again." – Manika.
So, the couple went ahead and got married with only their immediate family members present. It was a beautiful and simple affair but a very cherished one. They got married in their house and both wore outfits by their dream designer – Sabyasachi!
Manika looked stunning in her hot pink Sabyasachi lehenga that she paired with gorgeous polki jewellery. Tushar wore a cream floral print kurta and he teamed it with a bright mustard yellow bandi. Must say, the couple looked amazing!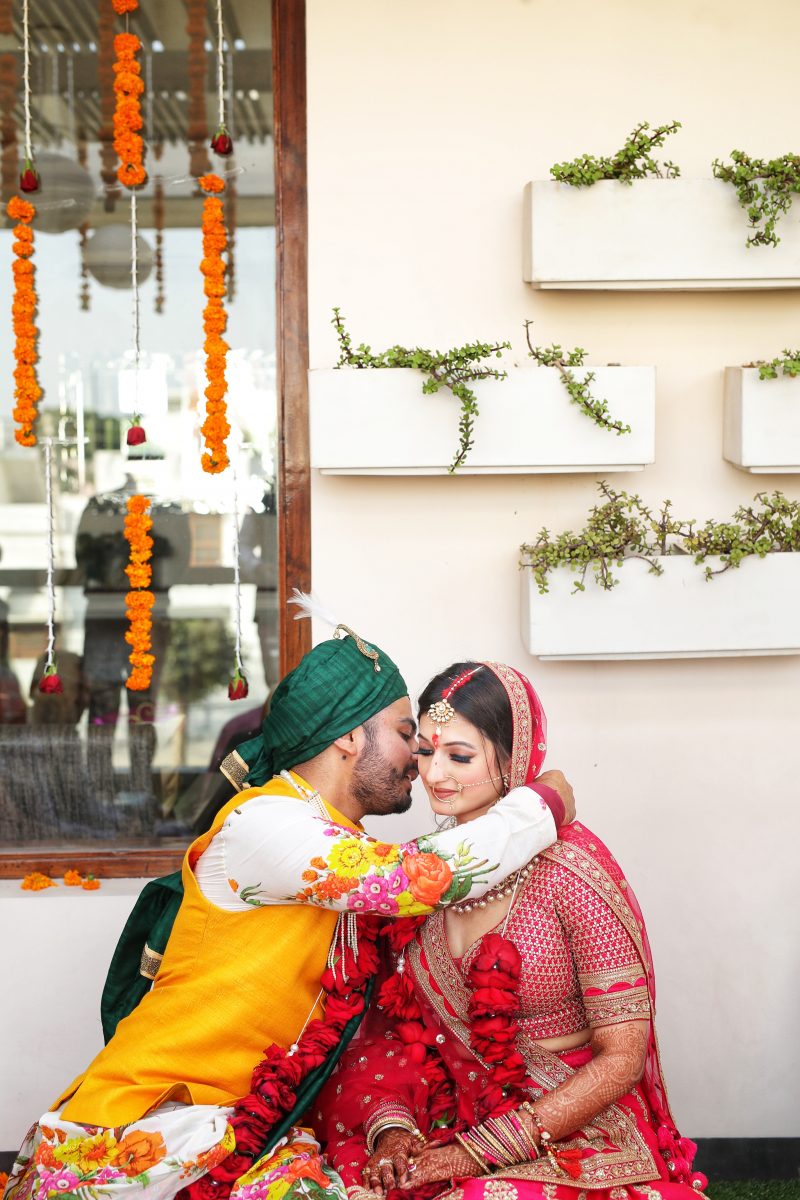 The wedding hosted at the groom's uncle house was decked in marigold flowers with lush green backdrops peppered with white flowers. It was every bit simple yet beautiful.
While the wedding was intimate and fun, it had its own challenges. In our Indian culture, a wedding is an occasion where the family from all over is invited but getting married amidst COVID-19 meant that no one could attend apart from the immediate families. Plus, even Manika's family had to take special permissions to travel to get to the Tushar's house.
Next challenge they were presented with was with the vendors – pulling off an entire wedding with so little guests, arranging the decoration, sweets, Jai Mala and so much more! But everything was in place thanks to all the vendors even they were short on their inventory. They took great interest and put in a lot of hard work to see this couple married.
"Though our families were a little confused about the lockdown wedding as everyone had big dreams related to the wedding, but when they saw their children being happy about the idea of the lockdown wedding, they were really supportive of taking it further," said the couple.
"Today we feel grateful each moment. We thank God for blessing us with the resources that we could pull this off." – Manika.
"We feel we actually complete each other." – Tushar.
Planning a wedding is no easy task and planning an intimate wedding that is much smaller and simpler, is ever more difficult. It can only happen when everyone from the couple to all the family members is on the same page. Plus, it means rising above all materialistic pleasures. "It's only your partner that care for and nothing else. Everything else feels smaller. And we actually felt that with each other."
Vendor Details
Makeup Artist – She Beauty, Yamuna Nagar
Photographer – Vintage Films
Venue – Groom's Tayaji and his family, as they graciously hosted the wedding at their house.