Manish Malhotra LFW W/F 2016: Bridal Fashion You Just Can't Miss Out On!
Lakme Fashion Week 2016 started off in all its glory with a fabulous winter/festive collection by none other than the master of bridal fashion, Manish Malhotra. A stunning array of modern silhouettes fused with ethnic elements brought the collection alive as ravishing models graced the runway in all the glitter and sparkle that stays true to a Manish Malhotra range.
The collection brought a new take on bridal fashion, steering away from the trademark Indian colour palette and using European hues of pastels, pinks, nudes, silver-grey and a muted gold.
Lehenga-sarees worn under floor-length jackets, fringed crop tops in sparkly silver and capes replacing the traditional dupatta are only a few of the novel silhouettes that Manish introduced to the bridal fashion industry this season. Plunging necklines over full-circular skirts, cold-shoulder loose-fit blouses and trailing anarkalis with broad-legged trousers are a few other styles that the master craftsman brought forward.
Incorporating light, delicate fabrics like silk, lace and sheer net, he cast a gorgeous layer of heavy embellishment of large floral motifs in vibrant hand embroidery, resham threadwork, sequins and of course, some sparkle.
The menswear range was made to fit royalty in modern times. The dapper models sported textured velvet bandhgalas, clean-cut silk jackets and kurtas with dhoti / cigarette pants accessorizing to the point of perfection with embroidered shawls, silk scarves and jewelled buttons. The colour palette was a winter shade of blacks, midnight blues, deep maroons and touches of off-white with a few select ensembles in bright shades of yellow and salmon.
Shraddha Kapoor took on the role of showstopper, donning a splendid, deep-green, heavily embellished lehenga skirt and a sheer crop top with embroidery in shades of green, red and pink.
All in all, the collection was, as expected, worth more than just a couple million bucks. Check out these fabulous visuals for a detailed idea on Mr.Malhotra's bridal fashion trends of the season!
WOMENSWEAR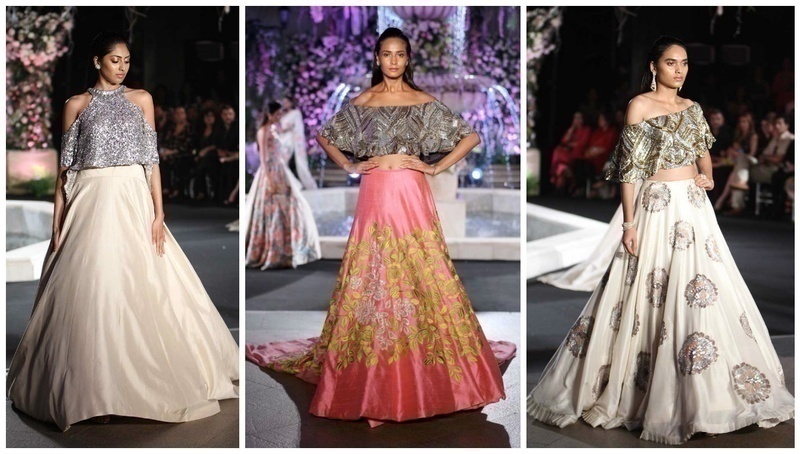 MENSWEAR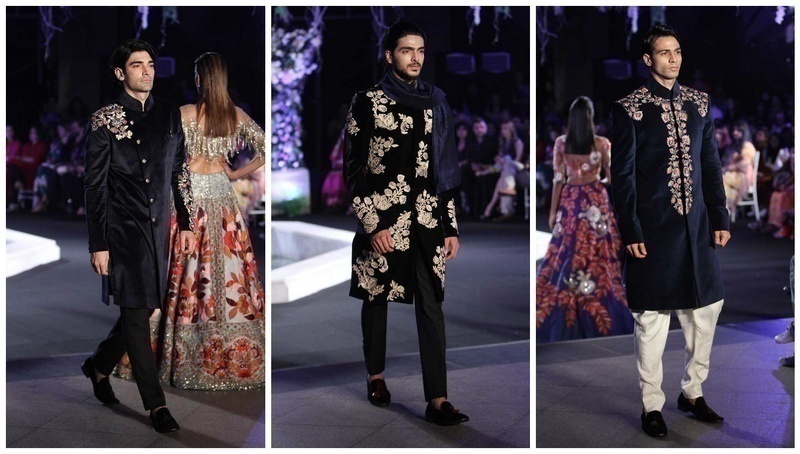 Image Credits: lakmefashionweek.co.in;
vogue.co.in