Mother's Day Special – 14 Sweet Ways to Show Your Love for Mom on Your Wedding Day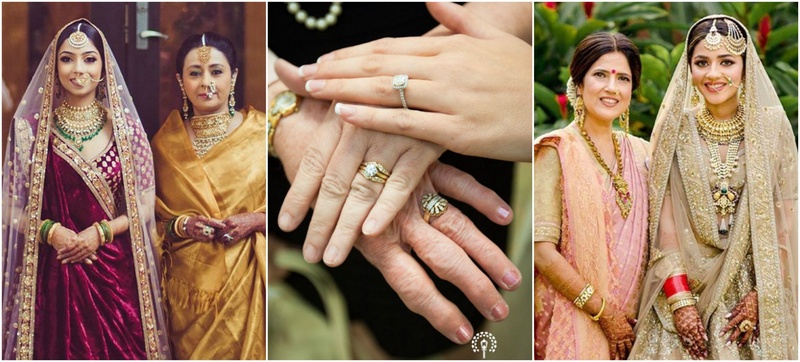 The first question I ask when I don't see mom around after coming home is "Where is mom?". We all do that, it makes us uncomfortable not seeing her even for a while. They say that mothers love their sons more. But is it true? In the end she knows it's her daughter who will understand her. She can talk to her openly without having anything to hold back which she can't with her son.
A mother-daughter relationship is very unique and delicate yet strong. There are a lot of things mothers go through while raising a daughter. She is the pillar of life for the family. She helped shape you into the person you are today. Your wedding day is a big day for her as well,I mean she has dreamt about it since the day you were born. But when the wedding day arrives, your dad gets most of the attention. He's the one walking you down the aisle and doing the father daughter dance with you. It doesn't seem fair that she doesn't get her moment in the spotlight.
So why not show her just how much she means to you by treating her like a queen on the big day? Here are a few ways to do just that!
1. Give Her A Gift
Image source: Pinterest
Image source: Pinterest
It doesn't need to be an expensive gift, it just needs to be a heartfelt one! Give her something special before your big day begins. A handwritten note on pretty stationery, a handkerchief embroidered with a personal message, or a pretty picture frame with a sentimental photo is a good idea to show your appreciation for her. She will be moved 🙂
2.Have Her Get Ready With You
Image source: BRIDESOFSABYASACHI
Bride: Krutika Ghorpade Bhansali
Your time spent getting hair and makeup done together will be a special memory you'll cherish for years to come. She'll be able to help you get dressed and provide a few last-minute words of wisdom.
3.Wear Her Jewellery
Image source: Mandy Owens
Every mother has that one traditional jewellery she keeps from her marriage for her daughter. wear a pair of your mom's earrings or a bracelet you've always admired, she'll be glad to lend you a piece for your big day.
4.Take a First Look Photo Together
Image source: BRIDESOFSABYASACHI
Bride Isha Multani
Photographer – Sam and Ekta
Choose to have a special first look with your mom as she helps you into your wedding attire. She'll love having the chance to savor a private moment with you. And it's the perfect chance for you to give your mom a special mother of the bride moment. Grab your photographer and document the smiles and happy tears. Capture some sweet mother-daughter portraits that will look perfect framed in her living room..
5. Get Your "something borrowed" From Her
Image source: Red Veds
Mostly done in English weddings, but is now becoming a tradition for many where brides borrow something from their parents on their wedding day. The idea behind this is to bring the couple good luck in their marriage; borrow something from a happy couple so their good fortune rubs off onto you. It's used to honor a loved one, it can be anything: her piece of jewellery, her brooch, her hair piece or her sari turned into a blouse for you! 
6. Schedule Some "Mom & Me Time"
Image source: Pinterest
7.Take 'The Walk' Together
Image source: FOTOWALLE – THE STORY FOLKS
Yes, I know that this is traditionally done by either the father-of-the-bride or the brother-of-the-bride. But hey! Where in the rule book does it say that your mother cannot do it for you? You can have both your parents walk you through the aisle or to the mandap. Want to reserve this honour specifically for your mom? By all means do it! She would love the honour and the spotlight here.
8. Celebrate Her Cooking
Image source: MasterChef Pankaj Bhadouria
So there is a specific dish made by your mother you have always loved. We all have that one dish made by mom which no one beat and is a traditional family recipe. Share this recipe with the caterer if she is okay to share her secret! Have it incorporated into your wedding meal. You won't imagine the amount of happiness she would feel when she gets poured with compliments for the same from the guests! See her blush 🙂 
9. Display Her Wedding Photo
Image source: Whimsical Wonderland Weddings
Have a dedicated corner of your reception decorated with your mom's wedding photos. You can even include your grandparents or siblings wedding photos. To make it even better, name the corner as a memory lane. Your guests would love to a take a trip down the memory lane 
10. Take Multi-Generational Photos
Image source: George Street Photo & Video
I personally love this one! There are many women in your life who make you and influence you to be who you are today. Take a moment to click multi-generation photos with your mom and grandma. Trust me moments like these become a treasure once you don't have them around.
11. Blessing the Rings/Mangalsutra
Image source: George Street Photo & Video
Before you and your new husband exchange rings/or he puts the mangalsutra around your neck, take a moment to invite your mom to say a special blessing to commemorate your marriage. Doesn't that sound adorable! It will make her feel so special and important.
12. Play her Wedding Song
Image source: Artfoto
There must be some song that is close to your mom's heart which was played during her wedding. Ditch the traditional wedding songs and play that one on your big day! Dedicate it to your parents and ask them to dance, see them light up!
13. Do a Mother Daughter Dance at the Reception
Image source: Pinterest
Receptions are notorious for father-daughter dance, mother-son dance, so why not add mother-daughter dance to the tradition. Dedicate a song to your mom and dance together in front of your guests, she'll certainly feel the love.
14. Make her Cry (In a Good Way)
Make a toast to your mom at the reception. After all she's done to raise you right, she deserves a shout-out!
To all the lovely mothers Wish you a very Happy Mother's day! And this line is for you from all the daughters "Teri Laadki mai, chhodungi na tera haath…."