10 Mouth-Watering Dishes to Look Out For At a Muslim Wedding
Remember that Muslim kid in school who'd bring delicious mutton biryani for lunch? Well, with every other person getting married every time you log onto Facebook, you're not going to surprised when you see Mohammed/Ali/Kabir's wedding invite land up in your inbox too. And since we all know one of the best things about being Muslim is all that yummy food, here's a guide to what to expect!
Mubarak ho, on your upcoming weight gain.
SEEKH KABABS
Seekh Kabab refers to minced lamb meat (mutton). The ground goat meat is mixed with select spices, minced and moulded onto the skewers and cooked over tandoor or on hot tawa. Makes for a great starter at a Muslim wedding.
BOTI KABAB
Another lamb / mutton Mughlai dish that is perfect to serve as a starter. It involves the whole muscle meat intensely marinated and baked or grilled over a barbecue. Best served with some green chutney. Can be made with beef as well.
BHEJA FRY
Bheja refers to brain in Hindi. It is a succulent dish where the brain of the animal is removed and fried with spices and herbs. (Stop cringing)
Eaten best with roti or pav. It is popular among Muslims during festivities like Eid as well as weddings and functions.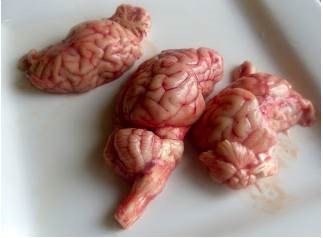 JUST KIDDING
MURGH MUGHLAI
As the name suggests, it is a chicken dish that originated from the Mughals. It is essentially a delicious chicken gravy that is rich, creamy and flavoured with aromatic whole spices.
LAMB ROGAN JOSH
Yes, another lamb dish! This fiery delicacy from Kashmir is now popular all over the country. The juicy mutton pieces are cooked and packed with a blend of spices, yoghurt and other seasoning. The result is a hot, tangy curry that is perfect for the winters and eaten best with naan or ghee rice.
NALLI NIHARI  
This is another type of mutton curry. Last one, I promise!
The word Nihar originates from the Arabic word 'Nahar' meaning 'day'. It was served to the kings after their morning prayers. So you know the dish is literally fit for a king. The gravy is made with slow-cooked leg pieces of the lamb along with marrow bones (nalli). It can be made with beef as well. It is sometimes served with cooked brain. (Vegetarians, stop cringing please, this blog is not for you.)
MALAI KOFTA
Oh look, a dish with no meat! But trust me, this one's just as yummy…
Well…        kind of.
It involves mashed potato and paneer (cottage-cheese) balls that are deep-fried, coated in malai (cream) and then dipped in an onion-tomato gravy.
RUMALI ROTI / NAAN
These are basically different kinds of flatbread eaten with any of the above dishes.
Rumali: Extremely thin and transparent. Folded like a handkerchief. Hence, the name rumali. (handkerchief in Hindi)
Naan: Another baked flatbread that is soft, puffy and lightly browned. Layered with butter. Worth the guilt.

Rumali Roti

Naan
SHAHI MUTTON BIRYANI
Yasss, this is heaven. Did you really think I wasn't going to include biryani?!
For all those who are unfortunate enough to not know what biryani is – A light-orange lamb and rice based dish that the Mughals were kind enough to introduce to us. Cooked in a mix of herbs, spices, nuts .etc. And meat, of course.
*Can be made vegetarian without the mutton….  (But we all know that's no good.)
SHEER KORMA
Dessert is a must. Duh.
We all know that no matter how stuffed you are, you will walk up to that dessert counter, note the waiter's measly serving size, and make sure you get at least two helpings of x-y-z dessert.
Well, it's worth the effort at a Muslim wedding because what's waiting for you is a super-yummy milk-based vermicelli pudding flavoured with fancy ingredients like saffron, rose water, dried dates, etc to make you feel like the king you are not.
Hope you're all geared up for that upcoming Muslim meat fest!
Click here for Muslim wedding rituals and customs.
Image Credits: pinterest.com