Options for You to Choose the Perfect Banquet Hall in Chennai
Congrats! You have recently settled one of the most significant choices of your life! In any case, it is additionally about time to kick off with your wedding plans. What's more, this implies you need to settle on a huge number of choices in the months paving the way to your big day. From significant choices like the wedding venues, immaculate attire, and so forth to small subtleties like your wedding invitation cards, and that's only the tip of the iceberg. Subsequently, arranging a wedding in Chennai can be a cakewalk or an overwhelming encounter, contingent upon how you deal with the choices accessible to you. If it sounds like a task for you then you can unwind a bit as at least you can bank on this blog for a banquet hall in Chennai.
Shree Nilayam, T Nagar, Chennai is the ideal mix of traditional and contemporary decor. Reckoned as a top banquet hall in Chennai, it provides a wide assortment of services like weddings, receptions, and engagements. You may also opt for this venue for your corporate occasions as well. This wedding venue containing multiple banquet halls here can hold a huge number of your guests. You need not worry about the decor, the in-house professionals would take care of it. The menu here would delight your guests with vegetarian dishes and desserts. It offers valet services to welcome your guests.

Shree Nilayam, T Nagar, Chennai
Address- Shree Nilayam, 22/26, Duraiswamy Road, T Nagar, Chennai, Tamil Nadu 600017
Key Features
Allows only pure vegetarian foods
Multiple banquet halls
Luxurious venue
Hotel Benzz Park in T Nagar is reckoned by many as the luxury banquet hall in Chennai. An exquisite luxury hotel situated in the heart of the bustling T Nagar locality, it houses multiple banquet halls of small and mid-sized capacities that are ideal for all weddings, receptions, social events, rituals and ceremonies, engagement parties, and more. Adorned with ritzy chandeliers, statement ceiling, oak walls, and carpeted floors, the halls exude glamour. The in-house decor team does an amazing job of decking up the already attractive halls, giving your event a tasteful yet elegant setting. Your special event will glow brighter at this charming venue. The deluxe rooms and suites offered here cater to your comfort, completing your experience in a wholesome manner. It is located at the proximity of both Mambalam Railway Station and Teynampet Metro Station.

Hotel Benzz Park, T Nagar, Chennai
Address- Hotel Benzz Park, 62, Thirumalai Pillai Road, Parthasarathi Puram, T Nagar, Chennai, Tamil Nadu 600017
Key Features
Food and decor provided in-house
Allows alcohol consumption
Lodging amenities
InterContinental Hotels And Resort in Mahabalipuram is a popular banquet hall in Chennai. The sprawling 5-Star hotel offers unmatched hospitality, which is the reason why the hotel is extremely sought-after in the entire state. Along with being a favorite of the elite from all Chennai, it makes for the best setting for a wide range of events, especially dream weddings. It offers a lush green lawn with the capacity to accommodate over a thousand guests, and an exquisite banquet hall for all of your mid-sized social and corporate events. Located off the East Coast Road, the hotel is minutes away from the coastline of the Bay Of Bengal, which makes it the perfect beach wedding venue as well.

InterContinental Hotels And Resort, Mahabalipuram, Chennai
Address- InterContinental Hotels and Resort, Perur Post Office, No. 212 East Coast Road Nemelli Village, Chennai, Tamil Nadu 603104
Key Features
Sprawling lawn plus spacious banquet hall
Luxurious accommodation
Ample parking space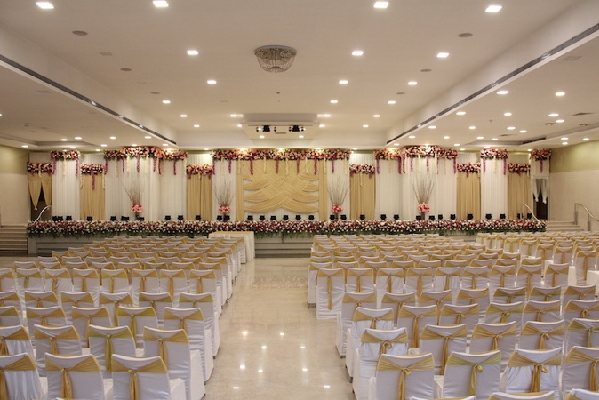 Sree Varaaham Hall in Koyambedu is a budget banquet hall in Chennai. One can avail gorgeously curated and carefully customized theme based decoration by the in-house professionals. The special décor will add a touch of vibrancy and spread a cheerful aura. It has an inviting and pleasing ambiance which makes everyone feel welcomed. The banquet hall here is gigantic, which makes this venue perfect to host your big fat wedding festivities. It offers comfortable seating arrangements for all and has ornamental lights that give the venue a rich look. It does have several rooms that will come handy for your guests who turn up on your big day from other cities.

Sree Varaaham Hall, Koyambedu, Chennai
Address- Sree Varaaham Hall, Near, 231, Inner Ring Road, Koyambedu, Chennai, Tamil Nadu 600107
Key Features
Rooms available for lodging purposes
Allows only pure vegetarian foods
Colossal banquet hall
Saaral Residency in Mogappair is one of the best banquet halls in Chennai. It is a luxurious and elegant property offering remarkable guest experiences for a memorable celebration. It offers a spacious banquet hall that can accommodate a mid-sized gathering for your wedding and reception ceremonies. The team of decor professionals present on-site pays attention to every detail and ensures that all the commitments are fulfilled. It has an in-house multi-cuisine diner – Chillies, to offer mouth-watering delicacies in both vegetarian and non-vegetarian viands. Being located in the secluded areas of Koyambedu, this resplendent hotel promises you a tranquil experience and a stress-free sojourn.

Saaral Residency, Mogappair, Chennai
Address- Saaral Residency, 1/685, Valayapathy Salai, Block 1, J J Nagar, Mogappair East, Chennai, Tamil Nadu 600037
Key Features
Rooms for accommodation
Open catering and decor
Cocktail privileges
Have you managed to choose a banquet hall in Chennai from the ones described above? If yes, then please mention in the comments that you would consider it seriously for your wedding celebration.