The use of jewellery in India goes back to more than 5000 years ago, dating back the eras when the great epics of Mahabharata and Ramayana took place. From then to now jewellery has evolved and transformed in various ways. However, there's one thing that remains untouched till date and that's the importance and value we hold for jewellery in our culture.
And one such jewellery brand that sustains every bit of the ancient royal jewellery heritage is Mangatrai Neeraj. Creating a name for themselves in the traditional and bridal jewellery segment, this brand has a profusion of unique designs and intricate patterns of opulent jewellery for every occasion, especially your wedding.
Apart from their myriad collection of ceremonial jewellery, Mangatrai Neeraj is also known for its exclusive craftsmanship. Unlike any other jewellery that's made by mending the gemstones to fit the design which disturbs the natural form of the gemstone, the jewellery here is made by keeping the natural form of the gemstones intact. In order words, the gemstones are not designed into jewellery but instead, designs are made as per the gemstones without hampering their natural beauty and quality. Hence, one can blindly trust the quality that's being delivered.
Mangatrai Neeraj also offers a wide range of designs from the Shehzadi collection and the Yuvrani Collection. The Shehzadi collection finds its routes from the Nizami & Hyderabadi jewellery collection and is loved by those who have a taste for exclusive and ethnic jewellery. Whereas, the Yuvrani Collection is a specific gemstone collection that includes antique and classic jewellery designs such as the temple jewellery design, floral design, mango & peacock design, etc that are based on nature and crafted using gemstones embedded in gold jewellery.
Take a virtual tour of their decadent collection from the comfort of your home and have it delivered to your doorstep for free in any part of India. Apart from this, they also have an advance booking option, wherein you can book your jewellery now along with a minimum advance payment. And when you decide to purchase the jewellery you will have to pay the same price as that at the time of booking in spite of the current fluctuating market price.
So all you brides-to-be, Mangatrai Neeraj is the jewellery brand you should favour for your pre-wedding and wedding functions. Listed below are a few designs from their exclusive bridal collection consisting of gold, diamonds, pearls & gemstone jewellery in the form of chokers, bangles, earrings, haars etc.
1. Earrings – Jhumkas & Chandbalis
This Chandbali earrings/jhumkas set, an art of  Jadau jewellery is just what you need to compliment your bridal look.
Yet another subtle and beautiful pair of Chandbali earrings that belong to the Jadau, Zaveri, Nizami, Hyderabadi and Nawabi jewellery collection. This set is a perfect match for your sangeet or mehendi function.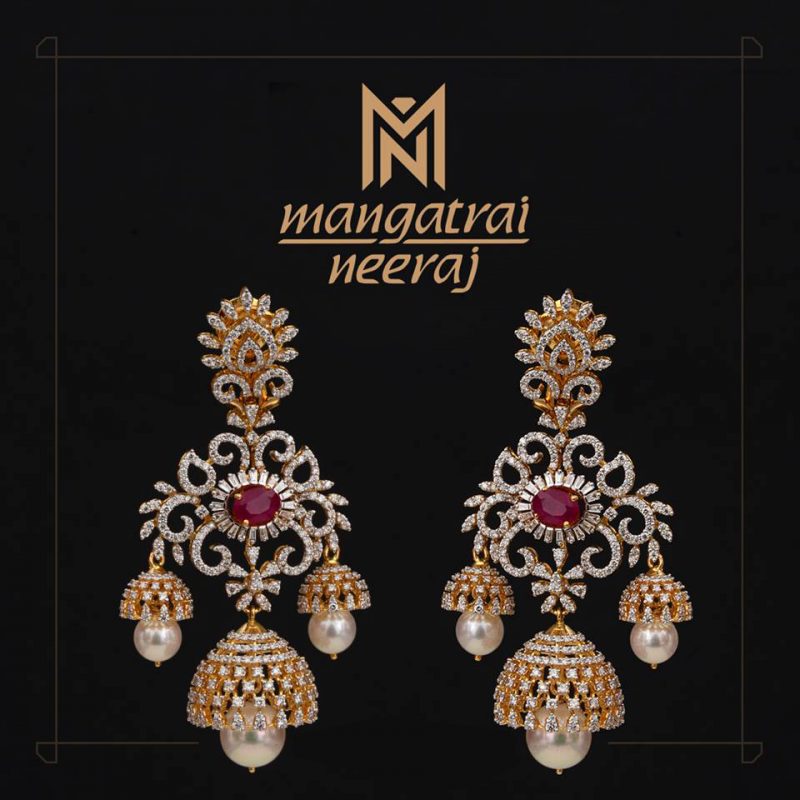 A total stunner, isn't it? This Diamond earrings set speaks for itself. You can always club it with your designer lehenga or your semi Indian-Western outfit for your reception.
2. Necklaces
Feel nothing less than a royal with this Diamond, Pearl and Emerald Gemstone choker/necklace on your grand day.
With the intricate and beautiful Diamond work, this Diamond and Emerald Gemstone choker/necklace definitely deserves to be a part of your bridal ensemble.
From the family of Pachi jewellery, this Diamond and Emerald Rani Haar is every bride's dream!
3. Necklace and Earrings Sets
This Diamond Kalyanam set is all you need to complete your bridal conglomeration and to have all eyes on you.
Get your guests talking when you walk in with this shiny Diamond and silvery Pearl choker/necklace set for your reception.
Another magnificent Diamond choker/necklace set to glam you up for your big day.
4. Chokers
If Polki jewellery is your first love, you are definitely going to fall in love with this choker.
With a combination of Polki and Pearls, this choker is an absolute beauty and will certainly fetch you a lot of compliments.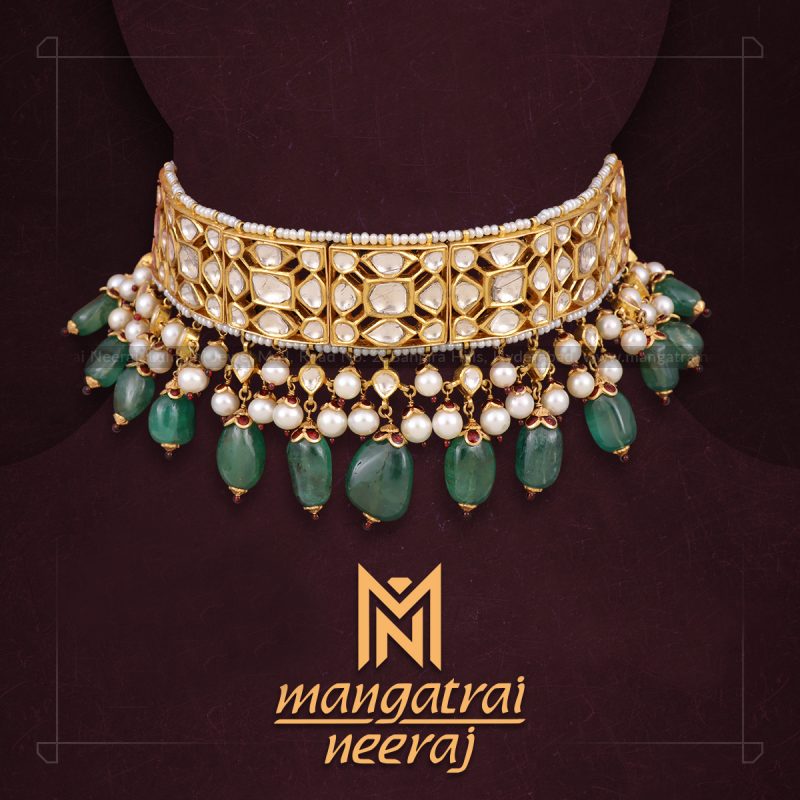 Love keeping it simple and elegant? Well then, this Polki choker/necklace from the Shehzadi collection is where your search ends.
5. Bangles
Add an additional spark to your look with this dainty Gold bangle.
The classic polki-gold bangle set is without a doubt an essential for your wedding.
A traditional and chic Gold Pachi designed bracelet/Kada for your pre-wedding functions from the Syeraa Line of Jewellery.
Mangatrai Neeraj is also a well-known celebrity jewellery brand. The Syeraa Line of Jewellery was specially designed for Chiranjeevi & Nayanatara, the lead actors of the movie "Syeraa Narasimha Reddy". The jewellery was designed in such a sensitive way in order to depict the ancient traditional jewellery style by re-creating the epitome of an era successfully and yet matching the taste of the current generation.
Anam Mirza & Sania Mirza too were adorned by Mangatrai Neeraj's jewellery at Anam's wedding.
Dear brides, it is time to discover the world of traditional, bridal and celebrity jewellery with Mangatrai Neeraj for your grandeur functions.
All Image Source: Mangatrai Neeraj