Ornate Banquets – Serving You at the Heart of Lucknow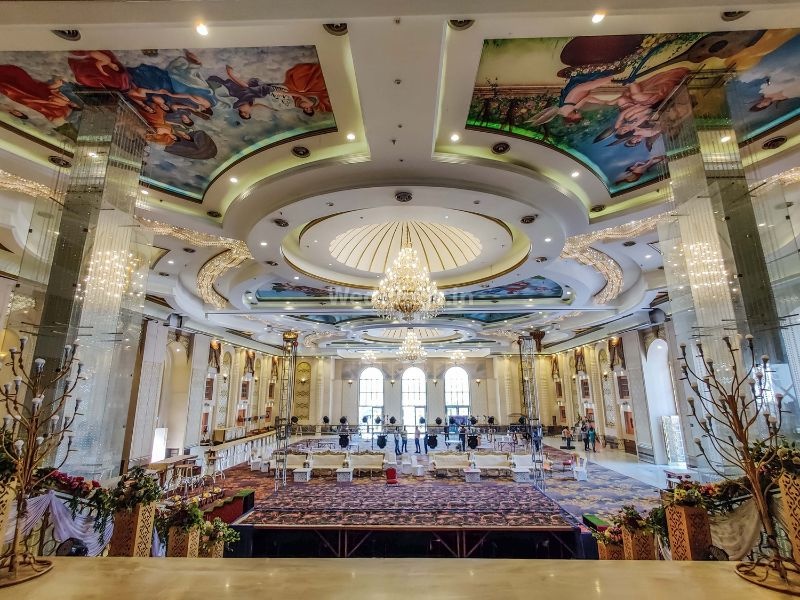 A place where the word lavish sits comfortably on its shoulders, the Ornate Banquets at Vrindavan Colony in Lucknow is a venue that surely does justice to all your events. Ornate Banquets has got it all covered for your special occasions as they have all the modern-day amenities that will suffice your event requirements. It is a one-stop venue for all your events as you can host both big and small events. The hospitality team is well-known for its services here at the Ornate Banquets and you'll be assured that your event runs smoothly.
Ornate Banquet Party Areas:
When it comes to hosting a specific function, you do require a space that accomplishes all your requirements and here at the Ornate Banquets, Lucknow you'll definitely be spoilt for choices. Ornate Banquets has multiple spaces that include some of the best sprawling lawns to go with. They have arrangements made for hosting a guest-list of 100 to almost 2000 people for your convenience. You can host various events like birthdays, engagements, wedding receptions, anniversaries and other such events. Altogether, the venue has two lawns and five halls.
Hall + Lawn 
A Combined space for all your special events the maximum capacity of this space is 2000 guests.
Emerald 
Another hall that is perfect for large gatherings is Emerald which can host up to 1500 guests. It is perfect for reception parties and large wedding events.
Sapphire
A medium-sized hall that can host upto 350 guests is apt if you're in search of a wedding space or a reception hall.
Lawn   
Another lawn that can be used for your special functions has a capacity of 300 guests.
Jasper, Jade and Opal
Three different halls that can be used as per your preferences are ideal to host cocktail, anniversary, birthday parties and other social events.
Services Provided at Ornate Banquets:
Customized Decor
They are specialized in designing both thematic and custom event decor that is creative in every aspect. 
Outdoor Catering
They assure you the comfort of you and your guests by ensuring the best outdoor catering services along with hospitality staff and buffet counter decoration.
Indoor Catering
They provide a variety of colors and textures that will light up the indoor ambiance to go with the best flavors and courses for meals.
Events Conducted at the Venue:
Marriage Functions
Reception Functions
Shagun Ceremony
Birthday Functions
Food:
The food served here at the venue is simply amazing as they have a variety of dishes served both veg and non-veg. They have a skilled team of caterers who will make your event a memorable one by preparing a number of international cuisines. You will be treated with signature dishes that are prepared with local flavours which are a treat for all your guests. We promise you that your food experience will be something to cherish for a long time.
Key Features:
The banquet hall is modern, clean, well-appointed, and furnished with interiors and decor that suit your event.
Upto 800 guest capacity.
Offer quality catering services.
Having a highly skilled and trained staff that can provide excellent customer service and assistance.
Overnight weddings are allowed at the venue
Parking space is available for upto 200 vehicles
Outside alcohol allowed at the venue
Address: 6-A, Commercial Plot-2, Vrindavan Yojna, Sector 6 Roundabout, Near Akash Enclave, Lucknow, Uttar Pradesh 226029

Go ahead and plan your special event at Ornate Banquet to celebrate some of your most treasured events.