ORRA's latest collection of Platinum and Diamond jewelry is perfect for the contemporary bride!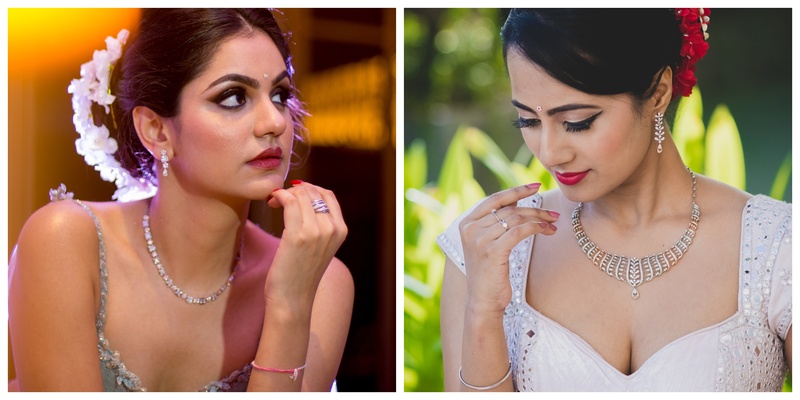 On my latest quest for wedding trends that will rule 2019, I stumbled upon a unique trend- platinum bridal jewelry! We've heard and seen kundan, gold, and even silver jewelry but what about the bride who wishes to opt for something unique and beautiful at the same time? Brides to be, I think it is time to ditch the layers of necklaces and earrings and instead go for the platinum and diamond jewelry! I know you are wondering where can you get the perfect platinum jewelry. So stop, wait a minute! I have the perfect solution for you and it is called ORRA Fine Jewellery! Set in rare diamonds and platinum, ORRA Bridal Jewelry will floor you!
ORRA is a household name when it comes to jewelry. It is one of India's finest jewelry retail chains. They are proud to introduce the ORRA Platinum Bridal collection capturing the latest designs in bridal jewelry. A union of the rarest of precious metals- platinum embellished with ORRA diamonds crafted for maximum brilliance, this collection promises an unforgettable statement for every bride on her wedding day. The collection celebrates the bride, so special by herself, and therefore deserving of something as unique and rare as herself on her special day.
They have a range of four different designs with matching set earrings. Whether it is their emerald diamond cut necklace or diamonds entwined with rose gold, ORRA has wooed all brides with their enchanted collection of platinum jewelry! Scroll down and you'll know what I am talking about!
Look 1- Ocean Wave Necklace Set
This necklace represents an elegant combination of platinum and rose gold in textured pattern, inspired from the fluid rhythms of the ocean waves.
This set is so versatile that it looks beautiful even when it is paired with a cocktail gown!
Look 2- Interconnected Twine
The interconnected twine collection is inspired by the soft contours of a beautiful twine, interconnected and intricately designed to complement the feminine silhouette.
The chic design of this set will surely make you dazzle!
This set is perfect for your cocktail party or the wedding reception. Look how exquisite it looks with that blue gown!
Look 3- 72 Facet Diamond and Rose Gold
The diamonds and rose gold set for the contemporary, minimalistic bride who prefers her jewelry to be modern, but inspired by tradition!
This ring made of diamonds and rare platinum make it a class apart!
I suggest you pair this set with a uniquely designed lehenga for maximum brilliance!
Told yaa, their collection is made for a bride who is exceptional, unique and
deserves something equally special. ORRA diamonds are crafted for maximum brilliance. Couple them with the precious platinum and ORRA's gorgeous designs- and you have got yourself the most unique and beautiful bridal jewelry to exist!
Photography: Clicks Unlimited
Location Courtesy: Ummrao at CBM and Courtyard by Marriott, Mumbai
Hair and Makeup Artist: Nikita Harsora
Clothing: Kalki Fashion
Jewellery: ORRA
Models: Sneha and Karishma